July 05, 2014 -
Greg Gabriel
Team preview: Oakland Raiders
When I started working in the NFL in the early 1980's, the Oakland Raiders were one of the best franchises in the league. The Silver & Black always appeared to be a step ahead of the rest, whether it was in scouting, coaching or innovation. Unfortunately for their Bay Area fan base, that hasn't been the case for years. While the Raiders were always considered a top-five franchise, they now are a bottom-five.
After owner Al Davis' death, control of the franchise went to his son, Mark. On the advice of former Raiders coach John Madden and former Raiders executive Ron Wolf, Davis hired Reggie McKenzie in January 2012 to run the football operations. McKenzie did not inherit a good situation as he had a roster of overpaid and overrated players. To take a step forward, McKenzie had to take a step back and did so by basically gutting the roster of the poor contracts for a fresh reboot.
It hasn't been an easy job and going into McKenzie's third season, the roster still isn't up to standard as far as having enough players to compete for a division championship. The best case scenario is that Oakland is still at least a year away from being a challenger.
Quarterback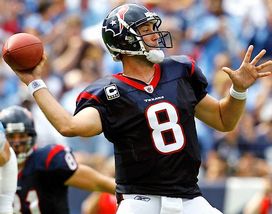 Former Texan Matt Schaub will hold down the quarterback position until rookie Derek Carr is ready.
The first order of business for the Raiders this off-season was to find a quarterback, so the team traded a fifth-round pick to Houston for Matt Schaub. While Schaub looked like a top tier NFL quarterback four years ago, he hasn't played well in recent history. While he is a veteran and has won a lot of games, the jury is out as to how effective he can be.
Going into this year's draft, I felt that Fresno State's Derek Carr was the best quarterback in the class. The Raiders were able to draft Carr with their pick in the second round and it's my feeling that before the season is eight games old, Carr will be the starter. He is the future for the Raiders.
Running backs
When the Raiders drafted Darren McFadden out of Arkansas in 2008, they felt they were drafting a player similar to Adrian Peterson. The Raiders weren't alone with that thought, but McFadden has been a disappointment, having only one 1,000-yard season to date. Still, he is the most talented back on the Oakland roster.
This spring, the Raiders signed Maurice Jones-Drew during free agency. He did for Jacksonville what the Raiders were hoping McFadden could do for them. While Jones-Drew is still an effective back, it remains to be seen how much gas is still in the tank.
Receivers and tight ends
Looking at Oakland's group of wide receivers, I don't see any who could go to another club and make a huge impact. While the Raiders have some talented players, they are still young and in the process of developing.
The most productive player of the group a year ago was third-year man Rod Streater, who caught 60 passes in 2013. During free agency, the Raiders signed James Jones from the Packers, who gives them their best threat. The third receiver and possibly most athletic is Denarius Moore, who is now entering his fourth year. Moore has flashed instances of elite play, but lacks consistency. Former Brown Greg Little was also signed. While Little has talent, he also has been extremely inconsistent throughout his career.
At tight end, second-year man Mychal Rivera looks to be the man. As a rookie last year he had 38 catches for 407 yards. There is not a lot of depth behind Rivera.
Offensive line
At the start of free agency, the Raiders brought in Rams tackle Roger Saffold hoping to make an early splash. That failed to materialize as Saffold didn't pass his physical. The odd thing is that Saffold re-signed with the Rams the following day.
The Raiders then signed former Tampa Bay tackle Donald Penn. Penn will help, but he isn't an upper echelon NFL tackle. The right tackle looks to be second-year man Menelik Watson from Florida State. Watson has the physical traits to be a very good NFL tackle.
I will be shocked if rookie Gabe Jackson isn't a starter. He had first round talent and is a powerful run blocker. The other guard should be Austin Howard, who was a starter at tackle with the Jets last year.
The center is reliable Stefan Wisniewski, who enters his fourth year. Wisniewski makes all the line calls and is the leader of the group. The top reserve offensive lineman is former New York Giant Kevin Booth. If this group stays healthy, they have a chance to be fairly good.
Defensive line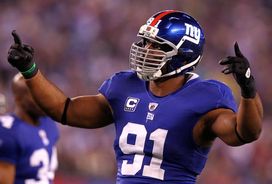 Justin Tuck left New York to join the Raiders this off-season.
The D-Line lost their best player in Lamaar Houston to the Bears during free agency. To replace Houston, Oakland signed former Giant Justin Tuck. Tuck has versatility in that he can play outside on base downs and inside on passing downs.
Many of the other Raider defensive linemen have position versatility as well. When you want to play a rotation, versatility always helps.
Opposite Tuck should be former Steeler LaMarr Woodley. While Woodley played as an OLB in Pittsburgh, he will be a pass rusher for the Raiders. Third-year man Jack Crawford is another versatile guy in that he can play inside or out.
At the tackle positions, the Raiders have Antonio Smith, who was a 3-4 end in Houston, and seven-year vet Pat Sims, who is mainly a run stuffer. The inside player I feel will be a big contributor as a rookie is fourth-round pick Justin Ellis, who is a big, strong and athletic player just beginning to find out how good he can be.
Linebacker
The best player of the linebacker group hasn't played a game yet. First-round pick Khalil Mack has the talent to be a perennial Pro Bowl-type player. He can do it all as he is outstanding versus the run, in coverage and as a pass rusher. The Raiders will be able to use him in a variety of ways.
The Mike linebacker is Nick Roach, a steady veteran who doesn't make mistakes. The other linebacker should be second-year man Sio Moore, who got better every week as a rookie and finished last year with 4.5 sacks.
The leading reserve should be Kevin Burnett, who was a former starter and should be very good as a role player.
Secondary
The leader of the secondary is Charles Woodson, who came back to the Raiders last year after seven seasons in Green Bay. Woodson may be in his 17th season, but he can still play.
D.J. Hayden, last year's first-round pick who missed time with injury, was still unable to practice with a week to go in OTAs. He should be full-go by the time camp opens at the end of this month. The other corner and the nickel corner should be former 49ers Carlos Rogers and Tarell Brown. They both are upgrades over what the Raiders had a year ago.
Opposite Woodson at safety will be Tyvon Branch, who missed all but two games in 2013. He brings a physical presence to the Raiders secondary.
Outlook
Though improved, it will be tough for the Raiders to be a whole lot better than the 4-12 record they posted a year ago. Oakland is not as talented as the other teams in their division and they have to play the NFC West clubs this year as well.
The Raiders will need another strong draft in 2015 to be able to compete with the rest of the teams in their division. Kansas City, Denver and San Diego are all much more talented.
Follow Greg on Twitter: @greggabe