July 06, 2014 -
Greg Gabriel
Team preview: San Francisco 49ers
At the current moment, the two best teams in the National Football League reside in the NFC West. The San Francisco 49ers and Seattle Seahawks are head and shoulders above every other club in the league. The problem for the Niners is that even though they will be better in 2014 than last season, so will Seattle.
Since Jim Harbaugh and Trent Baalke teamed up together, the 49ers have been the model of consistency. Baalke and his staff do an excellent job acquiring players and Harbaugh and his staff do the same coaching those players to their maximum potential.
The draft that got San Francisco going in the right direction was actually not even Baalke's draft. It was the 2010 draft when Baalke was the club's Director of Player Personnel. That draft brought the 49ers Anthony Davis, Mike Iupati and NaVorro Bowman. Iupati and Davis helped solidify the offensive line, which is one of the more dominant units in the NFL.
Since then, the 49ers have drafted consistently, but it's the coaching of Harbaugh that has made the 49ers one of the more physical teams in the NFL. The 49er players respond well to Harbaugh's style and they are a tough team to match-up against. Here is a look at the roster.
Quarterback
Whoever made the final decision to select Colin Kaepernick out of Nevada deserves a lot of praise. When I saw Kaepernick at the 2011 Senior Bowl, I thought he was probably three years away from contributing. My three-year thought was actually a little more than a year, as Kaepernick came on strong in his second season to lead the 49ers to an NFC Championship.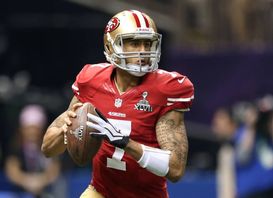 Fresh off a new contract, can Kaepernick lead the Niners to another Super Bowl?
He continued that fine play in the 2013 season and while he is still a work in progress, Kap shows improvement every game. The sky is the limit as to how good he can become.
The 49ers have to hope that Colin remains healthy, as they don't have much behind him. San Fran acquired Jacksonville bust Blaine Gabbert in a spring trade and if he has to play, the 49ers will be in trouble. While Gabbert has physical tools, his instincts and feel for the game are marginal at best.
Running back
Frank Gore has been the bell cow since 2005. While he has shown signs of slowing down, he is still very consistent and comes up big in the clutch.
Last year, the 49ers took a flyer in South Carolina running back Marcus Lattimore. Lattimore had a devastating knee injury while at South Carolina and there were many who thought he would never play again. Well, he is just about ready to go, but how efficient he is remains to be seen. The 2014 drafting of Ohio State's Carlos Hyde tells me Lattimore isn't going to be what he once was.
Hyde is a big, powerful back who can be effective as a runner and a receiver. Like most college backs, he needs work on his pass protection. LaMichael James is a situational back who needs to be in the right package in order to play his best. His size limits what he can do.
Receivers and tight ends
When Michael Crabtree is healthy he is one of the best receivers in football. He only played in five games a year ago, but those five were at the end of the season. Crabtree enters this year healthy. It is an important year for the wide receiver as he is in the final year of his rookie contract.
Across from Crabtree is 12-year pro Anquan Boldin. While Boldin isn't getting any younger and has never been a speedster, he is one of the most reliable possession receivers in the game. He had 85 receptions a year ago.
The 49ers acquired Stevie Johnson in a trade with Buffalo and even though he was productive with the Bills, I feel he is a very average player. The receiver I expect to have an instant impact on the 49ers passing game in 2014 is rookie Bruce Ellington. How he lasted until the fourth round is beyond me. It wouldn't shock me to see Ellington have at least 50 catches as a rookie. He has the raw talent to be a difference maker as a slot receiver.
To put it mildly, in Vernon Davis the 49ers have one of the most explosive tight ends in the game. Davis has tight end size but wide receiver speed and athleticism that give defensive coordinators nightmares. Behind Davis is second-year man Vance McDonald, who flashed as a rookie.
Offensive line
San Francisco has one of the most talented and physical offensive lines in the NFL. What's scary is that it is still a very young unit. Left tackle Joe Staley is considered the old vet, but he is only in his eighth season. Staley is a premier pass blocker and a very steady run blocker.
At right tackle is Anthony Davis who is the prototypical NFL right tackle. He has great size and is a mauler in the run game who is actually more than efficient as a pass blocker. Mike Iupati is easily one of the top-five guards in the game and Alex Boone has a tackle's body who is very effective inside.
The one question mark on the line is who will start at center. The starter the last three years (Jonathan Goodwin) left as a free agent. He will be replaced by either three-year vet Dan Kilgore or rookie Marcus Martin. Both can play center or guard and provide position flexibility.
Defensive line
The best defensive lines in the NFL are about 5-7 players deep depending on the scheme, with all of those playing in a rotation. It is no different in San Francisco, where the depth along the line is solid.
In the 49ers' three-man front, the starters are Glenn Dorsey on the nose, Justin Smith at one end and Ray McDonald at the other. While that group doesn't possess overwhelming size, they are strong, athletic and disruptive. Behind Dorsey is Ian Williams, who is coming off a 2013 injury and still isn't 100 percent. The backups at the end positions are Tony Jerod-Eddie and most likely second-year man Tank Carradine. Carradine missed his rookie season with an injury.
Others in the mix are Quinton Dial, who can play inside or outside, and Lawrence Okoye, a former discus thrower who is still new to football.
Linebackers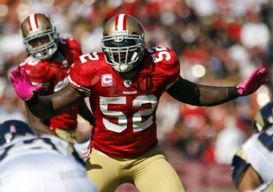 Willis remains one of the best linebackers in the game.
If there is a problem area with the San Francisco defense in 2014, it's the linebacker group. This has nothing to do with talent and everything to do with injury and off-the-field problems.
Inside linebacker NaVorro Bowman suffered a devastating knee injury during the 2013 NFC Championship game and it is still a question mark regarding whether or not he will get on the field this year. If he can't play, rookie Chris Borland will likely replace him. Borland lacks size and timed speed, but has rare instincts and is always around the ball. The other inside linebacker is Patrick Willis, who is a perennial All-Pro and one of the best in the league.
The other problem spot is outside linebacker, where starter Aldon Smith has had numerous off-the-field issues. Chances are Smith will miss some time in 2014 with a league suspension, but as of this writing, that hasn't been determined.
If the 49ers lose Smith for an extended time, it would be a tough blow as he is an outstandin g pass rusher. If Smith can't go, he would probably be replaced by second-year man Corey Lemonier, who played well when Smith missed time in 2013.
The other outside linebacker is Ahmad Brooks who, like Smith, is an outstanding pass rusher.
Secondary
The 49ers lost three key players in the secondary during free agency. Strong safety Donte Whitner signed with his hometown Cleveland Browns. To replace Whitner, the 49ers signed Antoine Bethea away from the Colts. Bethea's style of play is similar to Whitner's.
The other losses were corners Carlos Rogers and Tarell Brown. Going into camp, it looks as if Chris Culliver, who is coming off an injury, will be one of the starting corners, with Tramaine Brock the other.
San Francisco signed Chris Cook during free agency as an insurance policy. While Cook has talent as a press corner, he did not live up to expectations in Minnesota. Another veteran in the mix is Perrish Cox.
The free safety will be second-year man Eric Reid who played fairly well as a rookie. In the first round of the draft, the 49ers selected Northern Illinois safety Jimmie Ward, who has some corner traits. San Francisco is hoping Ward can be used to cover slot receivers. Another rookie to watch is fourth-round pick Dontae Johnson from North Carolina State. Johnson is tall and long and the 49ers are hoping he can be a physical press corner.
Outlook
As I said above, the 49ers may be the second-best team in the NFL, but the best team is division rival Seattle. The division could be decided with a December 14th game in Seattle between the two clubs.
The 49ers' first month is not overly tough. They begin at Dallas before hosting Chicago in Week 2 to open their new stadium. In Week 3, the 49ers travel to division rival Arizona before coming back home to meet Philly.
The status of Aldon Smith and NaVorro Bowman will also figure strongly into how the 49ers play this season.
Follow Greg on Twitter: @greggabe