July 10, 2014 -
Greg Gabriel
Team preview: St. Louis Rams
Since head coach Jeff Fisher and general manager Les Snead took control of the St. Louis Rams, the franchise has been on a steady upswing. Between the two, they have brought stability to both the coaching and front office staffs.
Fisher and Snead have done a masterful job acquiring talent through the draft and free agency. If the Rams were playing in any other division, they would be challenging for a division championship. But the reality is that they are playing in the NFC West which, right now, is the strongest division in the NFL. As good as the Rams have become, they are not quite ready to challenge Seattle or San Francisco for the division. That dream still may be a year away.
The big change for the Rams this year is the addition of defensive coordinator Gregg Williams. Williams will turn an already strong defense into an even more aggressive group. They will start blitzing as soon as the get off the bus.
Quarterback
Needless to say, this is an important year for Sam Bradford. He is entering his fifth season in the NFL and his play to date has been up and down. I thought after his rookie year in 2010 that he was on his way to becoming one of the upper echelon quarterbacks in the league, but injuries and inconsistent play have hurt his development.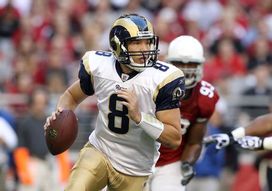 2014 is a make or break season for Bradford.
Bradford has to take a big step in 2014 in order for the Rams to feel comfortable. If he doesn't, St. Louis could be looking to select a quarterback high in next year's draft.
The Rams don't have a lot of depth at the position. They lost Kellen Clemmons in free agency and signed former Detroit backup Shaun Hill. Hill is in his 13th season and has shown flashes in the past, but if Bradford goes down, Hill is not the type who can take a team to the playoffs.
Rookie Garrett Gilbert has some solid physical traits, but right now is a developmental type at best.
Running backs
The Rams don't have a big name in their running back unit, but they do have a bunch of talented young guys who, as a group, can be very effective.
Going into camp, the lead back is second-year man Zac Stacy. As a rookie, Stacy ran 973 yards and had 26 receptions. Stacy is a tough inside runner, but the Rams would like to see him improve on his 3.9 yards per carry average.
Rookie Tre Mason will most likely function as the primary backup. Mason was the Rams' third-round pick and ran for over 1,800 yards last year in leading Auburn to the National Championship game. Benny Cunningham showed flashes as a free agent rookie last year and should also figure into the rotation.
Receivers and tight ends
The numbers the wide receiver unit put up in 2013 were not impressive. The leading receiver was rookie slot man Tavon Austin with 40 catches and a 10-yard average. If you are looking for some reasons why Sam Bradford has not put up better numbers, one is that he has an average group of receivers by NFL standards.
During the offseason the Rams signed Kenny Britt away from Tennessee. Yes, Britt has had more than his fair share of off-field issues, but he is still more talented than any receiver St. Louis currently has. Britt also has a history of playing well for Jeff Fisher.
Opposite Britt should be Chris Givens, who has size, speed and talent, but he needs to develop consistency. The slot receiver will of course be Austin, who is a big-play waiting to happen if used the right way.
Two other receivers who will see significant playing time are Austin Pettis, who had a good spring, and Stedman Bailey. Bailey will miss the first four games due to a league suspension.
The tight end will be Jared Cook, who should feel a lot more comfortable in his second year in the system. His backup will be Lance Kendricks, who will also see a lot of playing time when the Rams go to a two tight end look. He is the best blocking tight end on the roster.
Offensive line
At the start of free agency, the Rams thought they lost a key member of the line when it looked as if Rodger Saffold was going to sign with the Oakland Raiders. Saffold ended up failing the Raiders' medical exam and the Rams immediately re-signed him.
Saffold will start at guard, with 2014 No. 2 overall draft pick Greg Robinson manning the other guard position. Robinson entered the draft with two years of eligibility remaining, yet still has the traits to be a Pro Bowl-type player at offensive guard.
The two tackles are Jake Long and Joe Barksdale. When healthy, Long is one of the best tackles in the NFL, but he has been injury prone. While Long may miss the start of camp, he will be ready for the beginning of the season.
Barksdale is a steady journeyman who improves with each year. The center is consistent the Scott Wells, who is entering his 11th year. Wells has also had some trouble with nagging injuries. Tim Barnes is his backup and played when Wells was hurt.
Defensive line
The best defensive lines in the NFL right now are clubs that have depth that goes six and seven deep. Teams that can play a rotation can keep their starters fresh for both key parts of a game and over the long haul of the season. The Rams possess that kind of depth.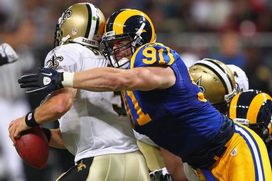 Long has racked up 20 sacks over the last two seasons.
The starting ends are as good as any starting group in the league. Chris Long has a non-stop motor and is effective as a pass rusher and a run stopper. Robert Quinn has become one of the most feared pass rushers in the league, with 19 sacks a year ago. To back them up are Eugene Sims and free agent signee Alex Carrington. Both players have the ability to play inside and outside.
As for the two tackle positions, the Rams again have two players who are as good as any in the league. Former first-round pick Michael Brockers, entering his third season, has unlimited talent and is just beginning to scratch the surface.
Kendall Langford is both big and athletic and is a consistent run stopper and pass rusher. With their second first-round pick, the Rams added the best defensive lineman in college football last year. Aaron Donald lacks great size, but he is a quick, fast and explosive player who is very difficult to block. Playing in a rotation and staying fresh will make him even better. I'm really looking forward to seeing what Donald does as a rookie.
Linebackers
The unquestioned leader of the linebacker group is six-year vet James Laurinaitis. While there are other Mike linebackers who may test out better, few have his combination of size, strength, instincts and competitiveness. On top of that, Laurinaitis is remarkably durable.
The Will linebacker is second-year player Alec Ogletree. From a size/speed point of view, he is the perfect Will. As a rookie in 2013, Ogletree had 155 total tackles. As he gains experience, he will keep improving and begin to dominate. Williams will find ways to utilize his special skills.
At the top of the depth chart at Sam is Jo-Lonn Dunbar, who is armed with a new two-year contract, but there are many who believe second-year player Ray Ray Armstrong will give Dunbar a solid run for his job. That may be one of the more interesting battles to take shape during training camp.
Secondary
On paper, this group is very good, but their level of play has to pick up over 2013. The Rams best corner is Janoris Jenkins. With this being his third year, he should be just coming into his own.
Opposi te Jenkins is Trumaine Johnson, who got a chance to start games last year when Cortland Finnegan went down with an injury. The Rams expect improvement in his play. The slot corner position will be rookie Lamarcus Joyner. Don't try telling Joyner he is only 5'8," because he plays much bigger. The battle for the fourth corner spot will be between second-year player Brandon McGee and sixth-round pick E.J. Gaines. Gaines looked much better than a late pick during OTA's.
The Rams expect a lot from second-year safety T.J. McDonald, who played excellent football as a rookie. The free safety is Rodney McLeod, who is entering his third year. During OTA's, fourth-round pick Maurice Alexander looked as if he is ready to contribute as a rookie.
Outlook
As I said above, if the Rams weren't in the NFC West, they would challenge for the division title this season. With their strong defensive personnel, they have the ability to control games and keep the score down.
On offense, Sam Bradford has to step up, but he will need the receiver group to mature. If this happens, the Rams will have a chance to compete for a wild card spot in the playoffs.
Follow Greg on Twitter: @greggabe