November 25, 2010 -
National Football Post
Texas-Texas A&M preview
A breakdown of what scouts will be looking for tonight regarding prospects in this Thanksgiving showdown.
What to watch for…
Taking proper care of the football…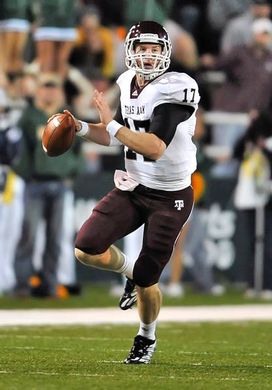 ICONTexas A&M is on fire with Ryan Tannehill under center.
Through five games this season, Texas A&M quarterback Ryan Tannehill has thrown only three interceptions and is completing nearly 70 percent of his passes. He's a bright kid who has a real feel for the game, takes care of the football and looks a lot more comfortable quickly deciphering information in the pocket than former starter Jerrod Johnson. Plus, the former wideout is a pretty gifted athlete in his own right. He does a nice job moving around the pocket and buying time for himself, but unlike Johnson he does a much better job keeping his eyes down the field and moves to set up the throw and not just to run. He was not rattled at all last Saturday vs. a very good Nebraska defense, taking what they gave him, making some plays outside the pocket and not committing any major errors, which again will be key against Texas this week — not giving their struggling offense any kind of positive field position to build on.
Committed to the run…
Also taking place during the Aggies five-game win streak is more of a commitment toward RB Cyrus Gray. Gray has rushed for over 100 yards in each of those five games, but as he displayed against Nebraska, the guy can also catch the football out of the backfield. Gray has been one of Tannehill's biggest targets in the pass game, showcasing good hands and feel in the open field with the ability to routinely make the first man miss and accelerate toward daylight. He's the main threat Texas needs to slow down if they hope to consistently get off the field defensively in this one, because when plays break down and Tannehill starts to move, Gray seems to routinely be one of his main options underneath.
How the Longhorns can get off the field…
Texas isn't going to have an easy time slowing anyone down in the run game this year, as the Longhorns have struggled tremendously at times inside to anchor with any kind of consistency at the point of attack. However, if there is one thing they can do, it's rush the passer. Defensive ends Eddie Jones and Sam Acho have combined for 15 sacks on the season and they both complement each other very well. Jones has the initial burst and low center of gravity to consistently reach the edge and flatten out around the corner, forcing QB's to step up in the pocket, while Acho has the length and upper body strength to shrug off blocks and find the QB when stepping up in the pocket. Both look like very solid prospects at the next level and give the Longhorns a clear advantage if they are able to get A&M into consistent third and long situations. But again, that's a big if.
The Aggies can rush the passer as well…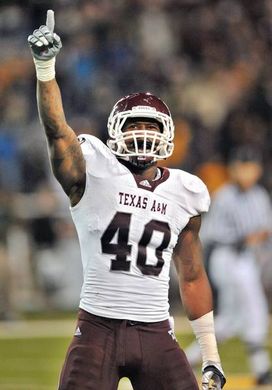 ICONAggies pass rush specialist Von Miller.
Up front for the Aggies keep your eyes on two senior prospects. The first guy is pass rushing specialist Von Miller, who finally looks healed up from an ankle injury that gave him a lot of problems early in the year. However, he's back to his old explosive self in recent weeks. We know Miller has the first step to threaten the edge in the NFL, but watching to see how far he has matured in developing some type of counter move will be one major thing I will be looking for from him in this one.
Also, DL Lucas Patterson was another guy who I really took a liking to during the summer, as he did a nice job playing with leverage inside, using his hands to fend off blocks and playing with a great motor. He has been used more all over the line of scrimmage this year — both inside and out — and didn't seem to quite look as comfortable or as instinctive as last season when he played predominantly inside. Therefore, evaluating where he is at now in the year will be a major aspect of his game to look for in determining his draft stock going forward.
Final food for thought…
The Texas Longhorns have sent as many prospects into the NFL in recent years as any major university in the nation. However, with a real up and down track record in NFL success over that time period, some NFL evaluators have always had some very strong opinions and thoughts regarding the mental toughness of the majority of the Longhorn prospects. But, one thing no one ever could question was the winning attitude these kids had coming from a program that consistently ended up in the national title hunt and knew how to finish games in the Big 12.
However, what do you make of this senior class? Is the edge and overall mental toughness even worse with this group of senior "leaders," with Texas now in position to lose its potential sixth game of the season vs. A&M?
The talent is there — and it always has been for Texas. But, is there a senior in the locker room that says, "It stops tonight" as they begin to build some momentum for next year? Or is it a real lack of leadership that will not only kill their chances of beating the rival Aggies at home, but also be a real question mark for a lot of these upperclassmen going forward during the draft process?
We will find out tonight, because if the Longhorns can't get up for this one, you're going to have a tough time convincing me that any of these Texas upperclassmen are the kind of tough, hard-nosed, self-motivated players I want in the NFL locker room.
Follow me on Twitter: @WesBunting