March 25, 2011 -
National Football Post
The Ahmad Black debate
Former Florida safety Ahmad Black has been one of the most debated prospects in this year's draft among talent evaluators. What you have in Black is a good college football player who displays natural instincts in the pass game, a willingness to tackle, impressive ball skills and good short area quickness in coverage. He was arguably Florida's best defensive player in 2010 and is the kind of hard working, high character kid you want on your team.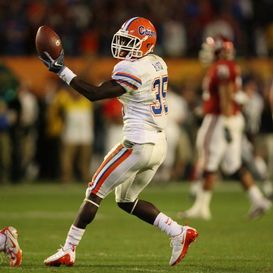 ICONBlack exhibits good ball skills on all areas of the field.
However, the big debate stems from his size/speed numbers. Black not only lacks ideal size, standing at 5094 and 184 pounds, but his pedestrian like 4.7/4.8 40 time really is a turnoff when trying to sell this kid as a draft pick.
I talked to one scout this week about Black who said, "he's not a draftbale prospect in my view, it's tough to sell slow and small and that's what he (Black) is. I just don't know where you can play him in the NFL."
The guy is simply a football player. I really do like everything about his game except for the fact he's undersized and lacks overall range in the deep half. However, the guy finds the football, is clean in and out of his breaks and plays bigger than his size would indicate. Plus, he's the kind of guy who will definitely be willing to play on special teams and try to make his mark there.
I would still draft Ahmad Black, but the price would have to be right and in my mind that is nothing more than a late round pick. I don't see him ever being someone you can trust as a starter in the secondary because he simply isn't capable of covering much ground in space.
However, I honestly think his best role could be as a nickel defender who mans the slot, especially in more of a cover two look. Here he'll be asked to not only cover as much ground, but can keep his eyes in the backfield, rely on his instincts and simply make plays on the football. He does possess above-average man coverage skills for the safety position as well and I think he could definitely hold his own inside.
There have been a pair of high football character/productive Florida Gator prospects in recent years who have fallen on draft day because of speed concerns (Brandon Spikes & Brandon Siler) and I do think Black will do the same. Nevertheless, much like Siler and Spikes, I also think Black will be too good of a football player to not stick on a roster and he will carve out a niche for himself in some capacity on Sundays.