April 27, 2013 -
Aaron Wilson
The best of the rest
1. Ryan Nassib, QB, Syracuse, Senior (6021, 227 and 5.06): Nassib is a quarterback with great fundamentals, a quick release and the arm strength to make every NFL throw with ease. While Nassib needs to work on throwing the deep ball, he is very accurate on short and intermediate passes. We still think he can be a high end starter if he can improve his deep ball accuracy. Nassib is an exceptional value in the fourth-round.
2. Matt Barkley, QB, USC, Senior (6024, 227 and 5.05 E): Barkley is very technically sound, gets rid of the ball quickly and consistently makes quick, accurate throws on short/intermediate passes. While he doesn't possess top arm strength, he has enough arm strength to make most NFL throws. His ability to lead receivers and be accurate on timing routes is impressive. Having played in USC's pro-style offense his entire college career, he does a great job of making the pre-snap read and can adjust the play and make the correct protection calls. Although I do not believe he can be a top tier NFL quarterback, I do believe he can be a solid starter, which is why he is a good value in the fourth round.
3. Quinton Patton, WR, Louisiana Tech, Senior (6000, 204 and 4.53): Patton is a very efficient route runner who runs sharp and precise routes. Able to maintain his speed throughout routes, Patton is consistently able to gain separation against man coverage. He is a smooth, fluid athlete capable of getting open on a consistent basis against all types of coverage. Although he lacks premier speed, he is fast accelerating to full speed and has consistently shown the skill to make big plays after the catch. He is a polished prospect and one who should come off the board early in round four.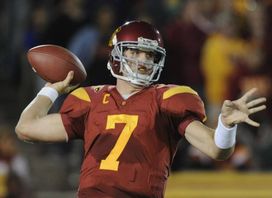 Many are surprised that USC's Matt Barkley has fallen this far.
4. Jesse Williams, DT, Alabama, Senior (6033, 323 and 5.20 E): Williams is a player who displays remarkable playing strength and is the best pure nose tackle in the draft. While he lacks the football experience of many other defensive line prospects and is still learning to play the game, he can physically dominate offensive linemen when he uses good technique and maintains leverage throughout the play. However, he doesn't do it regularly enough and gets caught playing too tall and upright, which allows linemen to get into his frame and negate his strength. Williams is still a highly regarded prospect for a 34 defense and he should come off the board quickly as day three begins.
5. Sanders Commings, CB, Georgia, Senior (6001, 216 and 4.41): Commings has great size for the position with great arm length and the bulk required to step up and defend the run and combined with elite athleticism he is the complete physical package. He has quick and compact backpedal and can transition out of it fast, but he does not consistently close fast on passes, which I believe is more because of a lack of desire than a lack of ability. His loose hips and quick feet help him to turn and run with receiver without losing a step and he has the speed to stay with receiver deep down the field. Despite his rare athletic traits and excellent size for the position, he has fallen down draft boards because teams question his competitiveness, passion and willingness to do whatever it takes to be a top player.
6. Tyler Wilson, QB, Arkansas, Senior (6021, 215 and 4.95): Wilson is a strong-armed quarterback who can make every NFL throw with ease when he throws with good mechanics. He has a quick release, throwing the ball with good velocity and a tight spiral. While he possesses all the tools to be a good starting quarterback in the NFL, he must become more consistent from a mechanics perspective to be able to throw into the tighter windows he will see in the NFL. He is a tough player who will take a hit to make a throw. I do have concerns about his ability to see the whole field as he sometimes makes throws that he should not make and defenders are in perfect position to make a play on the ball. While I expected Wilson to be selected high than this, it does not shock me as his level of play went down significantly from his junior season, which is always a huge red flag for NFL teams.
7. Andre Ellington, RB, Clemson, Senior (5094, 199 and 4.61): Ellington is an outstanding athlete who plays very fast with the ball in his hands. Possessing explosive acceleration, Ellington gets to full speed fast, can get through holes/creases in a heartbeat and has the elusiveness to make tacklers miss, both in the hole and out in space. He is not a big runner and will never be a physical interior runner. He is not overly reliable in pass protection and will need to improve in this area in order to become a valuable third down back. While I think his on field play warranted being selected earlier, the reality is that he lacks great bulk for his height and did not show explosiveness and speed at the Combine or his Pro Day. I still believe that he can be a player very similar to Darren Sproles if he goes to a team with a creative offensive coordinator.
8. Jelani Jenkins, OLB, Florida, Senior (6000, 243 and 4.75 E): Jenkins is an explosive athlete capable of making plays in pursuit because of that speed. He is a physical player who will play whistle to whistle and has the range to make plays from sideline to sideline. He can deliver a blow to the ball carrier and is a very willing run tackler who breaks down well to tackle with good fundamentals. While is very good making plays going forward, he needs a lot of work moving and adjusting in pass coverage. Unless he improves in coverage he will have trouble ever becoming a starter in the NFL.
9. Landry Jones, QB, Oklahoma, Senior (6042, 225 and 5.11): Jones is a quarterback with a big arm and the ability to make every throw necessary to play in the NFL. He runs hot and cold and needs to quicken his release, as it is deliberate and it allows defenders to break quickly on the ball. He also needs to learn to read what defenses are doing pre- snap to avoid throwing the ball into areas of the defense where he simply can't complete the pass. While he has considerable arm talent, he needs to work out a few mental flaws and is best suited to sit behind a starter and learn for a few years. However, he is talented and is a good value coming off the board in Round four.
10. Quanterus Smith, DE, Western Kentucky, Senior (6050, 250 and 4.80 E): While Smith is not a super explosive athlete, he is a smooth pass rusher who is highly effective because of his quick hand usage and ability to bend around the edge quickly. He is not a great run defender, but he is willing. He needs to add bulk to be able to be productive as a run defender in the NFL. He is a skilled pass rusher, but he tore his ACL in November and has fallen because of this. We expected him to be a fourth or fifth round pick due to the injury despite showing second round talent on film.
Email Russ at Russelllande@yahoo.com and Follow Russ on Twitter @RUSSLANDE