February 09, 2012 -
National Football Post
The best small-school CB crop in years?
Ranking the deep and talented small-school cornerback crop for the 2012 NFL draft.
1. Janoris Jenkins: North Alabama (5-10, 182)
If he can put it all together off the field, he's got the ability to develop into a very good cover man in the NFL and despite his size he's going to be a really tough guy to separate from in just about any scheme he plays in.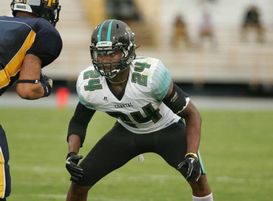 ICONFrom a talent perspective, there isn't anything Norman can't do.
2. Josh Norman: Coastal Carolina (6-0, 190)
Talent says he's a top-60 pick, but there are some character concerns that could cause him to fall. Either way he has the talent to quickly match-up with NFL receiver at the next level.
3. Trumaine Johnson: Montana (6-2, 204)
A talented kid who physically/athletic reminds me a lot of Jimmy Smith (Baltimore Ravens). Now, he's not as experienced as a pressman as Smith was, but has the same type of upside and can be a similar player if he commits himself fully to the game at the next.
4. Asa Jackson: California Poly (5-10, 188)
An intriguing small-school corner with some natural fluidity, foot quickness and ball skills. Plays bigger than his frame would suggest because of length and at worst looks like a potential slot defender at the next level.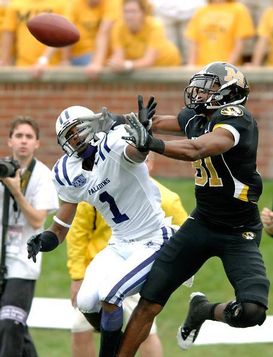 ICONSteed has a good feel in coverage when he can drive downhill on throws.
5. Micah Pellerin: Hampton (6-1, 195)
He's a tall, talented kid who has some rough spots to his game and needs to do a better job keeping his pad level down out of his breaks. But, has the talent to fight for a starting job in the NFL with some time.
6. Jeremy Lane: Northwestern State (5-11, 183)
Has the size and talent to get drafted. Needs to get a bit stronger and clean up his footwork a bit.. But has the skill set to play both inside and out in the NFL.
7. Justin Bethal: Presbyterian (5-11, 196)
Had a solid week at the East-West Shrine game and has the upside to warrant a pick to develop as an NFL defensive back. Possesses good size, is smooth in his drop, just needs to do a better job staying low when trying to drive on the football. Always puts himself around the action, but struggles to finish consistently on the throw.
8. Ryan Steed: Furman (5-11, 190)
Displays natural change of directions skills and can play the football, but looks more like a cover two guy only early on, who must play with his back to the sideline because of his struggles to stay coordinated/low in his drop and out of his transition. Has a tough time turning and keeping pace with speed vertically.
9. DeAndre Presley: Appalachian State (5-10, 177)
A gifted athlete who has played quarterback, wide out and defensive back during his time at Appalachian State. But, because of his size will likely make the move to corner in the NFL. He possesses great straight-line speed, isn't afraid to mix it up and is an intriguing later round developmental nickel guy.
10. Antonio Dennard: Langston (6-1, 180)
Has done a nice job with the jump in competition over the post-season and warrants a look in camp due to his natural change of directions skills and production at the small-school level. Needs to run well at his pro day, but is a coordinated athlete who keeps his feet under him and can cleanly get out of his breaks.
Follow me on twitter: @WesBunting
Check out the NFP Draft page here...