September 02, 2011 -
Barry Dorey
The Big Countdown
Commence The Countdown
I'm not a fan of one-size-fits-all fantasy rankings on Web sites and publications. It just seems like an incredibly shallow method for selecting players, without prioritizing the need to find 'value' at every round (through countless mock drafts). However, since not everyone has 4-6 hours per day to spend on fantasy football -- corporation CEOs are not immune to our addictive game -- there is a market for the following undertaking: My Top 160 players in standard-scoring leagues. (Updated positional rankings can be found in Tuesday's Fantasy Philanthropist.)
Top 160: 1-50
1. RB Adrian Peterson, Vikings
2. RB Jamaal Charles, Chiefs
3. RB Ray Rice, Ravens
4. RB Arian Foster, Texans
5. RB Chris Johnson, Titans
6. RB LeSean McCoy, Eagles
7. RB Rashard Mendenhall, Steelers
8. WR Andre Johnson, Texans
9. RB Darren McFadden, Raiders
10. QB Drew Brees, Saints
11. WR Calvin Johnson, Lions
12. WR Roddy White, Falcons
13. QB Tom Brady, Patriots
14. RB Michael Turner, Falcons
15. RB Maurice Jones-Drew, Jaguars
16. QB Aaron Rodgers, Packers
17. RB Frank Gore, 49ers
18. RB Peyton Hillis, Browns
19. WR Larry Fitzgerald, Cardinals
20. QB Michael Vick, Eagles
21. WR Hakeem Nicks, Giants
22. RB Matt Forte, Bears
23. RB Ahmad Bradshaw, Giants
24. WR Miles Austin, Cowboys
25. WR Greg Jennings, Packers
26. WR Mike Wallace, Steelers
27. QB Philip Rivers, Chargers
28. RB Steven Jackson, Rams
29. TE Antonio Gates, Chargers
30. WR Reggie Wayne, Colts
31. WR Marques Colston, Saints
32. RB DeAngelo Williams, Panthers
33. QB Matt Schaub, Texans
34. TE Jason Witten, Cowboys
35. WR Brandon Marhsall, Dolphins
36. QB Tony Romo, Cowboys
37. RB Ryan Mathews, Chargers
38. TE Dallas Clark, Colts
39. WR Dwayne Bowe, Chiefs
40. QB Ben Roethlisberger, Steelers
41. WR Vincent Jackson, Chargers
42. WR Dez Bryant, Cowboys
43. QB Matt Ryan, Falcons
44. RB Jahvid Best, Lions
45. WR Mike Williams, Buccaneers
46. QB Peyton Manning, Colts
47. RB Knowshon Moreno, Broncos
48. TE Vernon Davis, 49ers
49. RB LeGarrette Blount, Buccaneers
50. TE Jermichael Finley, Packers
50a.RB Shonn Greene, Jets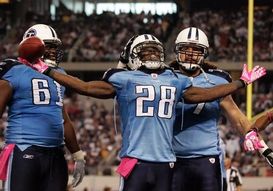 ICONJohnson currently checks in at No. 5 on Clemons' top 160.
Would You Like To Play A Game?
The National Football Post has once again partnered up with the good folks at FanDuel.com to offer weekly fantasy football contests throughout the regular season. Here's a breakdown of how the FanDuel Game works: Players are given a $60,000 salary cap to assemble a starting lineup comprising 1 QB, 2 RBs, 3 WRs, 1 TE, 1 kicker and 1 D/ST.
Most points wins. And if you can put up more points than NFP head honcho Joe Fortenbaugh, you