April 13, 2011 -
National Football Post
The big day is approaching
Editor's Note: Mason Foster is a 6-2, 242-pound senior linebacker from the University of Washington who will be keeping a running journal for the National Football Post as he prepares for April's draft. This is his fifth entry.
It's been a while since I checked in here at the National Football Post because I've been so busy, but that's definitely a good thing at this time of year!
After the Combine I moved back to Seattle to train for my Pro Day. It was great to be back in Washington and to be training with my old teammates Jake Locker and Nate Williams. I'm also in the process of finishing my degree at UW, so I'm back in school as well. It's exciting to think about taking that next step to the NFL, but I'm also looking forward to getting my diploma. My parents always stressed the importance of an education, so this means a lot to me.
I had a solid Combine in February and most people told me I didn't have to participate in my pro day, but there was never a doubt in my mind that I was going to work out again. I was happy with my Combine numbers, but I love to compete and knew that I could do better.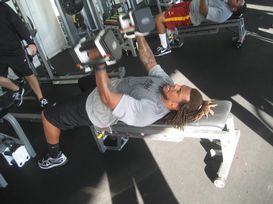 Getting ready...
I especially wanted to prove to the scouts that I was fast. At the Combine, my first 40 was timed between 4.65 and a 4.69, but my second attempt was between 4.71 and 4.75. I wanted to show that I live in the 4.6-range and that's what I did when I ran a 4.67 at my pro day. I was excited about that and I also got positive feedback from the teams in regards to my decision to work out. They told me they already know what kind of player I am from my film and that I showed what kind of a person I am by choosing to compete even though I didn't have to. Hearing that made me feel even better about my performance.
Now that the pressure of the workouts is over, I've moved on to the more relaxed part of the draft process: The team visits. To date I've had seven visits over three weeks. Last week I flew to Miami, Tennessee and Denver, this week I have three more and next week will be the last one that is currently scheduled. I've never been to any of these cities, so it's been a lot of fun seeing different parts of the country. I've been really impressed by how different the NFL facilities are from those at the collegiate level.
I'm lucky enough to stay in nice hotels, have great meals and meet with all the coaches and general managers I've seen on television. The usual schedule on these visits is that you arrive and have diner with the coaches and then meet with the team doctor for a physical the next morning. Following that you have individual meetings with the GM and the coaches.
The longest meeting is with the position coach, where you watch film and do work on the board. I'm a football junkie and I love talking X's and O's, so that's always my favorite part of the visit. It's real cool talking football and watching film with the coaches. The only tough part about the visits is the lack of sleep.
My flight last Monday left Seattle at 5:15 am and was followed by full days of meetings and work before I got on another plane to fly to the next city. On top of that, last week I went from Pacific time to Eastern time to Central time to Mountain time and back to Pacific time, so my internal clock was all messed up! I'm not complaining though. The trips have been cool and I'm looking forward to the ones that remain on my schedule.
The draft process has been a lot of hard work but it's also been a lot of fun. I have a pretty good idea of where I'll be selected, so the biggest question that remains is which team I'll be playing for next year. Just 15 or 16 more days until I find out!
CLICK HERE to read Mason's previous journal entry.
CLICK HERE to follow Mason on Twitter.
CLICK HERE to check out Mason's facebook fan page.