October 06, 2011 -
Jay Clemons
The Buc stops here?
The Bye-Week Conundrum
Ah, so this is why sites like National Football Post, Yahoo!, ESPN, CBSSports, Rotoworld and Rotowire had omnipresent listings for bye weeks on draft day ... so fantasy owners wouldn't make the tragic mistake of selecting multiple quarterbacks or tight ends with the same bye, or aces like Ray Rice, Tony Romo, Steven Jackson, Santana Moss and Brandon Marshall (all on byes) could not devastate a team's starting lineup in Week 5. In other words, balance must be the key to championship success, huh? Eh, maybe.
Actually, there are different schools of thought as to which seasonal "bye-week strategy" is more effective in the long run: 1) Spreading out your stars' byes, proffering the opportunity to be competitive for Weeks 5-9 and 11 ... or 2) Intentionally constructing a roster that's certain to fail for a particular weekend, but one that'll be fully loaded in the other five bye weeks. For example, owners could conceivably boast a regular combination of Larry Fitzgerald, Beanie Wells, Willis McGahee, Dwayne Bowe, Vincent Jackson, Philip Rivers and Ryan Mathews -- all Week 6 byes -- that has the potential for domination in Weeks 5, 7, 8, 9 and 11. Bottom line: Would you be willing to sacrifice one wretched Sunday for a chance at posting the league's highest score the rest of the time?
Week 5 Trade Rules To Live By
1. Never let a 1-3 or 0-4 owner control the tone of trade negotiations, especially when dealing with superstars. Before the downtrodden, perhaps desperate owner submits a blockbuster offer, let them know which star player(s) absolutely must be included in their proposal. Rule of thumb: A team not destined for the playoffs should never hold the hammer when haggling ... and don't be afraid to use your hammer when things get sticky.
2. It's never too early to start planning for the playoffs. No one likes to lose at any point during the season, but if you're sitting at 4-0, it might behoove you to sacrifice Week 5 or 6 for the sake of landing stud running backs or receivers on their bye week, via trade. Simply put, 1-3 owners can no longer assume the risk of getting killed from byes; in turn, they might consider forsaking a quality player on a bye for the chance to post serviceable lineups until Week 11.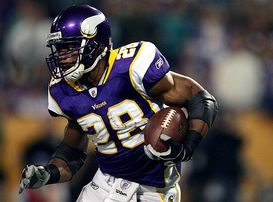 Thinking about dealing Adrian Peterson?
3. Before trading superstars like Adrian Peterson, Darren McFadden or Aaron Rodgers, make sure there are no other studs in the blockbuster. The value of D-Mac, Rodgers or AP alone is enough to tilt a seismic deal in Owner B's favor, so don't fall for some sob story of how they'll need a top-12 quarterback, top-15 wideout or top-25 tailback to balance out the transaction. Bottom line: Any Peterson/Rodgers/McFadden-centric trades must essentially be a 3-for-1 swap, with two throw-ins to consummate the deal, when applicable.
Passing Fancy
Here's a revised listing of my always-fluid rankings for starting QBs, 1 through 32:
1. Aaron Rodgers, Packers (fresh off the greatest QB fantasy outing in Lambeau history)
2. Tom Brady, Patriots
3. Drew Brees, Saints
4. Michael Vick, Eagles
5. Philip Rivers, Chargers (on pace for more passing yards than last season)
6. Tony Romo, Cowboys (pick-six warts and all)
7. Matt Ryan, Falcons
8. Matthew Stafford, Lions (should be a notch higher -- conservative thinking)
9. Cam Newton, Panthers (Yahoo's Andy Behrens says he'll win the fantasy-points title)
10. Eli Manning, Giants
11. Ryan Fitzpatrick, Bills
12. Ben Roethlisberger, Steelers
13. Josh Freeman, Buccaneers
14. Joe Flacco, Ravens (let's not overreact to one gawd-awful game against the Jets)
15. Matt Schaub, Texans (should rise when A-Johnson returns)
16. Matt Hasselbeck, Titans
17. Mark Sanchez, Jets
18. Jay Cutler, Bears
19. Kyle Orton, Broncos (might be higher if the Sword of Damocles, er Tebow, didn't hang over him)
20. Kevin Kolb, Cardinals
21. Sam Bradford, Rams
22. Matt Cassel, Chiefs (could re-enter the top 20 if K.C.'s running game goes kaput)
23. Colt McCoy, Browns (needs Mohammed Massaquoi/Greg Little to come alive)
24. Alex Smith, 49ers
25. Andy Dalton, Bengals
26. Rex Grossman, Redskins (recently passed the Torch Of Bold Proclamations to Tim Hightower)
27. Jason Campbell, Raiders
28. Tarvaris Jackson, Seahawks (can he build off a stellar Week 4?)
29. Donovan McNabb, Vikings
30. Curtis Painter, Colts
31. Blaine Gabbert, Jaguars (great arm ... but simply not ready for prime time)
32. Matt Moore, Dolphins (left to anchor a no-win situation in Miami)
Week 5: QB Locks For 275 Yards and/or 3 TDs
1. Michael Vick @ Buffalo
2. Matthew Stafford vs. Chicago
3. Aaron Rodgers @ Atlanta
4. Matt Ryan vs. Green Bay
5. Eli Manning vs. Seattle
6. Drew Brees @ Carolina
7. Cam Newton vs. New Orleans
RB Locks For 120 Total Yards and/or 2 TDs
1. Ryan Mathews @ Denver
2. Fred Jackson vs. Philadelphia
3. Matt Forte @ Detroit
4. Joseph Addai vs. Kansas City
5. Adrian Peterson vs. Arizona
6. LeSean McCoy @ Buffalo
7. Maurice Jones-Drew vs. Cincinnati
8. Michael Turner vs. Green Bay
9. Darren McFadden @ Houston
10. Arian Foster vs. Oakland
11. LeGarrette Blount @ San Francisco (bold prediction on our part)
Talking Points
1. Darren McFadden and Arian Foster are primed for a supreme battle in Houston. I'm pumped about the season's first hyped clash of elite tailbacks, pitting two playoff hopefuls from pedestrian passing offenses (Andre Johnson's absence hinders the Texans) and two clubs shamelessly built around the notion of feeding their stars early and often ... and milking the clock with defense-deflating drives. Last week against Pittsburgh, Foster had 166 total yards and one score on 33 touches; against New England, McFadden churned for only 123 total yards -- his lowest output of 2011 -- in a game where the Raiders racked up 504 yards. All this sets the table for a showdown where D-Mac and Foster are both "locks" to eclipse the superstar threshold of 120 total yards and/or two TDs (above).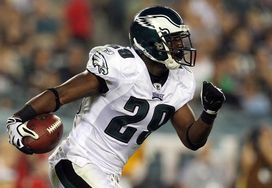 Philadelphia's LeSean McCoy found little breathing room against the Niners last Sunday.
2. Is the Niners' run defense really this good? The numbers speak volumes: Marshawn Lynch (Week 1: 47 total yards), Felix Jones (Week 2: 40 total yards), LeSean McCoy (Week 3: 52 total yards), Cedric Benson (Week 4: 64 total yards) have all posted season-lows in yardage against San Francisco. However, it's fair to wonder if this quarter-pole dominance is the result of prodigious tacklers like LB Patrick Willis and NaVorro Bowman announcing their presence on every play, a team defense that's allowing only 18.8 points per game (7th in the NFL) ... or the circumstantial assertion the Niners' first four opponents (Seahawks, Cowboys, Bengals, Eagles) had no interest in -- or couldn't devote time to -- achieving offensive balance against San Fran? It's a little too early to make any definitive judgments here ... but the ultimate litmus test may be upon us in Week 5, as San Francisco hosts Tampa Bay in a clash of surprising 3-1 clubs. Sure, the Bucs have QB Josh Freeman (969 passing yards, 5 total TDs in 2011) and pass-catchers Mike Williams/Kellen Winslow, Jr. ... but their bread-and-butter lies with RB LeGarrette Blount, who has collected 49 touches and 235 total yards in his last two outings. Game on!
WR Locks For 110 Yards and/or 1 TD
1. Larry Fitzgerald @ Minnesota
2. Reggie Wayne vs. Kansas City
3. Jeremy Maclin @ Buffalo
4. Steve Smith vs. New Orleans
5. Calvin Johnson vs. Chicago
6. Vincent Jackson @ Denver
7. Brandon Lloyd vs. San Diego
8. Sidney Rice @ N.Y. Giants
9. A.J. Green @ Jacksonville
10. Roddy White vs. Green Bay
11. Steve Breaston @ Indianapolis (sleeper pick)
Kicker Locks For 3-Plus Field Goals
1. Sebastian Janikowski @ Houston
2. Matt Bryant vs. Green Bay
3. Alex Henery @ Buffalo
4. Nick Folk @ New England
5. David Akers vs. Tampa Bay
6. Josh Scobee vs. Cincinnati
7. Neil Rackers vs. Oakland
We Interrupt Today's Philanthropist ...
... To report that, as of 9:23 a.m. Thursday, while doing the final proof of this column, I OK'd an out-of-nowhere trade with Yahoo! fantasy guru Scott Pianowski, swapping Marques Colston with Andre Johnson in our experts' PPR league. My record in the Friends & Family League is 3-1 (tied for 1st in a division) ... but with the acquisition of Johnson (hamstring injury), I am now one starter short, with nothing but bye guys on the bench. And since they're all worth keeping, it's entirely possible that I'll take a "0" in Colston's displaced starting slot for Week 5. Hmmm ... thank god I have 48 hours to chew on this dilemma; more importantly, thank god I'll have Johnson's healthy services sometime around Week 8 or 9.
Target Practice
These wide receivers drew 24 or more targets (8+ per game) from Weeks 2-4:
1. Wes Welker, Patriots -- 45 Targets
2. Jeremy Maclin, Eagles -- 33 Targets
3. Julio Jones, Falcons -- 32 Targets
4. Roddy White, Falcons -- 32 Targets
5. Eric Decker, Broncos -- 31 Targets
6. Calvin Johnson, Lions -- 31
7. Steve Johnson, Bills -- 30
8. Steve Smith, Panthers -- 30
9. A.J. Green, Bengals -- 29
10. Mike Thomas, Jaguars -- 29
11. Reggie Wayne, Colts -- 29
12. Larry Fitzgerald, Cardinals -- 28
13. Vincent Jackson, Chargers -- 27
14. Santana Moss, Redskins -- 27
15. Hakeem Nicks, Giants -- 27
16. Andre Johnson, Texans -- 26
17. Brandon Marshall, Dolphins -- 26
18. Greg Jennings, Packers -- 25
19. Antonio Brown, Steelers -- 24
20. Austin Collie, Colts -- 24
21. Donald Jones, Bills -- 24
22. David Nelson, Bills -- 24
23. Nate Washington, Titans -- 24
Inefficiency Experts
And now for the downside of lending too much credence to receiving targets: These seven wideouts posted dreadful targets-to-catch ratios in Week 4:
Jason Hill (Jags) -- 2-for-9 (23 percent)
Santonio Holmes (Jets) -- 3-for-12 (25 percent)
Pierre Garcon (Colts) -- 2-for-8 (25 percent)
Legedu Naanee (Panthers) -- 4-for-11 (36 percent)
Danario Alexander (Rams) -- 3-for-8 (38 percent)
Plaxico Burress (Jets) -- 3-for-8 (38 percent)
Donald Jones (Bills) -- 3-for-8 (38 percent)
It's A Little Known Fact ...
... That in four career games against the Vikings -- his favorite team while growing up in suburban Minneapolis -- Larry Fitzgerald (23 catches, 461 yards, 3 TDs; 35 targets in 2011) has racked up 31 catches for 474 yards and one TD ... or 7.8 receptions/119 yards per game; and with the sudden emergence of RB Beanie Wells (3 TDs last week), Fitzgerald is a pressure-free bet for 12 targets, one touchdown and maybe 145 receiving yards on Sunday.
The Relentless Pursuit Of Perfection
Here's my idea of a perfect fantasy lineup for Week 5:
QB Michael Vick
RB Michael Turner
RB Darren McFadden
WR Larry Fitzgerald
WR Calvin Johnson
RB/WR Fred Jackson
TE Jimmy Graham
PK Neil Rackers (Texans)
D/ST New York Giants
Questions From The Audience
Matt_Martins: Do you like Felix Jones or Santonio Holmes more for the rest of the year? I have a steak dinner riding on it.
Answer: Are we talking about the ribeye at a local steak joint ... or the Surf and Turf platter at a high-end place like Morton's? Because that'll go a long way in my decision. All kidding aside, I'd break it down like this: For standard-scoring leagues, I'd lean toward Felix and the incremental progress he's making as the Cowboys' undisputed RB1; but for PPRs, I'm inclined to believe that Santonio will win out by season's end, barring injury. Which brings me to this: How is that you have a steak dinner riding on this bet ... but you get to set the terms? Doesn't the other guy have any say? You know what, nevermind ... I can see we're already going down a pointless road here.
ckow123: Is Devery Henderson a viable flex start in PPR leagues? I've got a potential trade of Brandon Pettigrew/Willis McGahee for Henderson/Fred Davis.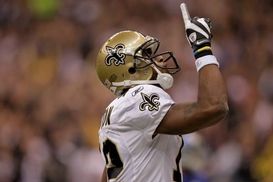 ICONColston is reportedly 100% healthy and ready for Sunday.
Answer: As I boldly -- and perhaps, carelessly -- predicted last week, Henderson would continue to enjoy success in the Saints passing offense, even with the return of Marques Colston. But that was before Hendo's zero-catch, one-target disappearance against the Jags ... setting off a fantasy panic attack like no other. My misguided faith in Henderson notwithstanding, I'd still want Pettigrew (22 catches, 240 yards in 2011) and McGahee (273 total yards, 2 TDs from Weeks 2-4) in a PPR format -- especially if Knowshon Moreno has a diminished chance of reclaiming in his once-prominent role in the Broncos offense.
InYourGhoul: Would you trade Mike Wallace for Chris Johnson? Or what about Jeremy Maclin for Ben Tate/McGahee? I have Maclin/Wallace/Wes Welker/Plaxico Burress/Victor Cruz and need a second running back.
Answer: This is interesting. Owner B is willing to sacrifice Chris Johnson -- who has a cake schedule after Week 5 -- for a shot at landing a top-10 receiver in Wallace (25 catches, 454 yards, 2 TDs); and Owner C is trying to entice you at the top end of McGahee's resale value. Well, in the interest of balance, I'd be willing to accept Johnson ... but nix the deal involving Maclin (26 catches, 334 yards, 2 TDs) -- but only as a means of extracting better talent than Ben Tate. For the Johnson trade, it wouldn't be a bad thing to make it a 2-for-2 swap, where both owners walk away with a running back and receiver; for the Maclin one, you should never feel pressured to keep a wideout who's making major strides at his position. Wait out this staredown, and you'll be fine.
GimmeDatP55: Help me out, please. I have been offered Darren McFadden/Tony Gonzalez/Mike Williams (Bucs) for Frank Gore/Jermichael Finley/Vincent Jackson. Gore, BenJarvus Green-Ellis and Mike Tolbert are my backs. What should I do?
Answer: Here's my dilemma, GimmePat. At the top of today's column, I implore readers to not accept any trades involving McFadden if he isn't the only "star" on their end of the deal; but in your case, you'd probably be getting the better end of this blockbuster with Gore (323 total yards, 2 TDs in 2011), Finley (3 TDs in Week 3) and V-Jax (20 catches, 374 yards, 3 TDs). (Assuming V-Jax's latest malady is harmless.) Obviously, Owner B has a major jones for D-Mac (No. 1-ranked RB in most standard-scoring leagues) and might consider Williams and Gonzo as window-dressing pieces to this swap. How about rejecting this trade informally -- via email, not on your official league page -- with the intent of submitting a counteroffer for a receiver that's a notch below Williams' talent. The Finley-for-Gonzo switch is definitely doable; the deal-breaker, to me, lies with Williams. Or, you could always make Owner B do an upgrade from Gore ... just in case you think his excellent outing against the Eagles' Wide Nine defense was more fluke than trend.
I Cannot Leave Without Showing ...
To honor the every-four-years clash of Eagles vs. Bills (thanks to NFL realignment in 2002), I wanted to relive one of the most underrated touchdowns in league history: Randall Cunningham's eyes-in-back-of-his-head move to avoid a sack/safey in the end zone ... turned 95-yard TD bomb to WR Fred Barnett! On that day, Cunningham tallied 302 total yards and three TDs -- his second-best fantasy outing of the 1990 season.
An award-winning fantasy writer with Sports Illustrated (2008-2010) before joining the National Football Post, Jay Clemons' Fantasy Philanthropist Blog can be found here every Monday and Thursday during the regular season. Clemons can be reached, day or night, via Twitter.