February 23, 2011 -
National Football Post
The Combine trap
Every year it happens. Some of the nation's top prospects begin to fall after the NFL Combine because athletically they are not among the tops in their group. Therefore, today we look at a group of guys who might not be the most gifted of straight-line athletes and could end up seeing their stock drop a bit because of their performance this week at the Combine, causing them to fall past where their actual tape would lead you to believe.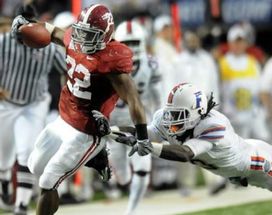 Ingram does a great job breaking tackles at the second level.
RB Mark Ingram: Alabama
He's shifty, physical and displays great short-area quickness and balance in tight areas. However, if there is one knock on Ingram' game, it's that he lacks great top-end speed in the open field. Now, because of his ability to side step defenders and break tackles he still creates a lot of big plays. However, on tape he doesn't look much more than a 4.55 guy. Again, speed is one of the most overrated attributes at the running back position, but if Ingram ends up running in the 4.6 range, which is very possible, I could see him falling down deeper into the first round than most feel at this time.
WR Randall Cobb: Kentucky
Cobb is one junior wideout who hasn't really been discussed throughout this draft season because of some of the other top-tier junior talents who declared this year. However, he's a natural football player with a good feel working from the slot, demonstrates impressive short-area quickness and has a physical element to his game after the catch. But, he is quicker than he is fast, and looks more like a mid 4.5 guy to me. Nevertheless, Cobb is a receiver whose game looks more geared for the slot anyway where suddenness and quickness take precedent over straight-line speed. He might not be the ideal size/speed combo to play on the outside, but for a team looking for a good mid-round value as a slot guy, Cobb is someone who could end being a very solid pickup.
TE Luke Stocker: Tennessee
For a position that is so often asked to play in tight areas where straight-line speed becomes irrelevant, many talent evaluators still put a lot of stock in straight-line speed for the tight end position, which is why prospects like Zach Miller and Jason Witten fall on draft day. Now, in no way am I saying Stocker is in their class. However, he's a capable "on the line type Y" who uses his big body well to box out defenders, possesses good body control when asked to go snatch the football and knows how to sell his routes. So if he does run in the 4.8 range don't kill the guy, be more concerned with his ten-yard split.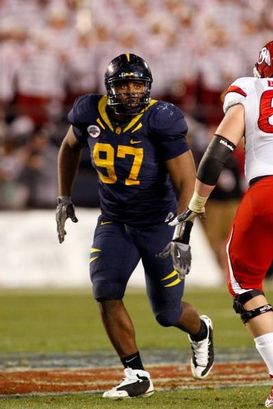 ICONJordan might not workout as well as some of the other DE's in the class.
DL Cameron Jordan: Cal
In no way am I saying that Jordan isn't a good athlete. However, when compared to the other defensive ends in the group — Aldon Smith, Da'Quan Bowers and Robert Quinn — I have a tough time seeing Jordan keep up from a numbers standpoint. He's a bigger guy who has the versatility to play inside and out, and in my view isn't going to be among the top in the defensive end grouping. Now, does something like this possibly keep Jordan out of the top 10-15 picks? Maybe. But like the first three guys on the list, if he starts to slide on draft day at all because of his workout, someone is going to get a bargain they never thought they would.
DE Ryan Kerrigan: Purdue
Back in November when I was talking with a scout concerning Kerrigan's draft stock, the one thing he said even back than was that teams are going to be turned off by the kind of athlete he is. You can see on tape a lack of a real closing burst in pursuit, he isn't overly explosive off the line and looks tight hipped in space. Kerrigan is a football player, a savvy, hard-working football player at that, but this is one environment where I could see him struggling in.
OLB Mason Foster: Washington
He's not the biggest, he's not the fastest, but he's got good instincts, can fend off blocks and tackles the football well. However, in a class of outside linebackers full of gifted athletes, I could see Foster getting lost in the shuffle a bit because he's not going to post a top-tier 40-time. And when you combine that with his overall size, it could allow some of the bigger, faster workout warriors to jump over him on draft day. However, I still think the guy is as solid as any weakside linebacker in the draft and regardless of where he gets drafted, by year two he'll be in someone's starting lineup in the league.
DB Ahmad Black: Florida
First off I want to say I really like Black as a football player. He's tough, likes to throw his body around and is a willing tackler. He also displays good instincts and knows how to make plays on the football. However, when you are 5-9 and 183 pounds, have the build of a corner and don't run overly well, the Combine is not the place to shine. I do think the Combine performance of Black is going to cause him to fall a bit, probably into the mid rounds. However, at the same time he's a natural football player with a good feel for the game, and looks like a guy who early on can play in nickel and mature in a year or two as a possible starter. I just think his size/speed numbers are going to hurt him this week.