February 08, 2012 -
National Football Post
The curious case of Bryce Brown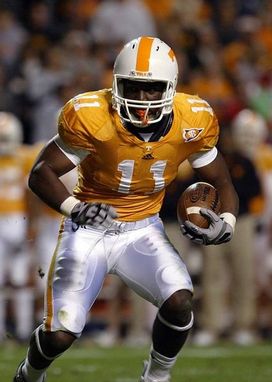 ICONBrown definitely has the talent to play in the NFL.
RB Bryce Brown: Kansas State (6-0, 220)
Possesses natural girth and muscle tone through his upper body. But, looks a bit thin and lean through the lower half. Exhibits a longer set of legs and isn't a real compact runner once he gets his wheels churning. Displays a good first step when pressing the line of scrimmage and runs initially with a good forward lean. He displays a good feel when asked to press the line of scrimmage or edge on perimeter runs and looked very comfortable in Tennessee's zone scheme in 2009. Felt defenders well around him, displayed good lateral quickness when asked to put his foot in the ground and accelerated quickly into the open field. Showcased some natural wiggle as well as a cut back guy, setting up blocks and using his foot quickness/burst and make a man miss and burst into the open field. Once he collected his feet, did a nice job finishing runs, lowing his pad level and falling forward on contact.
However, would allow his pad level to rise when trying to be sudden and make a defender miss. Would expose his lower half inside and subject his frame to some bigger hits and could be wrapped up easily at times between the tackles despite his size. Didn't keep a real wide base and/or great knee bend when looking to change directions and could easily be knocked off balance at times. Not overly dynamic/shifty when asked to make defenders miss who can square him up, looks to use strength and burst to gain an angle and run toward daylight.
Caught the football well out of the backfield and accelerated quickly after the catch. Has a good first step and looks like a low 4.5 guy on tape. Wasn't asked to play much on third down however and pass blocking is going to be an initial concern at the next level.
Left the Tennessee program following the 2009 season and transferred back home to Kansas State. Sat out 2010 and only played in three games in 2011 for the Wildcats before leaving the team and spending the rest of the semester in Tennessee.
Impression: Watching him run in Lane Kiffin's zone scheme as a freshman, the guy was an impressive back with a lot of natural talent. He was the number one ranked recruit out of high school, ahead of Trent Richardson in 2009 and no doubt has the skill set to play in the league. The biggest question mark for him going forward is his overall character.
Follow me on twitter: @WesBunting
Check out the NFP Draft page here...