June 04, 2014 -
Greg Gabriel
The dog days of summer
In another couple of weeks OTAs and mini camps will conclude, opening the window for the only "downtime" on the NFL calendar. So what do the personnel of each club's college and pro scouting departments do during this time? Well…
College Scouting
With video technology the way it is today, tape is always available for scouts to view. As long as they have an iPad and internet access they can watch as much tape as they want.
This is a lot different than the way things were even ten years ago. At that time, digital technology wasn't anywhere as close to as good as it is today when it comes to viewing tape. In the early to mid-2000s we were still watching college tape on beta cassettes that came from the league dub center. If a scout wanted to watch tape during the summer, he had to submit a request for copies to be made of the games he wanted to watch. After the copies were made, they had to be shipped to the scout for him to view. Obviously, this was a long and tedious process.
Today, each scout has an iPad, so all he needs to do to watch tape is connect through the internet to his club's video computer. At that point, the scout will have access to every college game tape that has been stored. The stored tapes go back years, so it is very easy to study a prospect's entire career if you want.
What I used to do and what I'm sure many scouts still do now is watch tape of the players I would be seeing the first month I was going to be on the road. Colleges begin training camp at the beginning of August, so it is at that time that scouts begin their visits.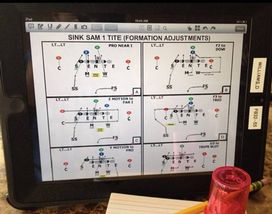 The advent of the iPad has made life in the scouting world much more efficient.
Training camp practices are some of the best practices you can watch in college football because so much of the work is "live." If a scout wants to get a true idea of a prospect's practice habits, this is the time to view him.
A scout may visit 15 schools in August, so the June and July months provide the necessary time to watch three or four games of tape on each prospect before he makes the school call. This way, the scout has a fair idea of the talent level of the player from a year ago. He then uses the practice to verify what he viewed on tape. In some cases, the player is a little bigger and stronger and you can already see where he will improve.
June and July is also a good time to watch tape of the small school players who may be on the prospect list. This way, the scout can verify in his mind if the player is actually a prospect. After watching at least four games on tape, the scout can make a decision as to whether or not it is worth making a school call to get a "live" look.
Advancements in technology have made the world of scouting much easier. By performing just a few hours of work each day in June and July, a scout can get a huge jump on his fall work and make the first four to six weeks of his fall schedule that much easier. This way, the scout is always ahead of schedule instead of trying to play catch-up.
Pro Scouting
Pro scouting is a lot different than college scouting in that it deals with two different aspects. Obviously, the scouts in a pro department are studying players on opposing rosters to keep a running "book" on each player. This is important for when a player becomes available via free agency, trade or waivers because it gives the club an up-to-date file on every player. June and July is a good time to do much of this update work.
The other task pro scouting departments perform is to scout the teams they will be playing in the fall. The pro scouts prepare a book for the coaching staff on each opponent. These books have up-to-date reports on the strengths and weaknesses of each player on every opposing team. The book also includes such things as substitution tendencies and which players are being used in different packages.
The contents of each book change from team to team depending on what the coaching staff is asking for, but there are also similarities. The books for divisional opponents are used year after year and updated with scheme and personnel changes. Because out-of-division opponents change every year, a lot of work needs to be done on these specific clubs. It is during June and July that the preliminary work on these opponents begins.
Again, the summer "downtime" gives scouting departments an opportunity to get ahead of the game. Once the season starts, the pace can be hectic. The clubs that use this downtime of June and July efficiently are the clubs that are that much more prepared to face the season.
Follow Greg on Twitter: @greggabe