April 12, 2011 -
National Football Post
The draft's top five overrated prospects
A look at who I see as the draft's most overrated prospects.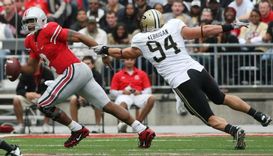 ICONKerrigan is stiff when asked to breakdown.
DE Ryan Kerrigan: Purdue (6-4, 267)
I like Kerrigan as a pass rusher. The guy is relentless, he displays violent hands and has the short-area quickness to disengage and work toward the passer. However, in my mind he's simply too stiff to stand up as a 34 OLB and isn't nearly the type of anchor player many make him out with his hand on the ground. I think eventually he can mature into a solid three-down defensive end, but in my mind I don't ever see him as an impact 10-plus sack guy in the NFL.
DT Muhammad Wilkerson: Temple (6-5, 310)
Wilkerson is another guy I like as an athlete. He's long, displays an explosive get off at the line and possesses some natural suddenness to his game when asked to shed and close. However, he's simply not there yet. He's raw as a pass rusher, allows his pad level to get too high and will likely need to play inside as a three-technique at the next level in order to be most effective, so there will also be a major learning curve. Therefore, I like the talent, but there is simply too much of an unknown in my book to take Wilkerson in round one, which is where I think he ends up going on draft day.
OT Nate Solder: Colorado (6-8, 310)
The guy definitely looks the part, as he's a great athlete for the position and is still dripping with upside. However, Solder is a narrow framed lineman who struggles with power, isn't as rangy off the edge as his athletic skill set would indicate and will get overextended when asked to mirror because of it. He's a prospect who in my mind is going to need to be brought along slowly and given plenty of time to mature as a reserve before being ready to start in the NFL. Therefore, taking him in the top half of the first round seems just a bit too high in my view.
OL Orlando Franklin: Miami (6-6, 316)
In my mind, Franklin just doesn't have a real natural position in the NFL. He's not athletic/rangy enough to reach speed off the edge as a left tackle and he's not flexible enough to consistently create leverage for himself inside as a guard. Therefore, by default, I can only see him playing as a right tackle in the NFL. But because of his high pad level I again think he will struggle creating a consistent push in the run game. Franklin looks more like a reserve only who does offer some versatility to an offensive line as a potential swing guy, but not nearly as the second-round pick many are making him out to be.
DB Aaron Williams: Texas (6-0, 204)
It's tough to be considered an elite cornerback prospect when you play high, are stiff out of your breaks and struggle to turn and run, which is exactly the case for Williams. Now, I know some talent evaluators are looking at him as a free safety prospect only. However, I don't see the type of awareness and/or overall instincts to his game on tape needed to quickly step in and start in a center field type role. I do agree safety is a better spot for him at the next level, but he still looks more like a potential starter only and more of a 3rd round value.