November 11, 2011 -
National Football Post
The draft's top senior 3-4 DE prospects
A look at the best five-technique prospects in the draft…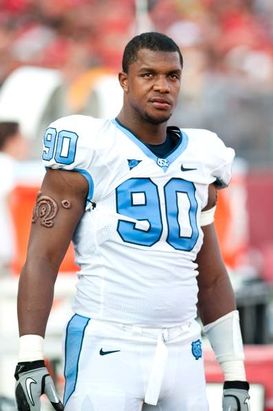 ICONIf motivated, Coples can do whatever he wants in the NFL
1. Devon Still: Penn State (6-5, 310)
Has improved his overall pad level as a senior and has been much more balanced and consistent staying on his feet because if it. Displays some developing pass rushing skills, used his hands much better toward the end of the year in order to defeat blocks and has the size to anchor on the edge and two gap on the outside.

2. Quinton Coples: North Carolina (6-6, 290)
Honestly the guy can play all over an NFL D-line and be as good as he wants at just about any spot. The game comes very easy to him and he can be dominant. The sky is the limit if he's willing to work at his trade and keep his motor running.

3. Billy Winn: Boise State (6-4, 295)
Winn is a bit of a tweener who will get looks as a 43 DE, a 34 DE and a 43 one gapping DT. I think he's best suited to play 34 DE as he has the power to anchor on the edge and offers some pass rush ability as well. Either way, the guy looks like a starting caliber defensive lineman in any number of schemes.

4. Jared Crick: Nebraska (6-6, 290)
Isn't a guy who can hold up vs. the run inside in the NFL and isn't a dynamic pass rusher either. However, as a five-technique DE I can see him finding a home with some versatility on 3rd down.

5. Kendall Reyes: Connecticut (6-4, 295)
Displays some natural talent, but needs to learn to play lower through contact as he gets tied up too often because of it. Will go higher than he should because of a weak DT class and his ability to play on the outside in a 34. Is a solid athlete though with the upside to earn a starting job.
Check out the NFP's 2012 DRAFT PAGE...
Follow me on twitter: @WesBunting