November 03, 2011 -
Jay Clemons
The envelopes please…
Midseason Awards Apropos Of Nothing
We'll keep today's Philanthropist relatively short and sweet -- allowing for certain gurus to rest up for their annual tailgating trek to Michigan State University ... and then a full Sunday slate of intriguing NFL games. But first, a few midseason awards to hand out:
Top Fantasy Rookie: Cam Newton, Panthers: It's hard to overstate the impact Newton's had with Carolina, guiding a moribund franchise out of a three-year funk and transforming the Panthers into one of the NFL's most prolific offenses. In some fantasy leagues, Newton (2,712 total yards/18 TDs) is the current No. 1 overall player -- that says it all.
Most Surprising Rookie: DeMarco Murray, Cowboys Murray's 253-yard explosion against the Rams in Week 7 -- breaking the Cowboys' single-game rushing record -- will likely stand as the season's greatest coming-out party ... although Newton's 422-yard debut against Arizona in Week 1 takes a close second. Both stars should play integral roles down the stretch and into the fantasy playoffs.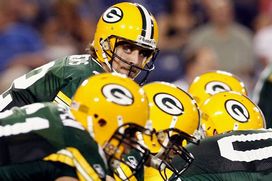 Rodgers has been delivering the goods for fantasy owners each and every week.
Top Fantasy Quarterback: Aaron Rodgers, Packers: We could have selected a few candidates here (Newton, Drew Brees, Tom Brady, Michael Vick, Matthew Stafford), but Rodgers has consistently been the most dynamic signal-caller in fantasyland, while vaulting the real-world Packers to an undefeated record (through eight weeks). Looking ahead, Rodgers is an easy mark for 300 yards passing or three TDs in every game from Weeks 9-15; but be weary of Green Bay's Week 16 date with Chicago at cold, blustery Lambeau.
Best Single-Game Performance From A QB We Expected: Rodgers -- Week 4 against the Broncos (444 total yards, 6 TDs)
Best Single-Game Performance From A QB We Didn't Expect: Newton -- Week 4 against the Bears (409 total yards, 3 TDs)
Top Fantasy Running Back: LeSean McCoy, Eagles: Yours truly took a lot of heat in August for hailing McCoy (892 total yards, 10 TDs) as the No. 6 overall player during the preseason; and now, it seems I may have undersold McCoy's explosive talents. To be fair, this award could have easily gone to Minnesota's Adrian Peterson (923 total yards, 10 TDs) or Buffalo's Fred Jackson (1,074 total yards/6 TDs), underscoring how superb the elite backs were in the season's first half.
Best Single-Game Performance From A RB We Expected: McCoy -- Week 8 against the Cowboys (200 total yards, 2 TDs)
Best Single-Game Performance From A RB We Didn't Expect: BenJarvus Green-Ellis, Patriots -- Week 5 against the typically stout Jets (149 total yards, 2 TDs)
Top Fantasy Wide Receiver: Calvin Johnson, Lions: No need to carry out the suspense here, as Johnson (47 catches, 804 yards, 11 TDs) has been the most dominant figure in fantasy and deserves all the perks usually extended to elite quarterbacks or high-end tailbacks. Everybody knows about Calvin's quite-realistic run at Randy Moss's NFL record for TD passes in one season (23); but of equal importance, Johnson has racked up 96 or more yards in six consecutive games -- against double and triple coverages.
Best Single-Game Performance From A WR We Expected: Miles Austin, Cowboys -- Week 2 against the 49ers (9 catches, 143 yards, 3 TDs)
Best Single-Game Performance From A WR We Didn't Expect: Torrey Smith, Ravens -- Week 3 against the Rams (5 catches, 152 yards, 3 TDs)
Top Fantasy Tight End: Jimmy Graham, Saints: At this point of the season, Graham ranks 1st in receptions (49), 1st in targets (74), 1st in receiving yards (713) and 2nd in TDs (5). In other words, he's the Calvin Johnson of Tight Ends.
Best Single-Game Performance From A TE We Expected: Jermichael Finley, Packers -- Week 3 against the Bears (7 catches, 85 yards, 3 TDs)
Best Single-Game Performance From A TE We Didn't Expect: Scott Chandler, Bills -- Week 1 against the Chiefs (7 catches, 53 yards, 2 TDs)
Top Fantasy Kicker: Jason Hanson: The Lions have been a model of instability in my lifetime, dating back to the mid-1970s. But let's give Detroit major props on one front: Since 1980, the club has had only two permanent kickers -- Eddie Murray (1980-91) and Hanson (1992-present), who at the ripe age of 41, has nailed 17 field goals (1st-place tie with Dan Bailey/Billy Cundiff) and 26 PATs (3rd overall). Bottom line: The indefatigable Hanson could be the Lions' ace in the hole for two or three more seasons.
Best Single-Game Performance By A Kicker: Dan Bailey -- Week 3 against the Redskins (6 field goals)
Top Fantasy Defense/Special Teams: Baltimore Ravens
Best Single-Game Performance By A D/ST That Came Out of Nowhere: Seattle Seahawks -- Week 5 against the Giants (3 sacks, 2 fumble recoveries, 1 safety, 3 interceptions, 1 defensive touchdown)
First-Half Fantasy MVP: Calvin Johnson
First-Half Fantasy MVP That Probably Wasn't Drafted Before Round 12: Cam Newton ... with honorable mention going to Saints RB Darren Sproles
Scare Tactics
Here are six simple clues to determine if your 6-2 juggernaut MAY be ripe for a Round 1 exit from the fantasy playoffs in Week 14: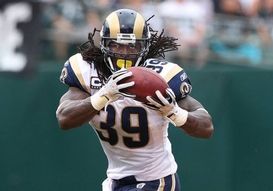 ICONSteven Jackson has been on a roll.
1. You only have one top-20 tailback in the regular starting lineup. Quarterbacks and receivers get a ton of fantasy love during the weather-friendly months of September, October and even November; but come December, it's usually up to running backs to bring home the fantasy bacon. And for the standard-scoring-league GMs who've been cruising along with a WR primarily at the flex spot ... Week 14 could be a time of comeuppance. Go ahead and check your standings: Are there any 4-4 clubs with Frank Gore, LeSean McCoy, Ryan Mathews as starters 1, 2 and 3? Or what about Darren McFadden, Steven Jackson, Willis McGahee? Despite their mediocre records, these kind of teams will be very dangerous during the playoffs -- assuming they make it.
2. Ben Roethlisberger, Ryan Fitzpatrick or Andy Dalton are entrenched starting QBs. Big Ben (vs. Cleveland), Fitz (@ San Diego) and Dalton (vs. Houston) will face top-5 pass defenses in Week 14; and to enhance the degree of difficulty, Roethlisberger and Dalton may be subjected to harsh weather in Pittsburgh and Cincinnati for that weekend. Now, this isn't to say the three signal-callers are doomed for a 150-yard, zero-TD outing on Dec. 8 or 11 ... but fantasy owners shouldn't expect the mini mum star threshold of 275 total yards and/or three TDs, either.
3. Beanie Wells is your unsurpassed anchor at running back. Talk about bad luck for Wells (518 total yards, 7 TDs), one of the biggest fantasy surprises of the young season. For Week 14, Beanie meets the 49ers, who haven't allowed a 100-yard rusher in something like 27 or 28 games and could easily be playing for home-field advantage throughout the NFC playoffs on that weekend -- regardless if San Francisco clinches the NFC West title before Thanksgiving.
4. Be afraid, be very afraid of the Peterson/McCoy/Rice troika. It would be a great upset if Adrian Peterson (@ Detroit), LeSean McCoy (@ Miami) and Ray Rice (vs. Indy) didn't roll for 130 yards and two touchdowns for Week 14. In fact, I'm willing to bet that one of the three superstars will notch 170 total yards or three TDs that weekend -- the kind of monster production that catapults a middling fantasy team into the Week 15 semifinals.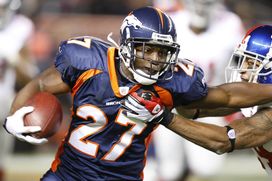 Knowshon Moreno could have some nice value come playoff time.
5. Your Week 14 opponent features starters from the Seahawks or Broncos. Assuming the good people of Seattle and Denver aren't blitzed by blizzards on Dec. 11, modest contributors like Sidney Rice, Ben Obomanu, Tarvaris Jackson, Knowshon Moreno, Eric Decker, Demaryius Thomas and even Tim Tebow could post big numbers against the Rams and Bears, respectively. Most fantasy owners can reconcile a playoff loss when elite players are leading the opposition; but to get bounced on a day when Obomanu collects 102 yards and two TDs would be devastating. And yet, that's exactly what might happen.
6. Your 15 minutes of fantasy fame are up. Fantasy gurus can digest every article, crunch every number, do every bit of research that goes into acquiring players and filling out lineups; but at the end of the day, it's still a crapshoot, which explains why so many dominant teams fall to lesser lights during the fantasy playoffs. The best example of this comes from Tom Brady, who threw for an NFL-record 50 touchdowns in 2007 ... but could only muster 140 yards and zero TDs in a windswept quagmire against the Jets in Week 15, essentially ruining the fantasy lives of every GM who rode Brady to a wire-to-wire division championship and No. 1 seed.
Week 9: QB Locks For 275 Yards and/or 3 TDs
1. Tom Brady vs. N.Y. Giants
2. Matt Cassel vs. Miami
3. Tony Romo vs. Seattle
4. Drew Brees vs. Tampa Bay
5. Eli Manning @ New England
6. Aaron Rodgers @ San Diego
7. Philip Rivers vs. Green Bay
8. Tarvaris Jackson @ Dallas
RB Locks For 120 Total Yards and/or 2 TDs
1. Michael Turner @ Indianapolis
2. LeSean McCoy vs. Chicago
3. Arian Foster vs. Cleveland
4. Beanie Wells vs. St. Louis
5. Matt Forte @ Philadelphia
6. Fred Jackson vs. N.Y. Jets
7. Frank Gore @ Washington
8. Ray Rice @ Pittsburgh
9. Michael Bush vs. Denver
It's A Little Known Fact ...
... That in five regular-season games against NFC North teams (Detroit, Minnesota, Chicago, Green Bay), Chargers QB Philip Rivers has per-game averages of 234 yards passing and 1.2 touchdowns -- lower marks when compared to his complete-game averages against the NFC South (249 yards passing, 2.5 TDs), NFC West (272 yards passing, 1.9 TDs) and NFC East (234 yards passing, 2 TDs). (NOTE: Rivers only played a few series against the Redskins in Week 17 of 2009, given the Chargers' 13-3 record.)
Running With The Moon
Here is my always-fluid top-40 listing of tailbacks in standard-scoring leagues -- from this point forward:
1. Adrian Peterson, Vikings (has a better Weeks 14-16 sked than our No. 2 guy)
2. LeSean McCoy, Eagles
3. Arian Foster, Texans (the NFL's most productive tailback since Week 4)
4. Ray Rice, Ravens
5. Fred Jackson, Bills
6. Matt Forte, Bears (does Pro Football Talk really believe Forte would do an in-season walkout? No way)
7. Frank Gore, 49ers
7b. Michael Turner, Falcons
8. Darren McFadden, Raiders
9. Steven Jackson, Rams (looks unstoppable at the goal line these days)
10. Ryan Mathews, Chargers (would rate slightly higher if nagging injuries weren't a weekly ritual)
11. Beanie Wells, Cardinals
12. Maurice Jones-Drew, Jaguars
13. Rashard Mendenhall, Steelers (a great buy-low candidate before the trade deadline)
14. Willis McGahee, Broncos (injured hand might have been a one-week deterrent)
15. DeMarco Murray, Cowboys
16. Jonathan Stewart, Panthers (has risen from the September ashes to become a possible November gem)
17. Chris Johnson, Titans
18. BenJarvus Green-Ellis, Patriots
19. Darren Sproles, Saints
20. James Starks, Packers
21. Jahvid Best, Lions (would rate higher if Detroit had more clarity on his concussion problems)
22. Jackie Battle, Chiefs (still not a big fan ... but the results are impressive)
23. Marshawn Lynch, Seahawks
24. LeGarrette Blount, Buccaneers
25. Brandon Jacobs, Giants (opportunity knocks ...)
25a. Ahmad Bradshaw 26. Mark Ingram, Saints
27. Shonn Greene, Jets
28. Cedric Benson, Bengals (Bernard Scott was an admirable replacement for Cincy last week)
29. DeAngelo Williams, Panthers
30. Ryan Torain, Redskins
31. Peyton Hillis, Browns (the NFL's poster boy for bumbling through a contract year)
32. Felix Jones, Cowboys
33. Pierre Thomas, Saints (don't let the middling ranking fool you ... Thomas still has good value)
34. Michael Bush, Raiders
35. Ben Tate, Texans
36. Montario Hardesty, Browns (his window of opportunity to supplant Hillis is wide open)
37. Reggie Bush, Dolphins
38. Daniel Thomas, Dolphins
39. Mike Tolbert, Chargers
40. Stevan Ridley, Patriots (fantastic upside pick who should never be dropped for some WR/TE flavor of the week)
Talking Points
1. Andre Johnson will likely be a game-time decision for Sunday. While Johnson (25 catches, 352 yards, 2 TDs in limited action) is obviously an excellent source of fantasy goodness for Weeks 14-16, owners should exercise more patience with the Houston star for another w eek -- even if he gets quality reps against Cleveland. Receivers with recuperating hammys are typically conservative in their first game back from injury -- especially when making cuts after medium- to long-range sprints. Give Johnson some time to regain his sea legs ... and recapture his all-world form for Week 10. (Note: The Texans have a Week 11 bye ... so it's not out of the realm of possibility that Johnson sits until Week 12.)
2. The Redskins pulled off a sneaky-good waiver pickup with Tashard Choice. It's funny how Choice swung wildly from a reasonable threat to unseat Felix Jones with Dallas before April ... to an expendable afterthought once DeMarco Murray blitzed the Rams for 253 rushing yards. Well, one NFC team's trash ... is another's treasure, as Choice joins a recently wretched club that's without Tim Hightower (season-ending knee injury) and may not view either Ryan Torain or rookie Roy Helu as workhorse backs; and now the burden of proof shifts to Choice, who amassed 424 total yards and two TDs for the Cowboys in a three-pack of games to close out the 2008 season. During that span, Choice caught 16 balls -- which should thrill PPR owners in search of a low-key, high-upside acquisition for Week 10 and beyond.
WR Locks For 110 Yards and/or 1 TD
1. Miles Austin vs. Seattle
2. Greg Jennings @ San Diego
3. Jeremy Maclin vs. Chicago
4. Sidney Rice @ Dallas
5. Larry Fitzgerald vs. St. Louis
6. Brandon Lloyd @ Arizona
7. Vincent Jackson vs. Green Bay
8. Hakeem Nicks @ New England
9. Dwayne Bowe vs. Miami
10. Wes Welker vs. N.Y. Giants
11. Mike Wallace vs. Baltimore
12. Greg Little @ Houston (sleeper pick)
Kicker Locks For 3-Plus Field Goals
1. Alex Henery vs. Chicago
2. Mason Crosby @ San Diego
3. Ryan Succop vs. Miami
4. Billy Cundiff @ Pittsburgh
5. Mike Nugent @ Tennessee
6. Nick Novak vs. Green Bay
Questions From The Audience
jrellis2: I can swing a trade for Arian Foster, giving up Chris Johnson and Andre Johnson. Sound good? Dez Bryant and Hakeem Nicks are my other top receivers, and I need RB help.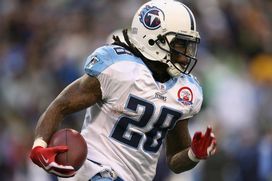 Will Chris Johnson ever turn it around?
Answer: Jake, two weeks ago, I would've done everything in my power to prevent you from parting with both Johnsons, given CJ2K's (seemingly) doable schedule from Weeks 7-16 ... and A-Johnson's apparent lightning-fast recovery from a substantial hamstring injury. But right here, right now, that's a fair price to garner the services of Foster -- the No. 1-ranked running back since Week 4 (809 total yards, 5 TDs in that span). And now, the next course of action lies with securing the rights to Houston backup Ben Tate, just in case Foster incurs any more injury setbacks. To be perfectly frank, this is a brilliant trade on your part -- even if someone else pitched it to you!
FingerGuns99'Owner B' wants Wes Welker/Jahvid Best for Calvin Johnson/Kevin Walter. My other WRs are Larry Fitzgerald, Malcom Floyd, Doug Baldwin, and my other RBs are Darren McFadden, Michael Bush and DeMarco Murray.
Answer: Your fellow competitor must be a Lions fan, Cal-Berkeley graduate or practicing neurologist ... what other explanation could there be for him surrendering Calvin and Walter for Best, who may return to Detroit's lineup at Week 10 OR may be sidelined until December with lingering effects from a concussion. Which brings me to this: The other owner is aware that Calvin is almost on pace to tie Randy Moss's all-time mark for receiving TDs (23) in one season, right? Even if Walter (23 catches, 287 yards, 2 TDs) wasn't a nice throw-in ... I'd still assume the trade risk for Calvin. But oh well!
Radio Daze
You know what makes the stuck-in-a-cubicle workday run smoothly during the fall months? Podcast after podcast after podcast! Here are my favorite football-specific podcasts/radio shows:
1. ESPN -- "Fantasy Focus" with Matthew Berry and Nate Ravitz
2. CBSSports.com -- "Fantasy Football" with Dave Richard and Jamey Eisneberg
3. KFAN in Minneapolis -- "Fantasy Football Weekly" with Paul Charchian
4. Yahoo! -- "Fantasy Blitz"
5. RotoWire.com -- "Fantasy Sports Podcast"
The Relentless Pursuit Of Perfection
Here's my idea of a perfect fantasy lineup for Week 9:
QB Aaron Rodgers
RB Michael Turner
RB Arian Foster
WR Miles Austin
WR Vincent Jackson
RB/WR Dwayne Bowe
TE Jimmy Graham
PK Nick Novak (Chargers)
D/ST Kansas City Chiefs
YouTube Memory Lane
I cannot end today's Philanthropist without spreading more YouTube cheer, courtesy of a few epic NFL clips from the 1960s, 70s and 80s:
1. 1967 -- Broadcasting icons Jack Buck (left to right), Ray Scott and Frank Gifford focus on the C-O-L-D temperatures at Lambeau Field ... just moments before the Cowboys-Packers NFL Championship game, dubbed The Ice Bowl. Most people forget that Green Bay still had another game to play after this landmark victory -- Super Bowl II against Oakland. (Dallas also participated in something called The Runner-Up Bowl in Miami -- the last of its kind -- but that's a story for another day.)
2. 1972 -- Monday Night Football: The Raiders whitewash the Oilers 34-0 in Houston, sparking one infamously derisive remark from a bored (and perhaps plastered) Astrodome patron.
3. 1975 -- CBS Sports essayist Jack Whitaker does a quick intro for 'The NFL Today' -- on-site before the Cowboys' Hail Mary victory over the Vikings in the NFC playoffs. During Minnesota's decade of dominance in the NFC (1969-1978), the '75 squad -- which started the season 11-0 -- may have been the Vikings ' best of that era.
4. 1977 -- The Vikings and Rams partake in the famous Mud Bowl at the Los Angeles Coliseum, the Rams' home digs before moving to Anaheim in 1980. (Vin Scully hasn't changed a bit, huh?)
An award-winning fantasy writer with Sports Illustrated (2008-2010) before joining the National Football Post, Jay Clemons' Fantasy Philanthropist Blog can be found here every Monday and Thursday during the regular season. Clemons can be reached, day or night, via Twitter.