February 22, 2012 -
National Football Post
The fastest guy at the NFL Combine will be…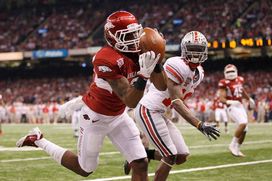 ICONAdams can get behind defenses vertically
WR Joe Adams: Arkansas (5-11, 190)
Adams has been rumored to be running in the mid 4.2 range during training and has to be one of the favorites.

WR Jarius Wright; Arkansas (5-10, 180)
We know Joe Adams can fly, but there are those who believe that Wright is actually the faster athlete when the pads are off.

WR Devon Wylie: Fresno State (5-9, 185)
I don't know if he has the type of speed needed to be the fastest guy at the Combine. However, he reaches top end speed instantly and will have one of the fastest ten and twenty yards splits in Indy.

CB Morris Claiborne: Louisiana State (6-0, 185)
How can you not have this guy on the list? He's rumored to be the fastest player on the LSU defense and showcases "plus" recovery speed in all areas of the game.

The Favorite….

WR Chris Rainey: Florida (5-9, 175)
Rainey took down former Florida speedster Jeff Demps in a race during his freshman year. How fast is Demps? Demps is currently training for the Olympics as a professional sprinter. The point? Rainey can fly.
Check out the NFP Draft page here...