September 09, 2011 -
Barry Dorey
The Friday Forecast: Buccaneers
Each and every Friday, the nation's top beat writers covering the NFL will give you a snapshot on what to expect from your team that week. Here's a look at what you can expect to see from our dream team of writers as they cover your dream team of players.
WEEK 1 Tampa Bay Buccaneers
Lions at Buccaneers by Anwar Richardson of the Tampa Tribune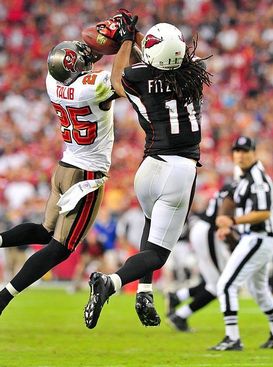 Talib could be the 'X-Factor' vs. Lions WR Calvin Johnson on Sunday.
Impact Injuries: Tampa Bay is fortunate not to have any significant injuries heading into Sunday's game. Bucs TE Kellen Winslow did not practice on Thursday, but coach Raheem Morris had previously scheduled that day of rest. Winslow did not require knee surgery this offseason, but the team is still being careful. Bucs backup CB Myron Lewis has been bothered by an ankle injury and it is not clear if he will play on Sunday, while backup LB Dekoda Watson has been limited with a hamstring injury.
The X-Factor: If Detroit receiver Calvin Johnson is Megatron, then Bucs CB Aqib Talib will have to be Optimus Prime in order to slow him down. Johnson had 10 receptions for 152 yards in a 23-20 overtime victory against Tampa Bay last season, but Talib was on injured reserved with a hip injury. If Talib wants to be regarded as a shutdown corner, this is his opportunity.
Don't Be Surprised If: Tampa Bay gets off to a slow start against Detroit. Last season, Tampa Bay was outscored 73-43 in the first quarter. The Bucs will honor Hall of Famer Lee Roy Selmon, former Tampa Tribune columnist Tom McEwen and Lions reporter Tom Kowalski, who all recently passed away, plus remember the lives lost on September 11. It may be hard for players to get amped right away with so many remembrances in one day.
Follow Anwar Richardson on twitter: @TBO_Buccaneers
For more Bucs coverage Click here.