March 19, 2012 -
National Football Post
The guard prospect EVERYONE needs to know about
The Breakdown…

OG Brandon Brooks: Miami (Ohio) (6-5, 343)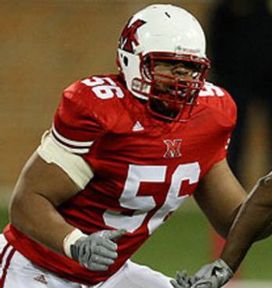 ICONBrooks carries his weight well.
Has experience playing left tackle and both guard spots, but his body type says more guard only in the NFL. He is a long armed guy for his size. However, possesses a physical make-up and carries his weight well. Struggles in space when asked to get out and pull. Looks a little top heavy, doesn't possess "plus" range when asked to get into the second level and lacks ideal balance when trying to breakdown and take proper angles. Has a tough time changing directions once he gets his momentum going and routinely will whiff into contact. Nevertheless, is a naturally strong kid in the run game as an in-line guy. Showcases good bend when asked to coil up into his stance. Did a much better job as a senior keeping his pad level down and running his legs through contact while staying engaged. Showcases quick hands off the snap. Doesn't have a real explosive first step, but is so powerful he can create a push in-line as a run blocker.
Does a good job sitting into his stance in the pass game. His size and natural power allows him to be a "plus" anchor player vs. the bull rush. Plus, his length again allows him to gain leverage into contact and he's really improved his punch as the year went on. Is an above-average athlete for his size and exhibits solid change of direction skills. But, isn't real technically sound with his footwork in pass protection at times. Doesn't stay real balanced, wants to be aggressive and get his hands on lineman, and will get caught lunging into contact.
Impression: Is a big, strong kid who has some lateral quickness for his size but needs some technique work. Nevertheless, has some upside and can win consistently in the run game and pass game and looks like an NFL starter in an angle scheme to me.
Check out the NFP Draft page here...