April 01, 2014 -
Ari Nissim
The Jimmy Graham dilemma
Jimmy Graham is a phenomenal talent with a young career that has already seen two 1,200+ yard receiving seasons as well as 41 touchdowns over four years. He's a player that can affect and change the game. Simply put, Jimmy Graham is a difference maker.
If you listen to agents they will tell you that most of their clients are those types of players. Simple fact … they're not! In actuality, there are a lot less of these players than people believe, but the New Orleans tight end is one of them. So then what is the dilemma? Why is there more talk about a potential grievance being filed than that of a deal getting done for Graham?
The 2014 tight end franchise number is roughly $7.05 million. The wide receiver franchise number is $12.1 million, a difference of $5 million. This is important because Jimmy Graham, although a TE, lines up in the slot and out wide at a typical receiver position more than the majority, if not all the tight ends in the league. Thus, an argument for the higher franchise valuation can be made because Article 10, Sec 2(a)(i) of the NFL CBA states that, "the franchise designation of a player will be determined according to where the Franchise player participated in the most plays during the prior League Year." If Graham can get an arbitrator to believe that plays for a tight end should only count if they are lined up on the line, then perhaps the arbitrator will decide that Graham should be viewed as a wide receiver and receive the higher amount.
With the looming potential of a grievance being filed, there are reasons on both sides to do a deal, especially before any verdict is reached. The reason for Graham to do a deal is the fact that if he loses the arbitration case and is deemed a TE, his 2014 franchise number is $7.05 million. Worse, however, is the very real potential of being franchised again in 2015 for $8.5 million (120% of the 2014 franchise number), thus delaying his impending free agency for two full seasons.
The reason for the Saints to do a deal before a grievance and/or arbitration verdict follows a similar path; if an arbitrator were to find that Graham should be franchised at the wide receiver number of $12.1 million, then not only will it cost an additional $5 million in 2014, but it will also make franchising him in 2015 more costly, counting potentially $14.5 million against next year's cap. Furthermore, it makes completing a long-term deal that much harder because if Graham knows he is getting $26 million over the next two years, what reason does he have to get a deal done for much less than an average of $13 million per season? Additionally, the guaranteed amount would need to be at least $26 million and likely more for the deal to make much, if any, sense for Graham to sign.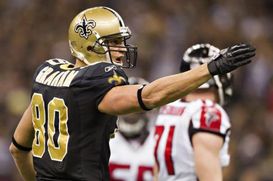 Graham is likely making the case that he is worth $12-$13 million per year.
In addition, Jimmy Graham is one of the top (non-quarterback) playmakers in the game. In thinking about offensive skill position players, there are not many that would be considered better and more reliable playmakers than Graham. The short list likely consists of Calvin Johnson, Adrian Peterson and A.J. Green. Health takes both Rob Gronkowski and Julio Jones out of the equation. Thus, Graham is arguably the fourth-best non-quarterback offensive skill player in the league. Thus, why not pay him whatever it takes to get a new contract signed by this difference maker? Why is there more talk of a potential grievance about the amount he should be paid under his franchise designation than talk of the two sides getting close to a deal?
The current issue the club and player are probably battling over is the average per year amount which, in turn, will work into how much is guaranteed. The years will work themselves out, but the average per year is a problem. The highest paid tight end in the league is Rob Gronkowski, who signed a six-year extension for $54 million in 2010 with two years remaining on his contract at the time. Herein lays the dilemma.
If the Saints are going to reset the tight end market by making Graham the highest paid TE, the problem becomes how much more they will be willing to pay over Gronkowski's $9 million average per year, as well as how much more guaranteed than the $15.5 million they would pay if they simply franchise Graham over the next two years. Teams do not particularly care to reset the bar for positional salaries and when they do, they would like to keep the amount as in-line with the market as possible. So if the Saints agree to make Graham the highest paid TE in the league, the number I would assume they would want to pay is likely $9.5 million per year. This is a defensible position from a club's perspective because you are making the player the highest paid player at his position, with considerably more guaranteed than the $7 million under the franchise tender this season.
The offer the Saints are probably standing behind is something along the lines of five years for a total value of $47.5 million with $20 million guaranteed. This type of offer would be defensible from a club perspective for a number of reasons. First, it makes Graham the highest-paid player at his position. Second, it guarantees considerably more money than the $7.05 million of the franchise tender this year. Unfortunately, Graham and his agent likely do not agree with the Saints' perspective.
From the agent's perspective, this is likely a case of the aforementioned unique player. Unique players get contracts that reset the market place by a larger margin, and Graham is one of those players. There is precedent in this line of thinking such as when Larry Fitzgerald reset the wide receiver market, moving the number of the highest receiver contract from roughly $10 million per year to $15 million per season, or when Adrian Peterson reset the running back market from roughly $9 million per year to his $14.2 million average. In addition, there are currently wide receivers making $10 - $12 million per year who Graham has out-produced, as well as the fact that the salary cap increased $10 million (or 8.13%) this year providing teams with the ability to increase pay accordingly. The agent is likely asking for something in the range of $12 - $13 million per season with a guarantee of $30 million, which has led to the dilemma and potential pending grievance.
There will be posturing by both sides and there is always the possibility of the player not showing up until halfway through the season (New England offensive lineman Logan Mankins held out until November in 2010 when those negotiations got ugly after the Patriots RFA tendered him because of the rules of the uncapped year), but Graham would be giving up $414,882 for each regular season week he decided to miss.
At the end of the day, Jimmy Sexton (Graham's agent) and Mickey Loomis (Saints GM) are both proven veterans that know how to make a deal when the time is right, and for that reason I think this deal will get done most likely at a number that is a little above or below where each of the parties would like it to be.
Follow Ari on Twitter: @AriNissim
Ari Nissim worked with the New York Jets from 2006 through 2013, serving six years as Director of Football Administration. In addition, Nissim interned at the NFL League office and worked at Athletic Resource Management Sports Agency, and currently teaches in the NYU Sports Management Program.