July 27, 2011 -
Barry Dorey
The Manifesto Destiny
... And We're Baaaaack!
Back in February, I made the public pronouncement -- to the chagrin of many on Twitter -- that I desperately wanted the NFL lockout to continue until July 20 or so, guaranteeing that we'd experience a once-in-a-lifetime look at first-wave free agency and training camps running simultaneously. Well, now that the dream has been realized, I'm left to wonder: How can I possibly shoehorn the fantasy fates of six otherworldly running backs, 600 potential free agents and Brett Favre's next comeback into a 13,000 word column? Seriously.
Speaking of 13,000-word columns ...
The Vick-Gates Manifesto
I rarely piggyback off another writer's thesis when beginning a Philanthropist piece, but I had to make an exception after reading ESPN guru Matthew Berry's 2011 Draft Manifesto. In a nutshell, Berry is imploring fantasy owners to move heaven and earth to draft Eagles QB Michael Vick (3,694 total yards/30 TDs in 2010) and Chargers TE Antonio Gates (782 yards/10 TDs in only 10 games last year) ... while rolling the dice on a corps of productive, but likely non-elite-level running backs and wide receivers. Berry's assertion: Owners of Vick (only 12 starts last year) and Gates, barring injury, are lead-pipe cinches to win their respective battles at quarterback and tight end every week; and that alone should vault owners to the fantasy playoffs -- and quite possibly a championship.
Here are some, ahem, Revelations to that manifesto, with one small caveat: Let's assume someone with the 7th or 8th draft slot (12-team league) takes Vick in Round 1, a Tier II running back in Round 2, Gates in Round 3 and then tailbacks again in Rounds 4 and 5. Simply put, owners won't have the opportunity to build their wideouts until Round 6. Is that a recipe for a championship?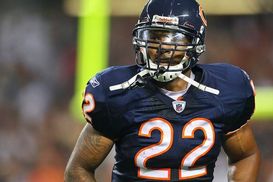 ICONForte is a big piece of the Chicago passing game.
What Owners Will Love: Snaring Matt Forte or Peyton Hillis in the middle of Round 2 would be a nice coup. After all, Forte is an annual threat for 1,800 total yards and nine TDs ... and Hillis has the capacity for 350 touches (including 50-60 receptions) and 1,800 total yards. Even if Montario Hardesty ends up being the real deal in Cleveland.
What Owners Will Love, Part II: Given all the