May 07, 2011 -
National Football Post
The most intriguing pick in the 2011 NFL draft
If we look back to January -- pre-NFL Combine -- Clemson DE Da'Quan Bowers was one of the "hot" names being mentioned potentially as a candidate for the first overall pick. I'll admit I wasn't ever that high on him, as I saw Bowers more as a power pass rusher with good body control/suddenness when asked to disengage and despite being a bit raw vs. the run game, he had the makings of a very good three-down NFL lineman, just not elite. However, the comparisons to former NFL sack artist Michael Strahan were even thrown out, so there were some talent evaluators who thought awfully high of the kid.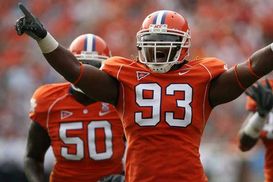 Bowers has the talent to make plays off the edge.
Fast forward to early April, where Bowers saw a tremendous fall down draft boards due to some potential motivational concerns as well as the big one, his medical, as his knee didn't check out 100 percent with all teams. Rumors of micro-fracture surgery were tossed around and the idea that this guy may never be fully healthy was simply too concerning for most teams take off the board in round one.
And I get that.
However, in a situation like this, where you know the guy is a first-round caliber talent, the key on draft day is finding a spot where the reward outweights the risk. And that's exactly what the Buccaneers did.
Despite grabbing another talented three-down DE in round one -- Iowa's Adrian Clayborn -- Tampa Bay saw a talent like Bowers sitting on the table at pick 51 and decided to roll the dice.
Looking over Tampa's early selections the past two drafts, they have brought in talented DT standouts Brian Price and Gerald McCoy last year and now can pair them with Clayborn and Bowers this year. Potentially drafting one of the best young defensive line units in the NFL. Therefore, on paper it looks like adding Bowers certainly seemed worth the risk in round two.
Opposing offensive lines can only slide protection so many ways, and with potential blue chip players in McCoy and Bowers with very solid potential starters in Clayborn and Price next to them, this could be a very nasty front four early on if Bowers can stay healthy and develop.
Now, that is still a big if. However, I love the talent, upside and potential this front four now has with Bowers in the mix. And I certainly think Bowers can be the type of player that takes this defense to the next level with his presence off the edge.
All in all, not bad for a guy you only had to give up a second rounder for.
Follow me on twitter: @WesBunting