August 17, 2011 -
Jay Clemons
The Next Big Thing
Prose And Cons
For obvious reasons, Adrian Peterson, Chris Johnson, Arian Foster and Jamaal Charles have garnered the lion's share of fantasy attention this summer, as owners rack their brains to rank the Fab Four in Points Per Reception and standard-scoring leagues. But for me, the real intrigue with lies with the next wave of superstar backs -- Ray Rice, Rashard Mendenhall, Darren McFadden, Maurice Jones-Drew, LeSean McCoy, Michael Turner, Frank Gore -- any of whom could rocket to the top of the charts by season's end and lead you to a fantasy championship ... or crumple under the weight of great expectations. To kick off today's Philanthropist, let's focus on The Somewhat Magnificent Seven ... in their quest to be the No. 5 consensus tailback.
(in alphabetical order)
**Frank Gore should be the No. 5 back because ... he's still the 49ers' go-to option between the 20s, on 3rd-and-long and at the goal line.
**Gore should be the No. 11 back because ... he has scored double-digit TDs just once in his six-year career (2009).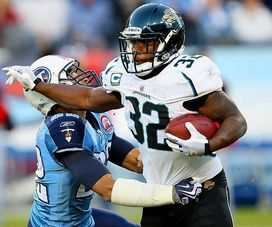 MJD says his knee is feeling fine.
**Maurice Jones-Drew should be the No. 5 back because ... he's an annual lock for 1,500 total yards/13 TDs when healthy.
**MJD should be the No. 11 back because ... stud-in-waiting Rashad Jennings is ready for 150-plus touches.
**Rashard Mendenhall should be the No. 5 back because ... 1,700 total yards/15 TDs is within reach for Year 4.
**Mendenhall should be the No. 11 back because ... the pass-friendly Steelers should have Big Ben for all 16 games.
**LeSean McCoy should be the No. 5 back because ... he's a reasonable play for 1,850 total yards and 8-10 TDs in Philly's dynamic offense.
**McCoy should be the No. 11 back because ... he'll have to share the wealth with Michael Vick, DeSean Jackson, Jeremy Maclin, Brent Celek, Ronnie Brown, Steve Smith, etc.
**Darren McFadden should be the No. 5 back because ... he's Oakland's only home-run threat on every snap -- rushing or receiving.
**D-Mac should be the No. 11 back because ... he's seldom a lock to play 16 games in a given season.
**Ray Rice should be the No. 5 back because ... he's MY lock for 2,000 total yards (and maybe double-digit TDs).
**Rice should be the No. 11 back because ... Ricky Williams has the capacity to vulture 4-6 short-range TDs from Rice.
**Michael Turner should be the No. 5 back because ... he has maybe 2-3 more 1,300-yard rushing campaigns in that bulldozer-esque body.
**Turner should be the No. 11 back because ... he's sneaking up on 30 (the Logan's Run expiration age for star backs) ... and Jason Snelling is primed for a breakout.
Media Circus
In case you're wondering ... here are four prominent preseason projections involving The Somewhat Magnificent Seven:
YahooSports.com
1. Rice: 1,591 total yards/11 TDs
2. Mendenhall: 1,429 total yards/13 TDs
3. Jones-Drew: 1,593 total yards/9 TDs
4. Turner: 1,403 total yards/12 TDs
5. McFadden: 1,512 total yards/10 TDs
6. Gore: 1,328 total yards/8 TDs
7. McCoy: 1,191 total yards/7 TDs
ESPN.com
1. Rice: 1,887 total yards/9 TDs
2. McCoy: 1,749 total yards/10 TDs
3. Jones-Drew: 1,692 total yards/12 TDs
4. Mendenhall: 1,507 total yards/13 TDs
5. Gore: 1,510 total yards/10 TDs
6. Turner: 1,359 total yards/12 TDs
7. McFadden: 1,658 total yards/7 TDs
Rotowire magazine
1. McCoy: 1,777 total yards/12 TDs
2. Rice: 1,844 total yards/8 TDs
3. Turner: 1,481 total yards/14 TDs
4. Mendenhall: 1,599 total yards/12 TDs
5. Gore: 1,774 total yards/9 TDs
6. Jones-Drew: 1,435 total yards/13 TDs
7. McFadden: 1,695 total yards/10 TDs
CBSSports.com
1. Rice: 1,770 total yards/9 TDs
2. McFadden: 1,628 total yards/10 TDs
3. Jones-Drew: 1,605 total yards/10 TDs
4. Turner: 1,405 total yards/13 TDs
5. Mendenhall: 1,456 total yards/11 TDs
6. McCoy: 1,519 total yards/9 TDs
7. Gore: 1,486 total yards/9 TDs
Running With The Moon, Part I
I purposely waited until Preseason Week 2 to debut my top 50 list of running backs in standard-scoring leagues -- to prevent readers from carrying an outdated cheat sheet to their respective drafts. As a disclaimer, these rankings are subject to change over the next two weeks:
1. Adrian Peterson, Vikings (4-year average: 1,445 rushing yards/13.5 TDs)
2. Arian Foster, Texans
3. Chris Johnson, Titans (his holdout-proof ranking's safe for another week or so)
4. Jamaal Charles, Chiefs
5. Ray Rice, Ravens
6. LeSean McCoy, Eagles
7. Rashard Mendenhall, Steelers
8. Darren McFadden, Raiders
9. Michael Turner, Falcons
10. Maurice Jones-Drew, Jaguars
11. Frank Gore, 49ers
12. Peyton Hillis, Browns (not buying the 'bust' prediction in fantasy mags)
13. Matt Forte, Bears (the quietest lock for 1,800 yards in fantasyland)
14. Ahmad Bradshaw, Giants
14a. Steven Jackson, Rams
15. DeAngelo Williams, Panthers (had a nice burst in the preseason opener)
16. Ryan Mathews, Chargers
17. Jahvid Best, Lions (not a goal-line back, even with Mikel Leshoure's injury)
18. Knowshon Moreno, Broncos
19. LeGarrette Blount, Buccaneers
20. Shonn Greene, Jets
21. Jonathan Stewart, Panthers
22. Marshawn Lynch, Seahawks (there's no reason he can't rush for 1,200 yards)
23. Fred Jackson, Bills
24. Cedric Benson, Bengals
25. Joseph Addai, Colts
Who Wants To Join The Twitter-Only League?
I've been inundated with requests from loyal Philanthropist readers to join their open fantasy leagues -- which I greatly appreciate. However, given my busy schedule of writing columns, hosting Facebook chats, recording podcasts for NationalFootballPost.com and already being committed to eight high-pressure fantasy leagues, there's little time for more competition with the masses. However, I will be hosting a 16-team, standard-scoring, Twitter-invite-only league again this year ... with the draft coming at 8 p.m. EST on Wednesday, Aug. 24. Mark it down!
Here's how you can score a league invite: Sometime between 7-8 p.m. EST tonight (Aug. 17), I'll float the single code word "Fantasy" on Twitter ... and the first 15 respondents to specifically reply "Freakout" (after my posting) will earn automatic entry into the 16-team league. Now, if there is absolutely no way you can make the Aug. 24 draft date/time -- which is set in stone -- please don't waste anyone's time by trying to gain entry. Why so secretive about the process, you ask? I would like the 15 owners to be regular Philanthropist readers, and this method effectively separates those who enjoy/hate the column ... from those who are blindly joining a random league.
Running With The Moon, Part II
... And here's the bottom half of the Top 50 tailbacks:
26. Pierre Thomas, Saints
27. Tim Hightower, Redskins (the preseason's biggest mover and shaker)
28. Ryan Grant, Packers
29. Beanie Wells, Cardinals
, Patriots (the rookies will surely cut into his 13 TDs)
31. Felix Jones, Cowboys
32. Mike Tolbert, Chargers
33. Rashad Jennings, Jaguars (ready for his fantasy closeup ... will that matter?)
34. Michael Bush, Raiders
35. Reggie Bush, Dolphins
36. Ryan Williams, Cardinals (my pick for best rookie back by season's end)
37. Mark Ingram, Saints
38. Daniel Thomas, Dolphins
39. LaDainian Tomlinson, Jets
40. Brandon Jacobs, Giants
41. C.J. Spiller, Bills
42. Stevan Ridley, Patriots (makes the list thanks to last weekend's three TDs)
43. Jason Snelling, Falcons (a lock for 105 total yards anytime Turner sits)
44. Ryan Torain, Redskins
45. Thomas Jones, Chiefs
46. James Starks, Packers
47. Anthony Dixon, 49ers (a necessary handcuff to Gore in 17-round drafts)
48. Bernard Scott, Bengals
49. Willis McGahee, Broncos
50. DeMarco Murray, Cowboys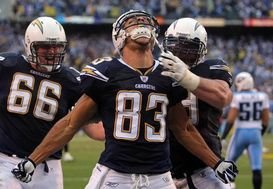 The Philanthropist likes Vincent Jackson and the Chargers in Week 1.
Survivor Act Of Self-Preservation
Ever heard of a survivor pool? It's a simple game where contestants are asked to select one lead-pipe cinch for wins in Weeks 1, 2, 3, 4, etc. -- with the caveat of only using a particular club once per season (in victory, at least). For example, I have San Diego defeating Minnesota at home in Week 1. By virtue of that, I cannot designate the Chargers to win in Weeks 2-17. The same holds true for Dallas (over Washington) in Week 3; after that game, I can no longer pick the Cowboys to prevail the rest of the way. Any incorrect picks automatically knock a contestant out of the pool; and if anyone should be left standing by Week 17 -- an impossible task for me last year -- they're entitled to all or some of the winnings (which can be quite lucrative in some leagues).
My 17 survivor locks:
Week 1 -- San Diego over Minnesota
Week 2 -- N.Y. Giants over St. Louis
Week 3 -- Dallas over Washington
Week 4 -- Chicago over Carolina
Week 5 -- Pittsburgh over Tennessee
Week 6 -- Oakland over Cleveland
Week 7 -- Miami over Denver
Week 8 -- Baltimore over Arizona
Week 9 -- Kansas City over Miami
Week 10 -- Philadelphia over Arizona
Week 11 -- Green Bay over Tampa Bay
Week 12 -- Seattle over Washington
Week 13 -- New Orleans over Detroit
Week 14 -- N.Y. Jets over Kansas City
Week 15 -- St. Louis over Cincinnati
Week 16 -- Indianapolis over Houston
Week 17 -- New England over Buffalo
Survivor Rules To Live By
1. Above all, target a home team to win that week.
2. When in doubt, exploit bottom-feeder clubs on the road (Redskins, Bills, Bengals, Panthers, etc.).
3. Don't be afraid to pick the champion Packers to lose on the road -- especially when playing indoors.
4. It's best to avoid primetime games between teams of similar stature.
5. Don't use the Packers, Ravens or Saints in Week 17 -- after they've clinched playoff spots.
6. Avoid picking against the Lions early in the season (with Matthew Stafford wreaking havoc).
7. Avoid picking against the schizophrenic Raiders at any point of the season.
8. Only pick home upsets from games involving intra-divisonal opponents.
9. Don't be afraid to pick against the Giants in the latter half of the season (big run of daunting opponents).
10. Don't get sucked into revenge games involving Kevin Kolb, Albert Haynesworth, Steve Smith (Eagles) or Donovan McNabb -- either in victory or defeat.
D-Mac The Knife
As if today's column hasn't offered enough Darren McFadden sightings -- remember this mad-dash TD against South Carolina? -- here are some mini-Revelations detailing D-Mac's fantasy potential with the Raiders ... you know, the only team since the NFL-AFL merger (1970) to sweep its division games and still miss the playoffs.
What He'll Like: In a surprise to few, the Raiders went 6-2 last year in games that QB Jason Campbell attempted 26 or fewer passes. For 2011, that same pattern would translate to plenty of touches for McFadden and Michael Bush (8 TDs last season) ... and less pressure on Campbell (61-percent career passer) to carry Oakland against the AFC West and NFC North -- arguably the NFL's toughest divsion this season.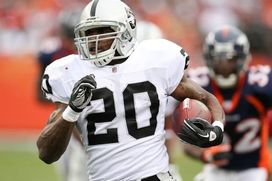 ICONCan McFadden duplicate last season's numbers?
What He'll Like, Part II: Very few clubs could lose a top-flight offensive guard like Robert Gallery without missing a beat, but the Raiders' foundation -- on paper -- appears to be rock-solid. Stefen Wisniewski, Joseph Barksdale and left tackle Jared Veldheer, the pride of Hillsdale College, are high draft picks and long-term keepers. And guards Roy Schuening and Cooper Carlisle possess a keen flair for road-grating. And then there's Bruce Campbell, the