May 29, 2012 -
National Football Post
The next in line at Alabama
RB Eddie Lacy: Alabama (6-0, 220)
What I like…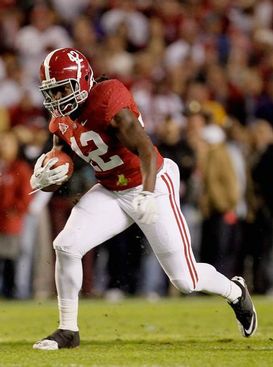 ICONLacy has improved his pad level.
• There was a noticeable improvement to his comfort level as a runner from 2010 to 2011.
• Ran with much more patience in 2011.
• Showcased the ability to pick his way through traffic inside, decipher information and press space quickly.
• Ran with a much lower pad level, especially toward the edge compared to 2010 allowing him to break more tackles and slip more defenders.
• Showcased a wider, more balanced base in 2011 picking his way through contact and was much more sharp/sudden when asked to quickly change directions.
• Displays a good initial first step when pressing the hole.
• Exhibits the wiggle to routinely side step or spin out of the first tackle.
• Runs hard with good power and base. Is tough to bring down initially through contact and can accelerate right through arm tackles.
• Routinely falls forward. Runs hard, lowers pad level and consistently finishes through contact.
• Is a no non-sense type runner. Is willing to take what the defense give him, lower his head and run his legs through contact.
• Possesses the natural power to push the pile and keep offenses ahead of the chains.
• Showcases more straight-line speed than given credit for in the open field. Displays a slight second gear for big guy as he can catch defenders off guard and outrun angles in space.
• Put in the work behind a pair of first round running backs at Alabama in Mark Ingram and Trent Richardson. Knows how to be patient and improve even when no one is watching.
What I didn't like
• Still allows pad level to get upright at times when pressing the edge, which negates his initial burst and speed to the corner.
• Will let the ball get away from his frame once he gets into space and has put the ball on the ground.
• Always played second fiddle and despite his great size and power, hasn't proven he can carry the load yet.
• Routinely took advantage of pounding the rock fresh vs. softened up defenses, needs to prove he can be effective when every SEC defense is gunning to stop him.
• Possesses the size/balance to pass protect, but needs to prove he can be effective holding up on 3rd down.
• Isn't a real dynamic lateral athlete, has the foot quickness/balance to side step defenders, but isn't overly sudden/quick in the open field.
• Lacks elite speed, more of a high 4.4/low 4.5 guy.
Overall…
In my view, right now Eddie Lacy would rank behind both Trent Richardson and Mark Ingram as an NFL prospect. However, that certainly doesn't mean this guy can't be a first round pick.
Lacy doesn't have the type of lateral quickness that Ingram had or the combination of speed/power possessed by Richardson. Nevertheless, he runs hard, can grind out yards, slip tackles and gives you some big play ability in the open field.
He needs to prove he can be just as effective as the starter with every SEC defense gunning for him as he was as a reserve in 2012. But, if he can do that, Lacy looks like a starting caliber NFL back to me.