August 31, 2011 -
Barry Dorey
The NFP Big Board
A preseason breakdown of the top-50 senior prospects from the six major BCS conferences based off my summer of tape study.
Enjoy.
1. DE Quinton Coples: North Carolina (6-6, 278)
Can be as good as he wants to be in the NFL. The game comes very easy to him and he can be dominant in the NFL if he learns to use his hands/length better. The sky is the limit.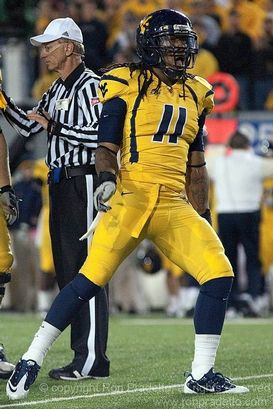 ICONIrvin is a terror off the edge.
2. DE Bruce Irvin: West Virginia (6-2, 245)
A similar type athlete to Von Miller off the edge, but might be a little more natural as a pass rusher to be honest. Looks like an impact caliber kid as a 34-rush guy in the NFL, if he can continue to keep himself clean off the field. However, plays hungry and looks like he's out to prove people wrong.
3. LB Courtney Upshaw: Alabama (6-2, 263)
I like him as a 34 outside backer who can play on the strong side, take on linemen at the point and also rush the passer. He's at his best attacking downhill, using his strong hands to disengage and always is around the football. Looks like a year one starter to me at the next level with scheme versatility and impact potential.
4. WR Jeff Fuller: Texas A&M (6-4, 215)
An NFL ready receiver who should develop into a very capable number one threat at the next level.
5. QB Ryan Tannehill: Texas A&M (6-4, 220)
He's smart, athletic, can make all the throws and the team really responded to him. His flaws are correctable and it's crazy to think where this guy could be in five years with more experience and coaching. A potential franchise quarterback in my mind.
6. DT Alameda Ta'amu: Washington (6-3, 335)
This is the kind of guy who has the ability to anchor the middle of an NFL defense in either a 3-4 or 4-3 front. Needs to do a better job finding the football, but overall he looks like a starter you can win because of at the next level.
7. DE Melvin Ingram: South Carolina (6-2, 271)
A shorter, compact defender with a long set of arms, an explosive pop into contact and knows how to get after the quarterback in a number of ways. Plays fast in tight quarters and possesses an impressive pass-rushing repertoire.
8. DT Brandon Thompson: Clemson (6-2, 310)
A prospect who should be able to come in and win inside vs. the run game early on in his NFL career. Looks a bit limited as a pass rusher, but will be able to push the pocket and projects as a starting caliber 43 nose inside.
9. WR Michael Floyd: Notre Dame (6-3, 220) Wasn't quite as dynamic as a pass catcher when he bulked up to 227, however, if he can lean himself out and improve on his stellar 2009-year, he could end up being the top wide out to come off the board come April.
10. CB Chase Minnifield: Virginia (6-0, 188)
A talented corner who can bend, re-direct, maintain balance out of his breaks and make plays on the football. Improved as the year went on in 2010 and looks like one of the more NFL ready corners in this year's draft. Should be able to start in just about any scheme.
11. LB Lavonte David: Nebraska (6-1, 220)
He's undersized, but really instinctive. Might be limited to more of a cover two type scheme only at the next level, but looks like a starting caliber weak side guy to me early in his NFL career.
12. CB Alfonzo Dennard: Nebraska (5-10, 205)
He's strong/feisty, can press off the line and turn and run. Needs to clean up some technical flaws both in press and off the line, which hinders his balance. But can be a guy who could start both on the outside and play in the slot at the next level.
13. NT Josh Chapman: Alabama (6-1, 310)
Has the making of a starting caliber nose at the next level in either a 3-4 or 4-3 front. Can consistently anchor on contact, is long armed and tough to move off the football. Also, is a better pass rusher than given credit for.
14. WR Greg Childs: Arkansas (6-3, 217)
He knows what he is and plays to his strengths. Looks like a big, coordinated possession type receiver at the next level who can win in the three-step game and create some big plays for a team in jump ball situations as well.
15. OLB Travis Lewis: Oklahoma (6-2, 233)
He's a bit undersized and doesn't tackle as well as you would like inside the box. However, he's a good run and hit backer who plays the run well and will be able to make plays vs. the pass game in the NFL. Looks like a day one starter to me as a 43 backer, either on the weak side or possibly in the middle.
16. DT Kheeston Randall: Texas (6-5, 295)
Is an impressive bender for his size with the skill set to start as either a 34 DE or 43 one gaping tackle. Could develop into an impact defensive lineman if he works at it.
17. TE Coby Fleener: Stanford (6-6, 248)
An impressive pass catcher who can win both down the field and underneath vs. man coverage. Has the frame and flexibility to develop into a solid blocker as well and looks like a future starting caliber NFL TE.
18. OT Zebrie Sanders: Florida Stat (6-5, 307)
A natural athlete who can bend and is coordinated/patient into contact. Possesses a good amount of upside as well and looks like a starter on either side of the O-line at the next level.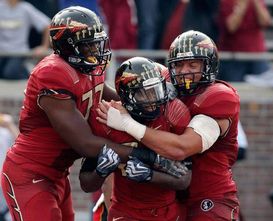 ICONDatko and Sanders are a talented pair of teammates.
19. OT Andrew Datko: Florida State (6-6, 315)
Has some technique work to do in pass protection, but is a gifted athlete who can bend, re-direct and block in space. Looks like an NFL caliber starting left tackle, but might need a year to adjust and get stronger. Is a similar, yet better prospect in my mind than Boston College's Anthony Castonzo.
20. OT Levy Adcock: Oklahoma State (6-5, 322)
Needs to clean up his footwork in pass protection, but he's coordinated, can bend and should improve with time. Looks like a guy who is ideally suited to play right tackle, but I could see him being effective as a guard or left tackle as well. Should be able to start at a number of spots early on.
21. OLB Zach Brown: North Carolina (6-2, 230)
A run and hit backer with impressive athleticism and range. Possesses solid instincts and is a better read and react linebacker than given credit for, but is still not elite in that area. Nevertheless, looks like a starting caliber 43 weak side guy who would be ideal in a cover two scheme.
2 2. OC Mike Brewster: Ohio State (6-4, 305)
A seasoned starter who displays good size, hand placement and bend for the position. Looks like at worst, a dirty starter in the NFL that you can win with.
23. OG Lucas Nix: Pittsburgh (6-5, 310)
A good athlete for the position who can win in the pass game and seal lanes inside as a run blocker as well. Has some upside as a power player moving opposing linemen off the ball and looks like a capable starter in the NFL.
24. OG Kevin Zeitler: Wisconsin (6-4, 320)
A tough, strong in-line guy who you can run behind and also has some coordination on the move. Not as effective in the pass game, but can mature into an average NFL pass blocker if he learns to get off the ball more consistently. Looks like a gritty type starter early on in his NFL career.
25. C Ben Jones: Georgia (6-3, 316)
I think he would be better suited to play guard at the next level because of his struggles to hold his own inside when asked to quickly snap, step and get a push in the run game. However, is a coordinated athlete on the move, can mirror through contact and looks like a dirty starter. But, isn't the type of top tier center prospect many are making him out to be at this stage.
26. OG Cordy Glenn: Georgia (6-5, 348)
A massive guard prospect who struggles with leverage in the run game. But can keep the pocket clean inside in pass protection because of his size/strength and natural athleticism. Moves well for his size and looks like a potential starter inside for a team who values bigger guard prospects.
27. TE Michael Egnew: Missouri (6-6, 245)
Has a big frame and the skill set to learn to play with his hand on the ground, but is going to need time. However, can come in from day one and be used as an "off the line Y" and create miss matches in the pass game.
28. DE Brandon Lindsey: Pittsburgh (6-2, 250)
A good athlete with a strong frame who knows how to reach the quarterback in a number of ways. Has some upside and looks ideally suited as a 34 OLB at the next level with a starting caliber skill set.
29. RB Cyrus Gray: Texas A&M (5-10, 200)
An instinctive, well put together back with natural running skills inside. Isn't ever going to be a cowbell at the next level and isn't overly dynamic in the open field. But can certainly be productive in a two back system in the NFL.
30. DT Kaleb Ramsey: Boston College (6-3, 302)
A strong kid who plays low, uses his long arms well and can routinely overpower on contact. Isn't ever going to me an impact pass rusher, but can push the pocket and has some two gap ability as a 43 tackle. More of a 43 nose but is versatile enough to see reps at a number of spots in either a 43 or 34 front.
31. LB Emmanuel Acho: Texas (6-2, 240)
Isn't a dynamic straight-line athlete, but plays faster because of instincts. Is a good tackler, can shed blocks and plays stronger than his frame would indicate. Has the versatility to play a number of spots in a 4-3 scheme or get some looks inside in a 34. Looks like a future starter in the NFL either way.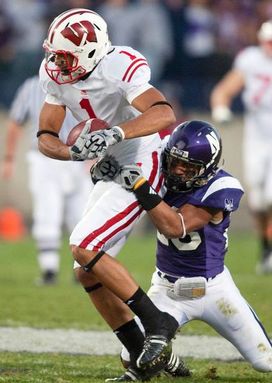 ICONToon is a better athlete than given credit for.
32. WR Nick Toon: Wisconsin (6-2, 215)
I like his size, short area quickness and ability to adjust to the football. Isn't a guy who is going to create consistently down the field. But, knows how to gain enough separation, pluck and create after the catch. Looks like a prospect who can play on the outside as a legit number two wide out running the inward breaking routes, just isn't ever going to be a dynamic playmaker.
33. OT Markus Zusevics: Iowa (6-5, 300)
A "plus" run blocker who more than held his own in the pass game. Quickly gets off the football, generates a snap into contact and improved his pad level sitting into his stance as the year went on. Looks like a starting caliber offensive lineman –either at guard or tackle- in the NFL with a year or two of seasoning.
34. CB Jamell Fleming: Oklahoma (5-11, 191)
He's a balanced, coordinated kid who keeps his feet under him when changing directions and can turn and run. Doesn't give up much separation, knows how to make plays on the football and if he can improve as a tackler looks like a guy who warrants a starting job in the NFL down the lin
35. DT Devon Still: Penn State (6-4, 311)
I can see why some talent evaluators have this guy ranked so high because the talent is most definitely there. However, I have some concerns about his motor and overall passion for the game that make me think he might not ever live up to that gifted physical skill set. Can be as good as he wants in the NFL and is capable of playing at a number of spots in both a 43 and 34 front. But, needs to put it all together.
36. WR Dwight Jones: North Carolina (6-4, 225)
Really came into his own during the second half as the year. Runs well, accelerates quickly for a big receiver and possesses natural fluidity to his game as well. Needs to improve as a route runner, but the talent is there for this guy to be a play making type starting wide out in the NFL.
37. DE Trevor Guyton: Cal (6-3, 289)
A guy who can fill a number of roles on a defense. He's a naturally powerful kid who can anchor and overwhelm vs. the run game. Needs to improve his hands and awareness, but the upside is there for him to move up boards in a big way with a strong senior year.
38. WR Juron Criner: Arizona (6-4, 215)
He's a talent, there is no doubt about that. However, the key in determining his draft stock if where he's at mentally. If healthy he can be a legit starting wide out on the outside early in his NFL career.
39. DB Robert Golden: Arizona (5-11, 200)
Might be limited to more of a cover two/click and close type scheme, but he does have some developing press coverage skills. Also, has a lot of value as a safety as he can anticipate in the deep half, drive on throws under him and play over a receiver in nickel situations. Looks like a dirty starter either at safety or corner.
40. SS Tony Dye: UCLA (5-11, 206)
Isn't an elite athlete, but plays faster than he times. Will tackle consistently and is coordinated in coverage. Looks like a potential special teams stud who with some time should be able to fight his way into a starting line-up as a strong safety.
41. SS Harrison Smith: Notre Dame (6-2, 214) He's a thicker kid who can really tackle, gets good jumps in the pass game and will make plays on the football. Is a little tight by NFL standards, but his instincts are very good and he should earn a starting job at the next level as a strong safety.
42. DT Kendall Reyes: Con necticut (6-4, 299)
A strong kid with a good amount of athletic upside. Isn't the kind of pass rusher you want as a three technique. However, looks like a potential starter as a one gap nose and if he improves his hands, has the anchor and skill set to play as a 34 DE as well. Lot of natural talent and untapped potential to his game.
43. CB Coryell Judie: Texas A&M (5-11, 188)
He's a naturally gifted athlete with good range and great ball skills. Displays enough fluidity and balance to develop as a man-to-man corner, but looks ideally suited for a cover two type role at this stage that allows him to attack the football and create turnovers. An eventual starter in that type of scheme.
44. S Markelle Martin: Oklahoma State (6-0, 198)
A gifted athlete with a good burst and range in the deep half. However, wastes motion out of his breaks and isn't a very good open field tackler. Possesses slightly above-average instincts, but will make more plays on the football when he tightens up his footwork. A potential starter only at this stage because of his intriguing athleticism.
45. OLB Sean Spence: Miami (5-11, 224)
A gifted sideline-to-sideline athlete who looks natural in space and can make plays off his frame. Size is a concern, but looks like a starter in a cover two scheme who can play three downs in the NFL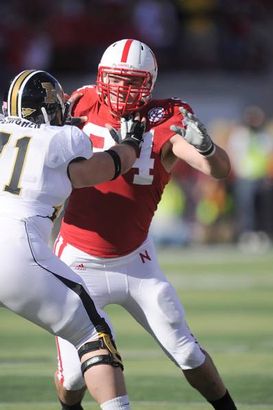 ICONCrick plays too high to be a top-tier prospect.
46. DL Jared Crick: Nebraska (6-6, 285)
Isn't a guy who can hold up vs. the run inside in the NFL and isn't a dynamic pass rusher either. However, as a base DE I can see him finding a home with some versatility on 3rd down. Looks more like a rotational NFL lineman to me and potential starter only.
47. WR Ryan Broyles: Oklahoma (5-11, 187)
Isn't a legit number one type wide out and isn't a guy who I would even play on the outside routinely in the NFL. However, demonstrates the polish and quickness needed to separate underneath and should be a solid contributor early inside for an NFL offense.
48. OLB/SS Kenny Tate: Maryland (6-4, 220) I'm not a huge fan of taller safeties, so in my mind his best spot might be to add weight and play as a 43 OLB in the NFL. He's an athletic, naturally powerful kid who uses his long arms to shed and tackles well on the football. Plus, he's got good ball skills and instincts, and I can definitely see him making plays sideline-to-sideline as a cover two backer.
49. OL Kelechi Osemele: Iowa State (6-5, 354)
A big, thick kid with natural strength, athleticism and can bend. However, looks better suited to kick inside to guard where he can play in tighter quarters and focus on his technique more so than worrying about speed off the edge.
50. QB Brandon Weeden: Oklahoma State (6-4 218)
His age will likely keep him from going as early in the draft as his talents deserve. But there isn't a throw this guy can't make and he has the skill set and mental make-up to mature into a potential starter with some time.
Follow me on twitter: @WesBunting