December 07, 2011 -
Barry Dorey
The NFP Mock Ten
Breaking down the potential top 10 picks of the 2012 NFL Draft.
*Draft order is set by predicted finish.
1. Indianapolis Colts: Stanford QB Andrew Luck
Who else is there at this time? Luck is the best prospect on the board and there are questions about the Colts quarterback position going forward.
2. Minnesota Vikings: Southern Cal OT Matt Kalil
Minnesota does need to put weapons around quarterback Christian Ponder, but at the same time they also have to do a better job keeping him upright. Kalil needs to get a bit stronger, but has the skill set to anchor the left side long term.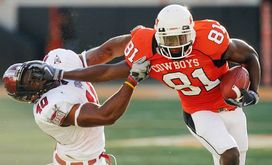 ICONBlackmon could go higher than his draft grade says he should.
3. St. Louis Rams: Oklahoma State WR Justin Blackmon
Is Blackmon the 3rd best prospect in the draft? Absolutely not. However, he's the kind of prospect you know what you're getting with and he fills a massive void at receiver for the Rams.
4. Jacksonville Jaguars: LSU CB Morris Claiborne
Yes, the Jaguars need to add playmakers to the offense. However, their secondary right now needs an upgrade as well and Claiborne has the talent to mature into one of the best players to come out of the 2012 NFL Draft.
5. Washington Redskins: Baylor QB Robert Griffin III
I gave the edge to RG3 here over USC's Matt Barkley because of his ability to get outside the pocket, create with his legs and make throws on the move. He's got as much upside as any prospect in the draft and could be the answer long term for Washington.
6. Philadelphia Eagles: Iowa OT Riley Reiff
Ultimately the Eagles would likely rather trade out and target a big-bodied linebacker. However, adding a talented body like Reiff who is capable of giving them some much-needed versatility on the O-line is a nice consolation prize.
7. Carolina Panthers: North Carolina DL Quinton Coples
This is an ideal spot for the Panthers to potentially trade out and target a bigger bodied interior lineman. However, Coples can play either inside or out and has as much talent as any lineman in the draft. And as we saw last year the Panthers aren't afraid to roll the dice with talented prospects early on.
8. Miami Dolphins: Southern Cal QB Matt Barkley
The USC signal-caller lands in an ideal place for his skill set and fills a big need for the Dolphins, who are starving for a potential franchise quarterback.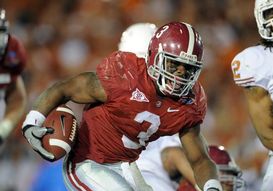 ICOnRichardson should have an impact from day one.
9. Cleveland Browns: Alabama RB Trent Richardson
The Browns lack talent at the skill positions and Richardson isn't only the top-rated skill guy left on the board, he's also the safest.
10. Tampa Bay Buccaneers: Alabama CB Dre' Kirkpatrick
Starting corner Ronde Barber is 36 and can't play forever. Therefore, getting a young, physical corner who can press and play in zone concepts would be a safe/solid pick to round out the top 10.
Follow me on twitter: @WesBunting
Check out the NFP Draft Page here...