August 05, 2011 -
Barry Dorey
The PPR Spectacular
Into The Great Wide Open, Part I
I had originally planned to launch the PPR Spectacular last week, but found it imperative to wait until every big-name receiver signed with an NFL team before doing so. And now that Braylon Edwards has signed with San Francisco -- momentarily distracting the media from his comical stolen Black Berry/Twitter impostor scandal -- we have the green light to break out the always-fluid PPR rankings for wideouts:
1. Andre Johnson, Texans
2. Roddy White, Falcons
3. Larry Fitzgerald, Cardinals
4. Hakeem Nicks, Giants
5. Calvin Johnson, Lions
6. Reggie Wayne, Colts
7. Miles Austin, Cowboys
8. Brandon Marshall, Dolphins
9. Wes Welker, Patriots
10. Greg Jennings, Packers
11. Mike Wallace, Steelers
12. Mike Williams, Buccaneers
13. Dwayne Bowe, Chiefs
14. Marques Colston, Saints
15. Dez Bryant, Cowboys
16. Brandon Lloyd, Broncos
17. DeSean Jackson, Eagles
18. Vincent Jackson, Chargers
19. Chad Ochocinco, Patriots
20. Santonio Holmes, Jets
21. Percy Harvin, Vikings
22. Jeremy Maclin, Eagles
23. Kenny Britt, Titans (assuming his yoga instructor was legit)
24. Sidney Rice, Seahawks
25. Steve Johnson, Bills
Into The Great Wide Open, Part II
26. Pierre Garcon, Colts
27. Santana Moss, Redskins
28. Mario Manningham, Giants
29. Mike Thomas, Jaguars
30. A.J. Green, Bengals
31. Anquan Boldin, Ravens
32. Michael Crabtree, 49ers
33. Steve Smith, Panthers
34. Mike Williams, Seahawks
35. James Jones, Packers
36. Mike Sims-Walker, Rams
37. Jerome Simpson, Bengals
38. Steve Breaston, Chiefs
39. Robert Meachem, Saints
40. Johnny Knox, Bears
41. Austin Collie, Colts
42. Braylon Edwards, 49ers
43. Hines Ward, Steelers
44. Deion Branch, Patriots
45. Nate Burleson, Lions
46. Davone Bess, Dolphins
47. Mohammed Massaquoi, Browns
48. Danny Amendola, Rams
49. Malcom Floyd, Ravens (?)
50. Lance Moore, Saints
PPR Rules To Live By
1. Always Be Thinking Receiver
Obviously, you'll need quarterbacks, running backs, defenses/special teams to complement receivers and tight ends on PPR-based rosters. But no matter the round, you should always be pondering the next WR move, or at least factoring in how each draft pick adds value to the PPR format. Do my running backs have the capacity for 4 or more catches a game? Do I want to start a wide receiver in the RB/WR flex position every time? Are my QBs likely to attempt 40 or more passes in at least six games? Should I move heaven and earth to "handcuff" my quarterback (Matt Schaub) to a receiver who catches 95-plus balls in his sleep (Andre Johnson)?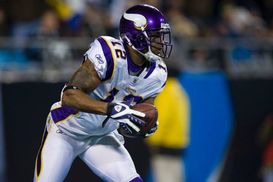 ICONPercy Harvin brings versatility to the table.
2. Know Your Golden Goose Eggs
In standard-scoring leagues, versatile guys like Percy Harvin, Reggie Bush, Wes Welker, Jahvid Best, Reggie Wayne, Darren Sproles, Davone Bess, Wes Welker, Lance Moore, Danny Amendola, Jabar Gaffney and Steve Breaston might get passed over for red-zone magnets, at least in the early rounds. But to effectively win a PPR championship, you'll need a handful of the above names carrying the freight. Take Wayne, for example: Sure, he'll probably lose a TD battle to Pittsburgh's Mike Wallace (60 catches, 1,257 yards, 10 TDs last year) ... but the Grand Canyon-like disparity in receptions (Wayne has triple-digit catches in three of the last four seasons) makes this a dead heat (with a nod to Reggie).
3. Respect The Laws Of 'Disproportionality'
At this point, neither Andre Roberts (Cardinals), David Gettis (Panthers), Bernard Berrian (Vikings), Arrelious Benn (Bucs), Torrey Smith (Ravens), Lee Evans (Bills), Greg Little (Browns) nor Eddie Royal (Broncos), Jason Hill (Jaguars), Patrick Crayton (Chargers), Nate Washington (Titans) are viable No. 2 receivers in fantasyland; and only Morgan, Benn or Evans are even draft-worthy, on average, in 12-teams leagues. This black hole at such a crucial slot can only mean more receiving targets for Larry Fitzgerald, Percy Harvin, Tampa's Mike Wiliams, Anquan Boldin, Steve Johnson, Mohammed Massaqoui and Brandon Lloyd, Mike Thomas, Vincent Jackson, Kenny Britt. Give 'em special attention on draft day.
4. Quarterbacks Can Wait
Quarterbacks have the exact same value in standard-scoring and PPR leagues; but strangely, they are routinely drafted lower in PPRs, as owners devote their first seven or eight picks to pass-friendly receivers, tailbacks and tight ends. Smart move, even if the reasoning is somewhat convoluted. Yes, we would all love to own one of the Big Six QBs (Drew Brees, Aaron Rodgers, Tom Brady, Michael Vick, Peyton Manning, Philip Rivers), but target-driven wideouts, tight ends and tradeable depth at running back usually hold the keys to a PPR title.
The Lightning Round
I had time Wednesday morning for a quick 12-team PPR mock draft (12th pick overall). Here's my squad:
Round 1 -- RB Darren McFadden, Raiders (sneaky-good pass-catcher broke 100 total yards in 10 of 13 games last year)
Round 2 -- WR Hakeem Nicks, Giants (mark him down for 85 catches/1,150 yards/10 TDs)
Round 3 -- WR Marques Colston, Saints (the fantasy gift that keeps on giving -- when healthy)
Round 4 -- WR Mike Wallace, Steelers
Round 5 -- TE Jason Witten, Cowboys (the PPR gold standard)
Round 6 -- WR Kenny Britt, Titans
Round 7 -- RB Joseph Addai, Colts
Round 8 -- RB Reggie Bush, Dolphins (he'll tally at least 50 catches/6 TDs)
Round 9 -- WR A.J. Green, Bengals (needed an upside pick at receiver ...)
Round 10 -- QB Matthew Stafford, Lions
Round 11 -- RB Mikel Leshoure, Lions (... and one at running back)
Round 12 -- QB Matt Cassel, Chiefs (rock-solid platoon with Stafford)
Round 13 -- D/ST Dal las Cowboys
Round 14 -- PK Nate Kaeding, Chargers
Round 15 -- WR Mohammed Massaquoi, Browns (my #1 sleeper for Round 12-or-later wideouts)
Buffalo Solider Of Fortune
The enduring image of Bills WR Steve Johnson lies with his dropped TD-catch in OT against Pittsburgh last year ... and subsequent Tweet where he questioned the good lord's quirky sense of humor. But there's more to Johnson than a few seconds of YouTube bliss. He is the centerpiece of Buffalo's renewed commitment to the vertical passing game; he's also the face -- mohawk and all -- of a small-market club that's struggling to convince fans it won't be moving to Los Angeles in the not-too-distant future. Hmmm, perhaps a series of self-actualizing Revelations will help crystallize Johnson's fantasy fate in 2011: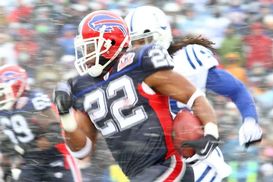 ICONFred Jackson posted some solid numbers in Buffalo last season.
What He'll Like: Fred Jackson's respectable numbers from last year (1,142 total yards/7 TDs) were essentially compressed into an nine-week period (Games 5-13) ... leading one to wonder if Jackson has enough physical talent to sustain for a full season -- especially since Cleveland and Detroit aren't on the docket again. Bottom line: When Jackson gets 20 touches and serves as an integral part of the Buffalo offense, he's a virtual lock for 120 total yards.
What He May Like: There's a reason why the Bills sprinted to the commissioner's podium to grab Clemson's C.J. Spiller with the No. 9 pick in the 2010 draft; and there's a reason why Buffalo's brain trust passed on RBs Ryan Williams and Mikel Leshoure in April's draft. Spiller, despite a rough rookie year (440 total yards, 1 TD), is the club's redoubtable back of the future; and with his impressive size/speed/athleticism combo, that future greatness may come to pass sooner than later. Bottom line: Coach Chan Gailey and Co. must find a way to get both Jackson and Spiller at least 22 touches per game. By extension, this creates more route-running lanes for Johnson and Lee Evans.
What He May Not Like: No one likes getting older, and Evans is no different. From age 22-27, he was an annual threat for 60 catches, 950 yards and 6-7 TDs; but in the last two seasons, he has faded into fantasy oblivion, essentially maxing out at 40 catches and 600 yards. But through it all, Evans is still good for one scntillating game per season -- like his 6-catch, 105-yard, 3-TD effort against Baltimore last year. But good luck guessing when Evans' one-week-only breakout for 2011 will occur.
What He May Not Like, Part II: From a physical standpoint, Buffalo's Shawn Nelson (career numbers: 20 catches, 181 yards, 1 TD) has the requisite size, speed and hands to be a productive NFL tight end, in the vicinity of Dustin Keller, Brandon Pettigrew or Jared Cook. But for whatever reason, Nelson's practice maturity isn't translating to real-world growth. But it's a little too early to abandon ship just yet.
What He Might Love: QB Ryan Fitzpatrick (3,000 passing yards/23 TDs) may have been a big surprise in western New York -- not unlike Doug Flutie, circa 1998-99 -- but there's no guarantee he'll duplicate his 2010 numbers ... especially since the AFC East has a thicker scouting report on the Harvard grad. Think about it: If you had Vince Young stand next to Fitzpatrick, you'd tab VY as your franchise QB 10 times out of 10. It's not a blowout -- like Flutie vs. Rob Johnson -- but the discrepancy would make Bills fans stand up and ask, "Why didn't Buffalo want Young? What did the franchise have to lose by implementing him slowly into Gailey's system? Instead, the Bills traded for Tyler Thigpen, a slightly younger, noticeably nimbler version of Fitzpatrick -- but hardly a long-term solution.
What He Might Love, Part II: Whether it's tackles like Demetrius Bell, Ed Wang, Mansfield Wrotto, Chris Hairston or interior building blocks like Andy Levitre, Eric Wood and Kraig Urbik, the Bills' O-line is evolving into a formidable unit, albeit slowly. That can only mean good news for Fitzpatrick -- or whoever else could be playing QB next year -- along with Jackson and Spiller. Similar to Tennessee's underrated O-line, Buffalo's balanced front five is equally adept against the run and pass.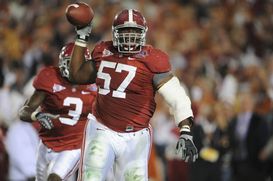 ICONThe Bills drafted Dareus third overall last April.
What He Might Love, Part III: Barring unforeseen greatness from Marcell Dareus, Shawne Merriman, Jackson, Spiller, Nelson and Johnson, among others, the Bills are the early favorites to post the AFC's worst record ... which conveniently puts 'em in line to "win" Stanford QB Andrew Luck in next year's draft. By all accounts, Luck is a franchise-changing quarterback (in the class of Sam Bradford) and the Bills and Redskins -- the NFC's purported worst team -- may be duking it out for his services all year. FYI: Buffalo and Washington play Oct. 30 in Toronto ... which may be one of the most underrated fantasy-friendly games of the year, starring two quarterbacks (Fitzpatrick and John Beck) who would give anything to NOT be holding a clipboard for Luck in 2012.
Target Practice
These 32 wideouts hit the century mark in targets last year. It goes without saying: If you're seeking quality choices for Points Per Reception league drafts, bookmark this link as part of that preparation:
1. <strong>Roddy White -- 179 targets
2. Reggie Wayne -- 176 targets
3. Larry Fitzgerald -- 173 targets
4. Brandon Lloyd -- 153 targets
5. Brandon Marshall -- 146 targets
6. Santana Moss -- 145 targets
7. Steve Johnson -- 142 targets
8. Terrell Owens -- 139
9. Andre Johnson -- 138
10. Calvin Johnson -- 137
11. Dwayne Bowe -- 133
12. Marques Colston -- 131
13. Hakeem Nicks -- 128
14. Mike Williams -- 128
15. Chad Ochocinco -- 126
16. Greg Jennings -- 124
17. Danny Amendola -- 123
18. Wes Welker -- 123
19. Davone Bess -- 122
20. Miles Austin -- 119
21. Pierre Garcon -- 11
22. Jeremy Maclin -- 115
23. Jabar Gaffney -- 112
24. Mike Williams -- 11
25. Anquan Boldin -- 109
26. Percy Harvin -- 109
27. Eddie Royal -- 105
28. Mike Wallace -- 102
29. Michael Cr abtree -- 101
30. Braylon Edwards -- 101
31. Mike Thomas -- 101
32. Derrick Mason -- 100
Practice Makes Perfect
Fantasy owners should start easing into the soon-to-be exhaustive process of mock drafting. Here are five of the best sites for round-the-clock mocking -- covering standard-scoring and keeper leagues. (ESPN.com, in my opinion, is the king of auction mocks.)