October 15, 2011 -
National Football Post
The scout's guide to Saturday
Start the day with…
Baylor vs. Texas A&M
12:00 PM ET, FX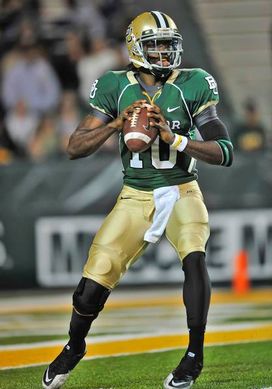 ICONWho wouldn't want to start the day watching Griffin?
Don't fall into the trap thinking that Baylor QB Robert Griffin III is just your typical athletic quarterback who struggles to read defenses. He's a bright kid who puts in the time and is decisive with the football. Therefore, how he handles an aggressive/versatile Tim DeRuyter defense will be a good gauge in where he's at mentally, because he certainly has the skill set to be successful in the NFL.
Key matchup
Texas A&M CB Coryell Judie vs. Baylor WR Kendall Wright
Judie is an impressive athlete at the position. He can turn and run, generates impressive burst out of his breaks and exhibits plus ball skill as well. However, Wright is a "plus" athlete who can get behind just about anyone. Therefore, be sure to see how Judie handles the vertical speed of Wright and how quickly he transitions and reaches top-end speed out of his back pedal in man. Which might be a problem considering he's been nursing both hamstring and ankle injuries.
Wright, on the other hand, needs to be sharp and show some savvy as a route runner. Judie is a smart kid who recognizes routes well and possesses a natural feel for the game. Wright has done a better job this year setting up corners and playing fast in tight quarters, but showcasing it vs. Judie will be big for his stock.
Turn next to…
Ohio State vs. Illinois
3:30 PM ET, ABC
Tackle Mania
Two of the nation's top offensive tackle prospects will be squaring off in this one with Ohio State's Mike Adams and Illinois' Jeff Allen.
For Adams, just watch to see if he can continue to build off his excellent performance from last week vs. Nebraska. He had a tendency to get overextended at times on tape last year when redirecting, but so far this year, he's looked much more balanced laterally and was much more patient on his punch. If he continues to improve in that area he looks like an NFL-caliber left tackle, in my mind.
Allen, on the other hand, has the makings in my mind to have a Rodger Saffold-like move
Prime time...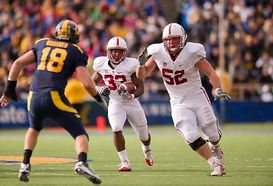 ICONDeCastro is a stud in space.
Stanford vs. Washington State
7:30 PM ET, Versus
If you're looking for the best guard prospect in the nation, pay close attention to Stanford's David DeCastro. He's an excellent move player who can pull, seal inside and looks like an ideal fit as a zone player. There isn't going to be a ton of competition for him in this one, but for a guy who gets overlooked a ton because of top-tier QB prospect Andrew Luck, he certainly warrants a look to see his dominant skill set inside.
Another Stanford unsung hero is defensive lineman Matthew Masifilo. He's a 6-3, 280-pound five technique who isn't flashy, is tight in the hips and lacks much athleticism. However, he just does his job on the edge. Masifilo can anchor at the point, is tough to move off the football and routinely sets the edge. I gave him a free agent grade this summer, but he's the kind of high motor, down and dirty type player who if he gets in the right scheme could stick. Therefore, I'll be looking to see if he does a better job this year with his balance and hands when engaged, which could allow him to play a little more athletic than his skill set says he should.
The nightcap
Arizona State vs. Oregon
10:30 PM ET, ESPN
I'm looking forward to seeing Arizona State QB Brock Osweiler for the first time this season. He's a big kid with a good arm. However, evaluating how he maintains his footing/balance in the pocket is key for him and any other taller quarterback prospect long term.
Arizona State LB Vontaze Burfict plays the game with bad intentions; he's an emotional kid who is a real striker at the point of attack and creates collisions inside. However, learning how to harness those emotions will be key for him going forward. There is no doubt this is a guy who can make plays inside for an NFL defense. But be sure to evaluate his read and react ability, instincts and overall mental state when things get tough for on him and the Sun Devil defense. Because he's going to need to prove he's mature enough to play big in the face of adversity at the next level.
Finally, watch to see where Oregon CB Cliff Harris is at in his development as a corner. We know he's a gifted athlete who is fluid in the hips, can turn and run and finds the football. But his footwork in his drop, ability to maintain balance and keep his feet under him at all times are key if he ever hopes of being anything more than an athlete playing corner. He's already had a number of off the field issues during his time at Oregon and is still pretty far down the Oregon depth chart at this stage due to maturity issues. Therefore, putting in the work needed to live up to his skill set is going to be a major question for him going forward.