October 08, 2011 -
Barry Dorey
The scout's guide to Saturday
Start the day with…
Texas vs. Oklahoma (12 PM ET, ABC)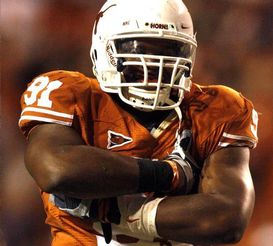 ICONRandall has the talent, but needs to be more consistent.
• Inside pressure will be key for the Texas defense since Oklahoma QB Landry Jones loves to get the football out quickly. Therefore, this will be a huge opportunity for Longhorn DT Kheeston Randall to prove his worth inside. He's as physically gifted as any senior lineman in the senior class. As the 6-5, 305-pound defender can bend, play with leverage and really explode off the football. However, he's been a bit inconsistent to start the year and playing a big role in a prime time match-up could really help put a charge in his stock.
• The Texas linebackers are going to have a tough job of reading and reacting quickly to the Oklahoma up tempo pass game and trying to put themselves in position to get their hands on a lot of footballs. LB Keenan Robinson is a good straight-line athlete with a natural burst, but will struggle with his instincts at times. LB Emmanuel Acho on the other hand displays impressive awareness in space and always puts himself around the football, despite not being quite as explosive as Robinson. Therefore, watching to see how quickly these two locate the football and reach their boundaries in zone coverage will be a nice indicator of their ability in coverage vs. a high level passing attack.
• The X-factor on the Oklahoma defense is Ronnell Lewis who plays the game with a high motor and bad intentions. He's a hybrid DE/OLB tweeer who loves to rush off the edge and plays with reckless abandon in pursuit. Therefore, in a big rivalry game like this I want to see if he can control his emotions consistently and still get the most out of his skill set rushing the passer, something he's going to have to learn to handle in the NFL.
Turn next to…
Florida vs. LSU (3:30 PM ET, CBS)
• Former Note Dame offensive lineman Dan Wenger is now one the Gators starting guards and it will be interesting to see how he performs vs. a very talented LSU front. I remember being impressed with his play when he was a sophomore back 2008 for the Fighting Irish. Therefore, just taking a look to see if he has a chance of competing for a roster spot in the NFL vs. the gifted LSU defensive line will be worth a look for me.
• Speaking of talented offensive lineman, Florida left tackle Xavier Nixon will also have his hands full protecting the blind size in this one. He's a very good athlete with a long set of arms and natural movement skills . However, at 6-5, 292, watching to see how well he anchors vs. power will be the main aspect of his game I'll be watching to help determine if he's ready for the jump to the NFL this year or if he's going to need another season in order to improve his lower body strength.
At halftime flip to…
Iowa vs. Penn State (3:30 PM ET, ABC)
• If there is a better pair of starting tackles in the country than at Iowa, I have yet to see them. LT Riley Reiff is a former high school tight end who has seamlessly made the move to the O-line and now ranks as one of the nations top OT prospects. But, at 6-6, 300-pounds there is still some concern about his anchor strength. For that reason, evaluating to see how he holds up vs. a bigger, more physical Penn State defensive line will be a good indication of where he's at physically.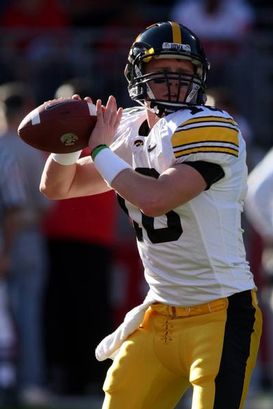 ICONVandenberg is going to keep getting better and better with more experience.
• At right tackle, I don't expect Markus Zusevics to have a ton of trouble with power as a pass blocker and I even think he should hold up just fine with the "speed" of the PSU off the edge as well. However, his calling card is his power/coordination on the perimeter as a run blocker. And vs. a bigger, more physical Penn State defensive front I will be keying in on his ability to still get a consistent push at the point of attack as well as his ability to stick to blocks/seal through contact. Something he has done with ease over the early part of the year.
• One quarterback prospect who isn't getting any buzz in his first real season as starter, but has a ton of upside long term is Iowa's James Vandenberg. The 6-3, 212-pound signal caller has a live arm; displays good touch down the field and natural balance in the pocket. His biggest obstacle right now is learning to decipher defenses more consistently and taking better care of the football. Penn State is more of a conservative cover-two type team who will bend, but not break. Therefore, Vandenberg's ability to routinely decipher the coverage and find those soft spots in the zone will be the key in his development going forward.
Prime time…
Ohio State vs. Nebraska (8:00 PM ET, ABC)
• Match-up worth watching
Nebraska DT Jared Crick vs. Ohio State OC Michael Brewster
I have consistently been turned off by Jared Crick's inability to anchor with consistency throughout his career at Nebraska. However, this week he's seeing a more athletic interior blocker in Ohio State's Michael Brewster who does a better job using his quicks to get into blocks, shoots his hands well and can shuffle his feet through contact.
If Crick is going to win routinely inside vs. NFL caliber blockers, Brewster is the kind of blocker he needs to handle, because he doesn't play with the type of power/leverage needed to consistently win in the run game vs. more physical linemen. Therefore, this is a great match-up for Crick where he can play too his strengths and not have to worry so much about handling a power player. However, Brewster understands angles, is coordinated into contact and sits well into his stance. So, watching to see who dictates this match-up with their initial quicks/hands not only will help determine who wins this battle inside, but also help determine how both will fair vs. more athletic/coordinated linemen at the next level.
• Finally, the return of senior left tackle Mike Adams will be a welcome addition to the Ohio State offense. However, watching to see what kind of shape he's in, how technically sound he is with his footwork and overall just how rusty he is will go a long way in determining just how hard he was working during his suspension and just how important football is to him long-term.