September 03, 2011 -
National Football Post
The scout's guide to Saturday
Start the day with…
Northwestern vs. Boston College (12:00 PM ET, ESPNU)
• BC defensive tackle Kaleb Ramsey is a bear to move inside. He's a naturally strong kid who uses his long arms well to fend off blocks and finds the football inside. He's a bit linear, but watching him try to defend the Northwestern spread attack should be a good gauge of how the big guy will hold up in space at the next level. Looks like a future starting caliber 43 nose in the NFL.
• On the other side of the ball Northwestern left tackle Al Netter caught my eye in 2009 with his strong play as a sophomore. Since then, his play has really leveled off. However, at 6-4, 310, he looks more like an NFL guard who has some natural athleticism when asked to shuffle and slide in tight areas. He can bend as well, but needs to improve his hand placement/punch into contact, which is the key attribute I will be watching to see if he improved from a year ago
Flip next too…
South Florida vs. Notre Dame (3:30 PM ET, NBC)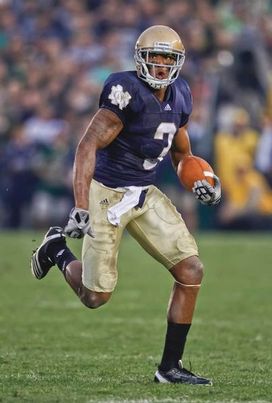 ICONIt will be interesting to see where Floyd is at physically.
• When going back through my 2009 notes, I was just as high on Notre Dame wide out Michael Floyd as I was on Bengals first-round pick A.J. Green. However, my evaluation of Floyd soured when evaluating him in 2010 as he looked to be a bit too bulky at 217-pounds, taking away from his quickness, burst and overall flexibility as a route runner. He got himself into some trouble this past off-season as well, but I'll be looking to see if he leaned himself out at all and if he exhibits the same type of explosion to his game from 2009.
• Flexibility, on the other hand, will never be a strength of Golden Domer SS Harrison Smith. However, he possesses excellent instincts and good enough straight-line speed to make plays on the football in the deep half. On the other hand, I want to see if he does a better job in 2011 keeping his pad level down in his drop and when asked to turn and run. This will allow him to get up to speed quicker and not waste so much motion collecting himself out of his breaks.
Prime time matchup…
Boise State vs. Georgia (8:00 PM ET, ESPN)
• Be sure to check out the matchup of Boise State DE Billy Winn vs. Georgia center Ben Jones. Jones is a bigger center at 6-3, 316-pounds who plays with good bend, slides his feet well laterally and exhibits good quickness for his size. He's not quite the physical in-line guy many make him out to be, but he's sticky through contact and will consistently be forced to double down on Winn inside. Winn, at 6-3, 295-pounds, is a strong kid with a good athletic skill set, but it will be interesting to see how he holds up inside vs. SEC caliber lineman, especially when doubled down on. This could go a long way in determining where he plays at (DE or DT) in the NFL.
• At left tackle for Georgia is former left guard Cordy Glenn, who isn't the most natural of benders and doesn't gain a ton of leverage in the run game. However, he's a smooth athlete for his size -6-5, 340-, with long arms and can anchor on contact. Be sure to watch how he holds up in space. I'm not as high on him as most because of his higher pad level, but he is a coordinated big guy who will has the skill set to start either at right tackle or inside in the NFL.
At halftime flip to….
Oregon vs. LSU (8:00 PM ET, ABC)
• Is this the year LSU TE Deangelo Peterson breaks out? From a talent perspective the guy can run, create miss-matches and be a big time threat in the pass game. However, he's a lazy/poor route runner, doesn't pay much attention to detail and I can't see him wanting to take a lick over the middle at the next level. I will be watching to see if he has put a little more time/effort into his trade this off-season and improved in any of the finer points of the position.
• Watching the LSU secondary this summer, SS Brandon Taylor really popped for me early in the year. He possesses good size, can change directions, was instinctive and would tackle. However, he missed the final portion of last season with a leg injury. Therefore, I'll be watching to see if he's 100% healthy as well as ready to take that next step as a senior.
Nightcap…
Colorado vs. Hawaii (10:15 PM ET, ESPN 2)
• Colorado OG Ryan Miller is the top prospect in this match-up, but the 6-8, 298-pound lineman has the frame better suited to play as a tackle. The big guy can bend, but at his size it's tough for him to gain consistent leverage inside and he can be rocked backward on contact. Therefore, I'll be watching to see how quickly he gets out of his stance, his ability to play in space and breakdown on contact. All attributes needed to play right tackle in a zone scheme at the next level, which is where I think he will fit best for an NFL club.
Follow me on twitter: @WesBunting