October 01, 2011 -
Barry Dorey
The scout's guide to Saturday
Start the day with…
Texas A&M vs. Arkansas (12:00 PM ET, ESPN)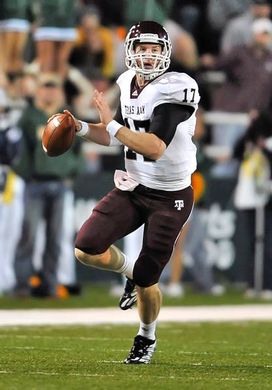 ICONCan Tannehill bounce back?
Does Texas A&M QB Ryan Tannehill bounce back from this three-interception performance and first loss of the season against Oklahoma State? Being able to handle adversity and have a short memory is key at the quarterback position. Therefore, I just want to see how efficient he is this week vs. Arkansas and if he has any kind of a hangover from last week's outing.
When watching Texas A&M running back Cyrus Gray, I love the guy's lateral quickness in tight areas, his ability to make a man miss and then quickly accelerate away from defenders. However, if there is one concern, it's that he leaves some yards out on the field because of his unwillingness to simply lower his head and grind out tough yards if nothing is there. How he handles a fast SEC-style defense who will work in pursuit will be a nice indicator of just how more North/South running he has to do in order to be the kind of NFL back his skill set says he can be.
When will the "real" Greg Childs return? Arkansas wideout Greg Childs is slowly working his way back from knee surgery, but simply isn't the same kind of threat now that he was a year ago. Therefore, watching to see not only how he performs athletically this week, but the rest of the season will be key in determining his draft stock. Because when healthy he looked like one of the better possession-type wideouts in the class.
Flip next to…
Baylor vs. Kansas State (3:30 PM ET, ABC)
Call me crazy but if there is one quarterback who could potentially end up being even the slightest of challenges to Stanford QB Andrew Luck this year as the potential number one overall pick, in my mind it's Baylor QB Robert Griffin III. He not only is an elite athlete at the position, but throws one of the prettier deep balls in the country and has really taken a positive step forward as a passer in the intermediate pass game this year. He's seen back-to-back patsies on the defensive side of the ball, so a jump in competition vs. a defense who has seen him throughout his time at Baylor will be a nice early-season test in order to see if he keeps maturing.
Out of all the sub 6-foot senior wideouts in this year's class, Baylor's Kendall Wright is the most intriguing to me. Not only does he have the play speed to routinely get down the field and behind defenses. But also, he's developing as route runner and can create a legit burst out of his breaks. Now, he has a tendency to really banana (round off) his routes at times, but he's a balanced/fluid enough athlete to improve in that area if he puts some time into it, which will be the main aspect of his game I'll be watching in this one.
Prime time…
Wisconsin vs. Nebraska (8:00 PM ET, ABC)
I might be the biggest critic of Nebraska DT Jared Crick, but if he can show well inside as a run defender in this one I might begin to change my tune. Crick lacks ideal lower body power, pad level and anchor strength vs. the run game in my view, which is a real strength of the Wisconsin O-line. Therefore, be sure to evaluate how he holds up inside; it will be a good indicator of if he will be able to do the same in the NFL or if he will need to find another spot on the D-line.
Can Wisconsin QB Russell Wilson make a statement throwing the football vs. a big-time college defense? I'm not sold on Wilson at all as an NFL quarterback, as his size at 5-11 really causes him to struggle to see over the line of scrimmage and forces him to stand upright and bounce on his toes too often trying to find throwing lanes. This mechanical flaw really takes away from his torque generated from his lower half and accuracy on all levels of the field. He's going to see an aggressive Nebraska defense who can cover in the deep half and pressure the quarterback. Therefore this will be a good test in determining if he can in fact potentially make consistent plays from the pocket with his arm at the next level.
Key matchup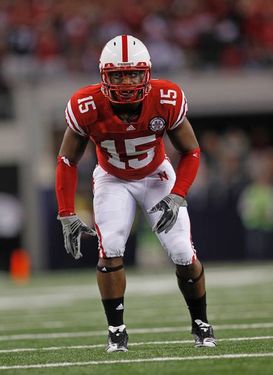 ICONDennard is a physical corner on the outside.
Nebraska CB Alfonzo Dennard vs. Wisconsin WR Nick Toon
Dennard is as tough and physical as they come as a press corner and his willingness to challenge receivers off all size is impressive. However, my biggest question for him is has he improved his technique enough as a press cover man to handle bigger receivers -- like Toon -- routinely on the outside? This will not only be key in this matchup, but also a key in determining his draft stock long term.
Toon on the other hand has been a bit of an underachiever throughout his career, but has the talent to give any corner fits due to his size, body control and balance as a route runner. Therefore, the two things I will be watching from Toon are...
1. Does he showcase the willingness to compete with a physical/in-your-face type player like Dennard all game long?
2. Can he consistently get off press coverage quickly and separate into his route?
At halftime flip to…
Alabama vs. Florida (8:00 PM ET, CBS)
When I make my final decision as to whether or not Florida RB Chris Rainey is worthy of a draft pick or not, this is the tape I'm going to watch. Rainey can be dynamic, but at 5-9, 174 pounds the question is can he be effective from a physical standpoint at the next level and if so where? Therefore, watching where he's at his best vs. a very good Alabama defense will be the main aspect of the game I will be watching.
The same can be said about RB Jeff Demps. However, Demps is a little shorter than Rainey, and at 190-pounds is much more compact and looks more dynamic in space. Therefore, determining just how dynamic he can be will help me in determining just high he should rank on my draft board.
Finally, where is Florida QB John Brantley at in his development? The Gators coaching staff has protected Brantley consistently during the first couple games of the year. However, in this one he's going to have to throw the football into tight windows and convert some big third and long situations. Therefore, is he at a point in his maturation process where he can do that consistently and potentially warrant a draft pick?