September 24, 2011 -
Barry Dorey
The scout's guide to Saturday
Start the day with…
Pittsburgh vs. Notre Dame (12:00 PM ET, ABC)
Loving the guard play
Take a good look at Pittsburgh offensive guard Lucas Nix. The 6-6, 310-pounder is a plus athlete inside who can bend, displays natural fluidity in space when asked to pass protect and is quick to fire off the ball and seal inside. He's not a dominant in-line guy, but he's tough to disengage from, plays with natural power and runs his legs hard through contact. Therefore, watching to see how quickly/effectively he can get out and seal defenders like Notre Dame MLB Manti Te'o will be a nice matchup to watch.
Flip next to…
Oklahoma State vs. Texas A&M (3:30 PM ET, ABC)
The quarterbacks rule in this one
Texas A&M QB Ryan Tannehill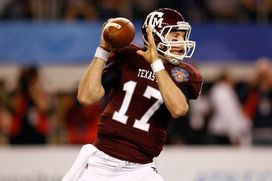 ICONTannehill can sling the football.
Tannehill is a former high school quarterback who made the move to wide receiver as a freshman, only to move back to quarterback in 2010. He's a "plus" athlete with a natural feel for the game, can make all the throws and knows how to buy time for himself in the pocket. He also does a nice job finding secondary options, but after being thrown back into the quarterback spot last year with only limited experience at the college level, pay close attention to his overall comfort level this year in the offense. Head coach Mike Sherman is a great mentor for Tannehill and his west coast style offense fits Tannehill's skill set to a tee. Therefore, I will be looking to see if Tannehill's speed of play picks up this year and if he becomes a quicker decision maker from the pocket, which should come with more time/development.
Oklahoma State QB Brandon Weeden
Weeden is a former professional baseball player who came to the Oklahoma State program in 2007 and will be 28 years old by the time the 2011 season wraps up. Nevertheless, he spins a clean football, gets the ball out of his hands quickly and is as comfortable in his offense as any quarterback in the country. Therefore, like most of these spread quarterbacks, I want to see how Weeden handles pressure when his initial read isn't on. Is he at a point where he not only can find a secondary wideout, but quickly get his feet around, decipher the defense and accurately deliver the football? He had a tendency to throw blind into coverage a lot last season. Therefore, evaluating how he handles himself in the face of pressure with be key in determining just how quickly he can come in and play at the next level, which will be key when factoring in his age.</p>
At halftime turn to…
Arkansas vs. Alabama (3:30 PM ET, CBS)
Top-tier WR/CB showdown
Arkansas WR Greg Childs will play this week after missing week three following the death of his grandmother. Childs is a tall, coordinated wideout with a physical element to his game when asked to adjust and go get the football. He's a better route runner than given credit for, especially in the three-step game and can win in jump ball situations down the field. However, vs. a physical/talented Alabama secondary, watch to see how quickly he can beat press and get into his route. He's not a big time athlete, but if he can win with his short-area quickness/physicality off the snap, he's not only going to have success Saturday, but at the next level as well.
The one corner who will be responsible to keep Childs in check most likely will be Alabama's junior standout Dre Kirkpatrick. The 6-2, 205-pound corner has the length, size and physicality to get into Childs off the line. However, it's his technique, patience and balance that will be tested consistently vs. the bigger Childs. Therefore, watch to see how often he can properly press Childs off the line and re-route. If he can do that consistently, at his size and with his athleticism, he could end up being the top corner prospect in the draft.
Primetime…
LSU vs. West Virginia (8:00 PM ET, ABC)
Corner will bait, but can he hook a quarterback?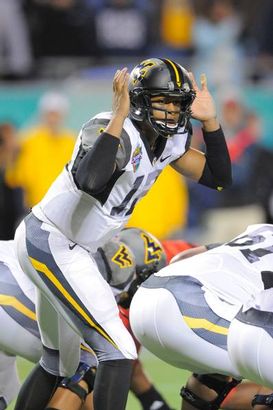 ICONSmith is going to have to use his head in this one.
What else needs to be said about LSU CB Morris Claiborne? Watching tape of him this week there is a noticeable difference in his overall bend, footwork and balance in his drop from last year to this year. This season he crouches much lower and is cleaner out of his breaks, which allows him to be more explosive when closing on the football. He's coming off a two-interception performance last week vs. Mississippi State and at this point I just want to continue to monitor the kid's consistency. He's a fluid, long armed kid with a lot of talent, but just watching to see that there is no let up to his game or that he begins to start believing the hype about how good he is will be key for him moving forward. However, from everyone I've talked with about his mental make-up, that shouldn't be problem.
Finally, where is West Virginia QB Geno Smith at in his development? The 6-3, 215-pound junior is a talented kid. He can spin the football down the field, buy second lives in the pocket and is a threat both with his arm and his legs. However, when plays break down he typically has the athletic ability to simply outpace opposing defenders and create on the perimeter. But, against LSU, he isn't going to have that same kind of luxury. Therefore, watching to see his decision making process against a fast, aggressive pressure packed defense will be a nice measuring stick to see where he's at in terms of potentially maturating into an NFL quarterback prospect at this stage.