December 31, 2011 -
National Football Post
The scout's guide to Saturday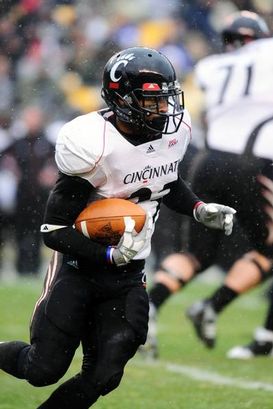 ICONPead is a big play threat.
10. ILB Chris Marve: Vanderbilt (6-0 242)
Liberty: Cincinnati (9-3) vs. Vanderbilt (6-6) at 3:30 p.m. ET on ABC
He's a natural leader, plays with a passion for the game and can win in both the run and pass game. His size is the one negative to his game, but reminds me some of Brian Rolle the linebacker from Ohio State last season and if given an opportunity in a cover two type scheme, the guy has a chance to play early and eventually start.
9. WR A.J. Jenkins: Illinois (6-0, 190)
Kraft Fight Hunger: Illinois (6-6) vs. UCLA (6-7) at 3:30 p.m. ET on ESPN
Has a nice feel for the game, plucks the football well and has the speed to run away from defenders. Is a developing route runner who looks a bit limited in that area, but in the right offense he should be able to create as a reserve down the field.
8. RB Isaiah Pead: Cincinnati (5-11, 200)
Liberty: Cincinnati (9-3) vs. Vanderbilt (6-6) at 3:30 p.m. ET on ABC
An explosive running back with the initial burst to press space quickly, put his foot in the ground and side step a defender. However, isn't natural inside between the tackles and isn't going to create on his own if there isn't a big hole there. A space runner who will be looked at as more of a zone guy or third down back to most teams.
7. WR Jeff Fuller: Texas A&M (6-4, 220)
Meineke Car Care: Texas A&M (6-6) vs. Northwestern (6-6) at Noon ET on ESPN
A talented kid who looked like one of the draft's best receiver prospects as a junior, but his game has really fallen off as a senior. A lack of focus, dropped footballs and questionable separation skills will cause him to fall.
6. DE Cam Johnson: Virginia (6-4, 270)
Chick-fil-A: Auburn (7-5) vs. Virginia (8-4) at 7:30 p.m. ET on ESPN
A solid college defensive end who has never been much of a sack artist but there are some tools there. Showcases some fluidity in his drop and coverage and has the ability to mature into a more sudden pass rusher. Will get looks in both a 34 and 43 front.
Follow me on twitter: @WesBunting
Click to page two for prospects 1-5....