November 12, 2011 -
National Football Post
The scout's guide to Saturday
Start the day with…
Nebraska vs. Penn State (12:00 PM ET, ESPN)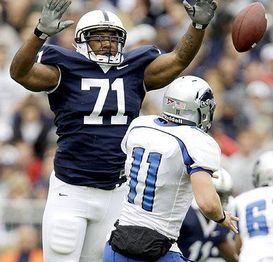 ICONStill is one of the draft's top senior prospects.
Penn State DT Devon Still has been a man on a mission this year. His motor is much improved, his pad level is lower and he's using his hands more often to shed blocks. Add those three improvements up and it's made his senior campaign downright dominant at times this year. Therefore, vs. Nebraska's run-first offense, pay close attention to his ability to keep himself clean, quickly play off blocks and create havoc in the backfield off the snap. His initial burst for his size is impressive and he has the power to routinely overwhelm and force his way into the backfield and break down on contact.

Key matchup to watch…

Penn State WR Derek Moye vs. Nebraska CB Alfonzo Dennard

Moye is a tall, lanky wideout with a thin frame, but exhibits some surprising quicks off the line for his size. He isn't a burner and it takes him a bit to build speed, but he has some savvy to his game, knows how to sell routes and will track the football.

Therefore, watching him go against the physical, yet compact Dennard will be a good matchup to prove if Moye really is draft eligible. He needs to show he won't routinely be re-routed off the line and that he has the ability to get into his route and create enough separation to gain a step and go get the football.

Moye isn't going to be a big-time pick, but if he can prove that he is athletic enough to at least be productive vs. a top-tier cornerback prospect like Dennard who wants to press, it will go a long way in my book in determining if he's really worth a draft pick.

Flip next to…

TCU vs. Boise State (3:30 PM ET, Versus)

The Boise State defensive line is loaded with a unique blend of prospects who can fill a variety of rolls at the next level.

DT Billy Winn
The 6-4, 295-pound tweener is an explosive kid with a good get off burst and routinely is able to keep his pad level down off the ball and make his way into the backfield. I could see him getting looks in both a 43 and 34 front because he has the ability to be a solid producing starter in either scheme at the next level.

DE Shea McClellin
The most impressive of the defensive line prospects to me this year on tape. He's a high motor guy with a good get off, can counter off his speed rush, threaten the edge and exhibits some power on his bull. At 6-3, 258 pounds I can see him getting looks in both a 34 and 43 front and in my mind is one of the draft's most underrated prospects.

DE Tyrone Crawford
He might have the most untapped potential of the bunch, but has the longest way to go as a prospect. He possesses a nice combination of power and athleticism, but is still learning to use his hands and play with consistent leverage. However, if he figures it all out, looks like a potential three-down player.
CONTINUE TO PAGE 2 FOR MORE GAME PREVIEWS