October 29, 2011 -
Barry Dorey
The scout's guide to Saturday
Start the day with…
Michigan State vs. Nebraska (12:00 PM ET, ESPN)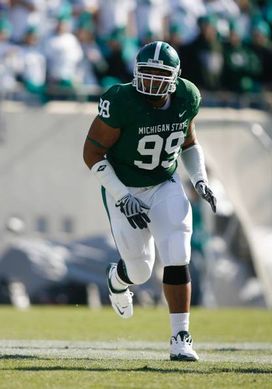 ICONWorthy is a big presence inside.
Michigan State DT Jerel Worthy can be downright dominant inside when he wins off the snap. He's got a good initial burst, keeps his pad level down and demonstrates the power/range to knife his way into the backfield and make plays. He's the type of guy who can stop run plays before they start. However, with Nebraska's willingness to run toward the perimeter, Worthy is going to have to prove he can beat slide down blocks at times and keep himself from getting sealed inside, something he has struggled with at times this year. Worthy is a big time talent, but in my mind in order for him to warrant a top-20 pick, he needs to prove he can disengage with more consistency through contact.
Pay close attention to Nebraska's undersized linebacker Lavonte David inside. He's a 6-1, 225-pound athlete who runs well in pursuit, is instinctive and finds the football. There is no doubt the guy can play in space at the next level, but it's inside a phone booth that has scouts questioning just how high of a pick he warrants. Therefore, vs. Michigan State's power run game, watch to see how David not only takes on blocks at the point, but how well he keeps himself clean and still makes plays on the football. A must for a guy with his undersized frame.
Michigan State WR B.J. Cunningham vs. Nebraska CB Alfonzo Dennard
Cunningham is a big, well-strapped-together wideout who exhibits good body control, power and short-area quickness as a route runner. He's not a guy who is going to ever create a ton of separation, but he knows how to use his body to pluck the football when boxing out his man and create after the catch.
Therefore, on third down watch to see if Dennard can re-route him off the line and limit his separation. Or if Cunningham can use his size to gain a step, box and move the chains. Being physical is what both these guys like to do in order to win their one-on-one matchups, therefore, this will be a good gauge of how well each will play when matched-up with physical counterparts at the next level.
Flip next to…
Oklahoma State vs. Baylor (3:30 PM ET, ABC)
The Oklahoma State Cowboys are now No. 3 in the country and not only face a high-powered offense in Baylor this week, but the pressure and expectations of possibly competing for a national title this year. And where does most of this weight fall? On the broad shoulders of QB Brandon Weeden. He's an older prospect at 28 years old and is a mature kid. He's got all the tools to spin the football at the next level. However, pay close attention to how loose he plays this week. I want a QB who can handle pressure week in and week out and calmly manage the expectations of leading a National Title contender. Therefore, it should be interesting to see if the new burden affects Weeden going forward.
At halftime turn to...
Florida vs. Georgia (3:30 PM ET, CBS)
Florida DT Jaye Howard is one of the more intriguing interior defensive linemen in the class. He possesses a good get-off burst, can keep his pad level down, threaten gaps and fend off blocks initially. However, I do have concerns about his overall base strength/ball awareness vs. the run game. For that reason, watch to see how well he anchors inside vs. a bigger Bulldogs front and if he showcases the lower body strength to consistently win at the point vs. a center the quality of Georgia's Ben Jones.
Prime Time…
Southern Cal vs. Stanford (8:00 PM ET, ABC)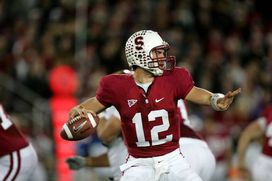 Will Luck shine once again Saturday night?
Stanford QB Andrew Luck vs. Southern Cal QB Matt Barkley
Barkley and Luck are viewed as potentially the top two quarterback prospects in the 2012 NFL draft and will have a prime time stage to prove just how the two stack up against each other.
For Barkley I want to see him be decisive with the football against Stanford's multiple 34 front. I want to see him recognize the blitz quickly, find secondary options without batting the eye and spin the football well at the second level. When he does have the opportunity to side step pressure and hurt the Cardinal defense with a big play down the field, he needs to prove he has the physical tools to make the throw.
As for Luck, I want to see how he performs behind the numbers vs. an athletic/rangy defense. He's such a student of the game that he rarely puts his offense into a less than ideal situation. However, the Trojans have the athletes to create some negative plays on early downs, consequently I want to see how Luck handles the game then playing from behind the chains vs. pressure.
Stanford LT Jonathan Martin vs. Southern Cal DE Nick Perry
At 6-6, 304 pounds, Martin is a massive presence on the blind side and possesses a unique blend of range, athleticism and overall technique for a big guy. He bends well, stays compact with his footwork and uses his length to gain leverage. Therefore, vs. the explosive Perry I'll be looking to see if he not only has the ability to consistently reach the speed rush to the corner, but mirror laterally on Perry's sudden lateral inside counter.
As for Perry I'll be watching to see how well he uses his hands to keep himself clean and disengaged. Martin is a long-armed guy who has the ability to extend, maintain balance and stay engaged. Perry on the other hand has struggled to use his length consistently to free himself from contact in the past. Therefore, this is a good opportunity for Perry to prove he does have some violence/know-how when it comes to using his hands to disengage on contact and create pressure with some power as well.