November 19, 2011 -
Barry Dorey
The scout's guide to Saturday
Start the day with…

Wisconsin vs. Illinois (12:00 PM ET, ESPN 2)

Illinois OT Jeff Allen might be the most underrated offensive line prospect in the nation. He's a big, coordinated pass blocker who can bend, anchor and mirror in space. The biggest thing for him going forward is his ability to stay down off the snap and gain leverage into contact in the run game. However, he's a coordinated guy who can seal, but I will be watching closely to see how he handles a physical Wisconsin front.
Flip next to...

Mississippi State vs. Arkansas (3:00 PM ET, CBS)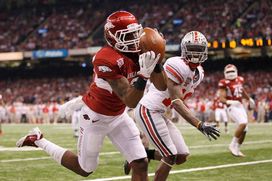 ICONAdams can get vertical.
It will be interesting to see if Mississippi State OT James Carmon is in the starting lineup this week for the Bulldogs. I wrote about him Monday as a guy who struggled vs. Alabama, but at 6-7, 330 pounds is the kind of talented size/speed prospect who is worth a look in an NFL camp. Therefore, if he does start, watch to see how he bounces back after his performance last week. He has a long way to go from a technical standpoint, but after being benched Saturday evening, I just want to see his overall willingness to come out and compete vs. Arkansas.

Who is the better receiver prospect on Arkansas, Jarius Wright or Joe Adams?

I like Wright a little more because of his ability to play quicker in tight areas, cleanly change directions as a route runner and separate instantly out of his breaks. He's a guy who is a little more natural catching the football as well and has experience both inside and out. The biggest question I have is, does he have the size/physicality at 5-10, 180-pounds to routinely shrug off bigger corners and get into his route on the outside as a potential starter? Therefore, anytime he's lined up outside and sees a press, it's an ideal situation to evaluate his ability to win off the line.

Adams on the other hand isn't quite as polished or sudden as a route runner. However, when you watch this guy with the ball in his hands in the open field it's obvious he has athletic skill set needed to develop in that area. He's an explosive vertical threat who has some savvy setting up defenders. However, I want to see him tighten up his footwork/balance as a route runner and do a better job plucking the football and securing the catch in traffic. Something he has struggled with in the past.
For more breakdowns click to page two...