December 03, 2011 -
Barry Dorey
The scout's guide to Saturday
Start the day with…
Houston vs. Southern Miss (12:00 PM ET, ABC)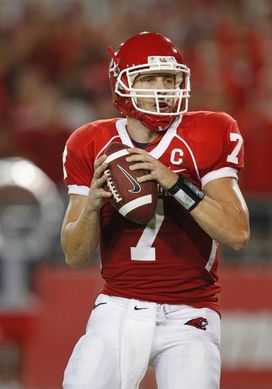 ICONKeenum isn't scared to throw the rock.
If you have yet to evaluate Houston QB Case Keenum this is a good chance to take a look at him in a pressure-packed conference championship game. The 6-1, 210-pound signal-caller has been extremely productive throughout his entire career, throwing for 43 touchdowns this season alone and just three picks. However, when evaluating Keenum in terms of potential at the next level pay close attention to his ability to fit the ball into tighter areas at the second level. He displays good touch underneath and down the field. However, watching to see if he can rip the football on a line in the 15-25 yard range will be key in forcing NFL defenses to cover the entire field. Reminds me of a rich man's version of former Texas Tech quarterback Graham Harrell.
Flip next to…
Baylor vs. Texas (3:30 PM ET, ABC)
We've been talking up Baylor QB Robert Griffin III all year and he's finally starting to get the love he deserves not only at the college level but also as a pro prospect. However, this is the kind of game vs. a talented Texas defense where he needs to continue to show up and prove he has the talent both running and throwing the football to simply take over. The Baylor offense has some talented pieces on it, but it all starts and ends with Griffin III. Therefore, his ability to once again elevate his team to a win vs. a more talented Texas squad will definitely leave a lasting impression in the minds of talent evaluators going forward.
On the Texas defense no prospect has been better this year up front than DE Alex Okafor. He combines an intriguing blend of get-off burst, power and violence with his hands, and knows how to reach the edge and shed blocks. There hasn't been a ton of talk surrounding him as a prospect, but he's one of those juniors who are flying under the radar and if he does declare could make a massive jump up boards once talent evaluator's start breaking down his game. Consequently, vs. a weak Baylor offensive line I will be paying close attention to Okafor to see just how dominant he can be off the edge.
Finally, in a weaker senior safety class, Texas SS Kenny Vaccaro could end up being one of the prized underclassmen to declare if he so chooses. The junior has really taken his game to another level this year with ten passes defended, two picks and an improved overall feel in the deep half. He seems to have certainly matured as a football player over the past two season and if he wants to put an "up arrow" next to his name as a prospect, having a big game vs. the nation's top dual-threat quarterback is a great way to start.
Follow me on twitter: @WesBunting
Click to page two for more matchups.