September 17, 2011 -
Barry Dorey
The scout's guide to Saturday
Start the day with…
Maryland vs. West Virginia (12:00 PM ET, ESPN U)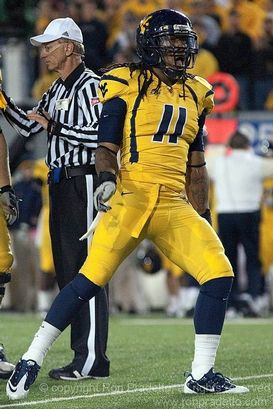 ICONIrvin is a monster off the edge.
The last time we saw this Maryland team was 12 days ago in its upset win over Miami. With the long layoff it will be interesting to see how sharp redshirt sophomore quarterback Danny O'Brien is early on. He's a smart kid who sees the entire field well, gets the ball out of his hands quickly and is accurate on all levels. However, he's going to see a lot of unique looks from West Virginia's 3-3-5 defense. Therefore, how he handles the time off, plus all the defensive looks he'll be getting will show if he's ready to take that next step this year or if it's going to be your typical up and down sophomore season.
Making matters even worse for O'Brien will be DE Bruce Irvin, who might be the most impressive pure pass rusher in the nation. He plays with his hand on the ground as a 6-3, 235-pound DE. However, he possesses one of the best first steps in the country, counters laterally extremely well off his speed rush and once he gains a step can instantly close on the quarterback. Now, at his size he looks more like a 34 rush backer to me only at the next level. However, watching to see if he can hold up on the edge vs. the run game for four quarters vs. a tough ACC offensive line will help show where he will end up being unleashed from at the next level.
Flip next too…
Washington vs. Nebraska (3:30 PM ET, ABC)
I know there is the theory out there that former Washington QB Jake Locker had absolutely no talent on offense to throw to last year, but I am here to say that theory is quite mistaken. WR Jermaine Kearse is a 6-2, 210-pound athlete who is physical, can run and knows how to go get the football. The talent is most certainly there from a physical standpoint as he's one of the most gifted receivers in the senior class. However, I'll be watching to see if his focus has improved from a year ago, if he plays as big and physical as his skill set says he should and if he stays emotionally involved in the game. He's a talent, but much like former LSU WR Terrence Toliver, I wonder if he has the mental make up to handle the rigors of being an NFL wideout.
On the other side of the ball Nebraska DL Jared Crick plays with the kind of passion, motor and relentless pursuit you love to see from a defensive lineman. He does a nice job extending his arms, is quick with his hands and possesses the athleticism to slip blocks laterally and make his way up the field. However, at 6-6, 285 pounds, he struggles with pad level inside, gets upright and lacks natural power at the point of attack. Therefore, watching him vs. Washington I will be looking to see if he has the ability to anchor with consistency vs. the run game inside as a two-gap type player as well as how quickly he can shed once engaged. Two areas he has struggled with in the past.
Prime Time...
Ohio State vs. Miami (7:30 PM ET, ESPN)
Miami undersized OLB Sean Spence returns from suspension this week and his athletic skill set should give the Hurricanes a big boast vs. perimeter runs and vs. the pass. However, pay close attention to see how he handles the Ohio State power run game inside. Spence, at 6-0, 224 pounds, is a gifted athlete, but will struggle to hold his own at the point of attack and wrap on would-be tackles when trying to fend off blocks. He's at his best in space in pursuit, but in order to be a big-time starting caliber linebacker in the NFL you have to prove you can hold your own in a phone booth as well, and this will a good test for the young man inside to prove his worth vs. power.
One of the Ohio State linemen responsible for getting out to the second level and reaching those athletic Miami linebackers will be center Michael Brewster. Brewster, at 6-4, 305, is a natural bender who can sink his hips, slide his feet laterally in pass pro and seal quickly off the line. However, he isn't an elite athlete in space. He's athletic enough to get out to the second level and break down on contact, but pay close attention how he fares in this area vs. "plus" caliber athletes at the linebacker position. It will be a good sign to see if he can do the same consistently in the NFL.
At halftime switch to…
Okalahoma vs. Florida State (8:00 PM ET, ABC)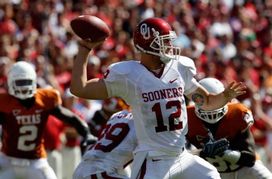 Can Jones win on the road?
Who is the better Florida State offensive tackle? Left tackle Andrew Datko is a tall 6-6 321-pound athlete with good range off the edge and natural movement skills in space. However, he doesn't play nearly as strong as his height/weight numbers would indicate and will struggle with power. Right tackle Zebrie Sanders plays a little lower, has a little more snap in the run game and is very coordinated laterally in pass protection. But he's not as rangy off the edge and will get grabby at times because of it. Both are top-tier senior tackle prospects at this stage who have the skill set to start in the NFL early on. But evaluating how they fare vs. the talented Oklahoma front four will be a good indicator of where each is at.
Is Oklahoma QB Landry Jones really a top-tier quarterback prospect? The guy has struggled on the road during his career, doesn't have the biggest of arms and I can't wait to see how he handles one of the best pass rushing defenses in the nation. I'll be looking for poise, anticipation and accuracy in the face of pressure from Jones this weekend before I say he's worth a top-tier pick.
The nightcap…
Stanford vs. Arizona (10:45 PM ET, ESPN)
Pay close attention to the two quarterbacks playing in Stanford's Andrew Luck and Arizona's Nick Foles. I will say that Foles is the stronger-armed prospect. However, compare how each gets his team in and out of plays from the line of scrimmage, how quickly each deciphers information when their initial read isn't on and how much control they have over their offense from play to play. I love being able to compare two prospects who play the same position and go head to head because their strengths and weakness are even further magnified. Therefore, comparing each in the mental aspects of the quarterback position will certainly be worth a look.