November 05, 2011 -
National Football Post
The scout's guide to Saturday
A rundown of the prospects you should be watching, the main matchups worth evaluating and which prospect has the biggest role to play.
The top five senior prospects playing…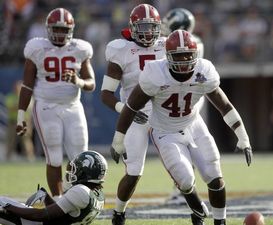 ICONUpshaw can be a force off the edge.
1. OLB Courtney Upshaw: Alabama (6-2, 265)
I like him as a 34 outside backer who can play on the strong side, take on linemen at the point and also rush the passer. He's at his best attacking downhill, using his strong hands to disengage and always is around the football. Looks like a year-one starter to me at the next level with scheme versatility and impact potential.
2. DT Josh Chapman: Alabama (6-1, 310)
Has the making of a starting-caliber nose at the next level in either a 3-4 and 4-3 front. Can consistently anchor on contact, is long armed and tough to move off the football. Also, is a better pass rusher than given credit for.
3. SS Mark Barron: Alabama (6-2, 220)
Isn't a guy who can play in space at the next level or will get picked on consistently by NFL offenses. But, has the makings of a heck of a special teams player who can attack downhill in both the run and pass game, and play inside the box.
4. SS Brandon Taylor: LSU (6-0, 195)
He tackles well in the box and in space, displays some natural coverage ability and looks capable of maturing into a potential starting-caliber safety in the NFL in my mind. Has been very instinctive and proactive in the secondary vs. the pass game during the first part of the year.
5. WR Marquis Maze: Alabama (5-10, 182)
There's a place in the NFL for this guy because of his straight-line speed and ability to create after the catch. Adds some punt return ability as well and looks like a sub-package receiver who can run the deep crossers and create big plays when his number is called.
Key draft eligible underclassmen to watch…
CB Morris Claiborne: LSU (6-0, 185)
Possesses an athletic frame with great length, natural fluidity for a taller corner and "plus" straight-line speed down the field.
CB Dre Kirkpatrick: Alabama (6-2, 192)
He's long, physical and balanced off the line, and if he gets his hands on you the battle is over.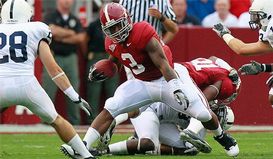 ICONRichardson is the last guy you want to see in the open field.
RB Trent Richardson: Alabama (5-11, 224)
Possesses an elite combination of size and speed, and breaks as many tackles as any running back prospect to come along in years.
ILB Dont'a Hightower: Alabama (6-4, 260)
A striker in every sense of the word inside who can take on blocks, overpower at the point and win consistently vs. the run game.
WR Rueben Randle: LSU (6-3, 210)
Possesses good body control and coordination when asked to go get the football. Also exhibits a sneaky vertical element to his game down the field.
OG Chance Warmack: Alabama (6-3, 320)
An overlooked lineman on the Bama O-line, but is a powerful in-line guy with good natural anchor strength and some short-area quicks on the move.
Key matchups worth watching…
LSU Center T-Bob Hebert vs. Alabama DT Josh Chapman
Chapman is a physical anchor player who is tough time move inside and exhibits a "plus" first step for his size. He's got a good feel of where the football is and routinely gets early jumps off the snap and can collapse the pocket inside vs. the run. Hebert on the other hand isn't a real physical anchor player. He's a solid athlete vs. the pass and should be able to hold is own inside. However, he's routinely overwhelmed on contact vs. physical lineman and if he can't hold his own inside vs. Chapman, it's going to be a lot of 3rd and long situations for the Tiger offense this evening.
LSU WR Rueben Randle vs. Alabama WR Dre Kirkpatrick
Kirkpatrick typically has his way bullying receivers off the line when asked to press and makes it tough for them to quickly get into their route. Randle though is the Tigers biggest threat in the pass game and showcases the ability to be sudden off the line, fend off contact and stride his way down the field as a vertical threat. Kirkpatrick needs to be physical in order to disrupt timing, but can't get caught overextending into contact because Randle is the kind of big, slick athlete who can make him pay.
LSU SS Brandon Taylor vs. Alabama RB Trent Richardson
The one reason I really liked Taylor on tape this off-season was because of his ability to tackle consistently both in the box and in space. Now, he's going to have his hands full with the power and speed of Richardson, but if he wants to prove he is a potential starting caliber safety in the NFL, Richardson is the kind of back he needs to show up against.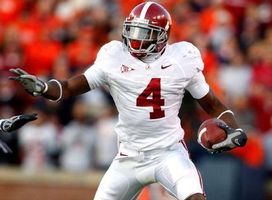 ICONCan Barron hold up in coverage?
LSU TE Deangelo Peterson vs. Alabama SS Mark Barron
If there is one big concern about Barron as a prospect, it's his struggles to quickly change directions, collect himself and get back up to speed, as he's too leggy and stiff out of his breaks. Now, he does a better job when attacking downhill and driving on the football, but Peterson is a gifted athlete for the position who runs like a receiver in the way he gets down the field. However, attention to details and focus have never been his strong suites, but Peterson has the athleticism to create some mismatches/big plays down the field as long as he keeps his concentration.
The prospect with all the pressure…
LSU QB Jarrett Lee is a seasoned kid who has seen his fair share of ups and downs over the course of his career. He was pretty much an afterthought as a prospect coming into the year. But he's slowly come along during the early season following the suspension to former starting QB Jordan Jefferson, made good decisions with the football and is leading the number one ranked team in the country. However, in order for him to warrant a potential draftable grade, these are the kind of games he needs to show well in and prove that he can be a positive factor on offense when he needs to make a play and stick a big throw vs. a top tier opponent.
Now, he's a smart enough decision maker to not force the ball into coverage, he takes what the defense gives him and will be content to punt the football when the situation seems fit. However there always comes a time in big games when your quarterback needs to make a play for the offense. And while Lee has played well this year, the LSU coaching staff has done a nice job protecting him and keeping him in front of the chains.
Therefore, if your looking to see just what kind of quarterback prospect Lee really is, this is the game that will weigh the heaviest in my mind from an evaluation standpoint because he's going to be put in some NFL like situations and it will be interesting to see how he performs.
Follow me on twitter: @WesBunting
Check out the NFP's 2012 NFL DRAFT PAGE HERE...