October 22, 2011 -
National Football Post
The scout's guide to Saturday
Start the day with…
Clemson vs. North Carolina (12:00 PM ET, ESPN)
ICONCoples can be effective all over the D-line, as long as his motor is running.
UNC DE Quinton Coples is currently the NFP's top ranted senior prospect and has the skill set to be as good as he wants in the NFL. At 6-5, 290 pounds he gives the UNC front four some versatility. However, the biggest thing I will be looking for from Coples is his overall effort at this stage. He's playing a big-time game this week vs. a top-ten Clemson team and really the only guy that can hold Coples back from being a big-time NFL player is himself. Therefore, watch to see how often that motor is running on full and if the passion meets his talent level.
Playing inside of the UNC defensive line is former four-star recruit Tydreke Powell, who at 6-3, 310 pounds possesses a really impressive physical skill set. He's a coordinated kid who can run, showcases "plus" athleticism off his frame and good natural power for his size. However, he's a guy who every time I watch, I keep wanting more from. He struggles with pad level, pops upright off the football and doesn't use his hands well to shed on contact. It will be interesting to see if any improvement has taken place since the last time I saw him a couple of weeks ago involving his pad level, because if not he's nothing more than a late round/free agent type prospect.
On the Clemson defensive front four DT Brandon Thompson is the anchor inside. At 6-2 310 pounds he displays a "plus" first step, can keep his pad level down and threaten gaps off the football. He's also a very good run defender who can anchor inside and is a bear to move off the football. Now, he's not the most laterally gifted of defenders and will struggle to shed blocks at times in both the run and pass game when he has to quickly change directions. Therefore, I'll be watching to see how he does when trying to shed and make plays off his frame this week, which will help determine if he's better suited for more of a one-gap scheme only or if he can in fact be a two gaper at the next level.
Flip next to…
Auburn vs. LSU (3:30 PM ET, CBS)
Watching Auburn DB Neiko Thorpe as a corner on tape these past two summers, it was painfully obvious that he didn't have the change of direction skills needed to play outside at the next level. However, he's looked a bit more natural at safety this year as he plays in space more often and uses his strider speed to cover ground in the deep half. Therefore, watching him vs. a physical LSU offense who wants to run the football and take shots down the field off play action will be a nice matchup for Thorpe to see just how disciplined he is in the deep half and if he has the range/instincts to decipher quickly and get over the top.
Speaking of those big-play threats, LSU junior wideout Rueben Randle leads the team in all major receiving categories this year and has done a nice job making plays vertically down the field in jump ball situations. He's not a burner, but at 6-foot-4 inches he knows how to collect himself and go get the football. But at this size I'll be paying most attention to how well he changes directions and creates separation out of his breaks. Size is good at the receiver position, but you have to be able to separate in the NFL if you want to start on the outside.

Prime time I
Southern Cal vs. Notre Dame (7:30 PM ET, NBC)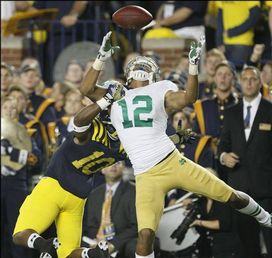 ICONBlanton is a big corner who can play the football.
I have been really impressed with Notre Dame CB Robert Blanton this year. He looks more balanced off the line in his drop, locates the ball well out of his transition and knows how to attack the football. However, I still have concerns about him being able to get in and out of his breaks quickly vs. a top-tier wide receiver prospect. Therefore, when matched up with USC stud sophomore wideout Robert Woods, watch to see how he fares in the short/intermediate pass game. I know Blanton can turn and run, but evaluating to see how well he does staying in receivers' back pockets initially will be key in determining just how high of a draftable corner he really is and if he can start on the outside at the next level.
Prime time II
Washington vs. Stanford (8:00 PM ET, ABC)
Washington LT Senio Kelemete might be the most underrated offensive line prospect in the country. He's a "plus" athlete who can bend and plays with impressive power/leverage at the point in the run game. The negative with him was balance in pass protection and through contact. Therefore, evaluating to see how far he's developed at his trade will be the key to watch for, because the skill set is there for this guy to kick inside and mature into an NFL-caliber starting guard early on.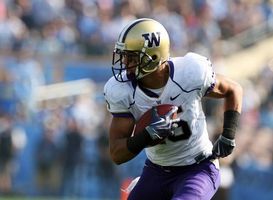 ICONWill Kearse rise to the occasion?
Another prospect I consistently want more from is Washington WR Jermaine Kearse. He's a thick, physically put together wide out with a natural burst to his game and solid straight-line speed down the field. Physically, there isn't too much the guy can't do. However, he has a tendency to put the football on the ground far too often and seems to lose focus/motivation when times get tough. So watch to see how emotionally involved in the game he remains -- even when the Huskies lose momentum -- this will be a nice tell of the kind of professional he'll end up being at the next level.
Finally, if you want to get a read on just how good Washington CB Desmond Trufant really is, this is a great game to evaluate. The 6-0, 185-pound corner is a fluid kid with good hips and above-average straight-line speed. However, vs. a very savvy Stanford receiving corps -- that does a nice job selling their routes -- maintaining proper footwork/balance will be key. Therefore, watch to see the separation Trufant gives up initially on sharply breaking routes. It will be a good tell to let you know if he's ready for the jump potentially to the NFL after his junior year, or if he'd be better suited to stick around and further develop his trade as a senior.