November 26, 2011 -
Barry Dorey
The scout's guide to Saturday
Start the day with…
Ohio State vs. Michigan (12:00 PM ET, ABC)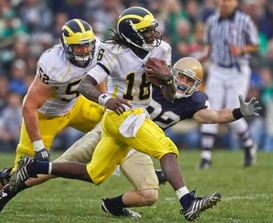 ICONRobinson can consistently make defenders miss.
It's becoming more and more obvious that Michigan quarterback Denard Robinson is not an NFL caliber quarterback. However, that doesn't mean that he isn't an NFL caliber prospect. Robinson is a dynamic runner. He showcases a good feel inside, can accelerate well in the open field and can change directions at full speed. Some scouts I've talked with see him as a slot guy at the next level. However, he has no experience ever catching the football, even dating back to high school. Therefore, when watching him this week I'll be evaluating him more as a running back more so than a potential receiver, which is the spot I think he can be most dynamic early on.
TE Kevin Koger always had the talent to be an impact caliber guy at the college level, but because of the former Michigan offensive scheme he never really got a chance to see the football much until this year. However, at 6-4, 258-pounds he's a big, good-looking athlete who can adjust to the football, snatch throws off his frame and has the size to be a solid in-line guy. Therefore, the biggest thing with him is evaluating to see his overall development from last year to this year, especially as a blocker where he will need to win at consistently at the next level. So balance into contact and keeping his feet under him will be a key.
If there is one major complaint I have about the game of Ohio State's OT Mike Adams, it's at times his mean streak and willingness to stick and finish blocks. Against a bigger, overachieving Michigan front it will be interesting to see how he handles the relentlessness of a guy like DE Ryan Van Bergen who from a talent standpoint shouldn't get a sniff of the QB today vs. Adams. Therefore, it will be key to watch how motivated he stays throughout and if he can shut down an inferior opponent.
Flip next to…
Alabama vs. Auburn (3:30 PM ET, CBS)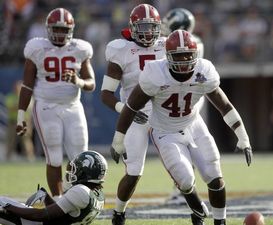 ICONUpshaw is a "plus" power player off the edge.
There's nothing overly sexy about the game of Auburn RT Brandon Mosley. He's a tough, no non-sense type tackle with a long set of arms, heavy hands and understands angles well off the edge. He isn't the most rangy of athletes and is a bit tight when asked to re-direct. However, watching him go head-to-head with one of the better power rushers in the country in Alabama's Courtney Upshaw will be a good test to figure out if he has the natural anchor ability to be a starter in the NFL on the right side or if he's simply better suited to play the role of reserve at the next level.
* Mosley is listed as day-to-day with a knee injury.
In what appears to be a very talented offensive guard class, one guy who hasn't received much love for his play this year as a prospect is Alabama's Chance Warmack. The 6-3, 320-pound lineman is one of the best power players I've seen this season. He can bend, explode out of his stance, keep his base down and drive defenders off the football. Also, for a thick guy he can pull on power plays and showcases some natural balance/range through contact. Therefore, I'm looking forward to seeing his movement skills in space today because he's going to have to pass protect in the NFL. However, he's got the ability to be a guy you can run behind in 3rd and short situations and mature into a "plus" run blocker at the next level early on.
The one guy I will be keying on in the Alabama secondary will be strong safety Mark Barron. The 6-2, 218-pound defender has done a much better job this year staying compact with his footwork, being proactive/getting early jumps on the football and staying balanced when asked to attack the throw. Balance has always been the biggest concern I had with Barron at the next level. But he looks to have improved in this area significantly and I'll be watching to see how he holds up again in the deep half.
Click to page two for more prospect/game preview...