September 10, 2011 -
Barry Dorey
The scout's guide to Saturday
Start the day with…
Wisconsin vs. Oregon State (12:00 ET PM, ESPN)
We saw Wisconsin last Thursday dominate the line of scrimmage up front offensively vs. UNLV and one guy I highlighted in my Friday write-up was RT Josh Oglesby. Oglesby was able to get a good push all evening and used his combination of size and length to control blocks. However, he struggled with pad level in the run game and watching to see if he can handle the jump in competition this week vs. Oregon State will be key in deciding if he's anything more than a size free agent long term.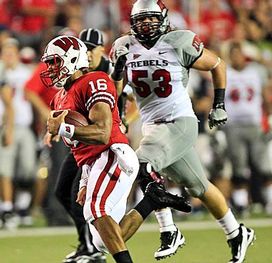 ICONWilson needs to be more than just a runner.
Speaking of the jump in competition, Wisconsin QB Russell Wilson was dynamic at times last week vs. UNLV running the football. However, despite missing on only three throws, he still left a number of big plays out there due to poor footwork and poor lower body mechanics. The cards are already stacked against him as an NFL prospect due to his size. And if he hopes to have any chance at the next level he needs to be more balanced from the pocket and accurate with the football down the field. Therefore, I'll be looking to see if there have been any improvements made from the waist down Saturday, which should automatically help with his accuracy.
Flip next too…
Penn State vs. Alabama (3:30 PM ET, ABC)
Can Penn State DT Devon Still live up to his gifted physical skill set vs. the big boys? The 6-4, 311-pound tackle is a big, strong, explosive kid who can bend, shed on contact and find the football. However, he was pushed around last year vs. Alabama in the run game and needs to prove he can keep his pad-level down consistently and handle one of the better power run teams in the nation before I start calling him anything more than a talented "boom" or "bust" type prospect.
The same can be said for Penn State DE Jack Crawford. Talk about a kid that looks the part. Crawford at 6-5, 265-pounds is a chiseled athlete with a long set of arms, powerful lower half and natural strength. However, he's raw as a pass rusher and didn't dominate vs. the run the way his size says he should last year. Therefore, watching how he handles the edge vs. the run game and pushes the pocket will be key for his prospectus and overall draft grade.
There has been a ton of pre-season hype surrounding Alabama SS Mark Barron, but as an NFL prospect I'm not a huge fan. He's a tall, leggy kid who struggles to change directions in the deep half and has a tough time collecting himself when asked to breakdown on the football. Now he is a powerful kid, but watching to see how to holds his own in space from the deep half will be key in determining his he's anything more than an in the box type safety at the next level.
Prime time appetizer…
USC vs. Utah 7:00 PM ET, Versus)
Utah left tackle John Cullen displays good range off the edge, natural body control in space and "plus" athleticism in the run game to make and play on an NFL roster. Now, he can bend, but will struggle with power and hasn't yet added the type of strength needed to dominate vs. bigger prospects at the point. However, with an off-season to mature physically, watching to see how he holds up vs. a very talented USC front four should be a great indicator in measuring if he really is the type of potential left tackle prospect I think he can be.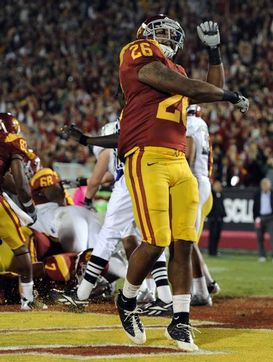 ICONIs Tyler ready for game action?
Is USC RB Marc Tyler even worth a draft pick at this stage? Tyler will return this week from suspension, but it will be interesting to see what kind of shape he's in, if he can have a positive impact on the game and how much the coaching staff elects to use him. Watching him on tape last year, I thought he was a borderline roster guy at best. Therefore, after a turbulent off-season, getting off on the right foot on the field is a must if he hopes to boost his already low draft stock.
Prime time matchup…
Notre Dame vs. Michigan 8:00 PM ET (ABC)
Michigan nose tackle Mike Martin isn't the sexiest of prospects. At 6-1, 300-pounds he's a bit short by NFL standards, but he has a wresting background, understands leverage and can get off the ball well. He's a linear pass rusher who needs to win off the snap and gain a step in order to be successful. However, I'll be watching to see how effective he can be vs. a team who loves to play from the gun and how quickly he can create pressure.
Michigan center David Molk was a perfect fit in Rich Rodriguez's run-option offense where he could mask his size (6-2, 288) use his athleticism to reach defenders off his frame and play in space. However, playing in more of a traditional style offense this year, Molk will now be asked to play in tighter quarters in the run game, seal and try to get more of a push in-line. Therefore, watching to see how he holds up inside vs. some of Notre Dame's bigger bodies will be a good indicator in deciding if he's limited to more of a zone only scheme at the next level or if he can handle size inside.
Can Notre Dame MLB Manti Te'o contain an athlete the caliber of Michigan QB Denard Robinson in space? Te'o is a future NFL starting linebacker. And at 6-2, 255-pounds we know he can play in a phone booth, but it will be interesting to see if he can reach Robinson in space, breakdown and wrap. A must for all red/blue chip starting caliber "mikes" at the next level.
Follow me on twitter: @WesBunting