March 30, 2011 -
National Football Post
The Scout's Mock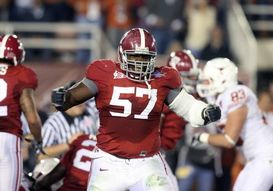 ICONDareus is the "safe" number one overall pick.
With pro day season all but over, Wes Bunting releases his 4th mock draft of the year.
1. Carolina Panthers: Marcell Dareus, DL, Alabama
At this stage I'm getting the vibe that the pick will either be Dareus or Missouri QB Blaine Gabbert. However, with too much downside to Gabbert's game, I see them going with the safer prospect in Dareus.
2. Denver Broncos: Patrick Peterson, CB, LSU
Peterson is a big-time talent and in my view one of the best prospects in the entire draft. He possesses a lot of upside and will be able to start in the Denver secondary early in his NFL career.
3. Buffalo Bills: Von Miller, OLB, Texas A&M
The Bills did receive some solid production at the QB position last season and in my mind don't need to bring in a rookie signal caller at three. Pass rusher is a massive need for them and Miller looks about as close to a sure thing as you can get.
4. Cincinnati Bengals: Blaine Gabbert, QB, Missouri
The Bengals are in deep trouble if they think they can go into the year without Carson Palmer as their starting quarterback and not address the need via draft or free agency. Gabbert is a strong-armed kid who gives Cincinnati some long-term potential if Palmer is out of the mix.
5. Arizona Cardinals: Cam Newton, QB, Auburn
Arizona has a major need at quarterback and Newton possesses the talent to be as good as he wants at the next level. He can make all the throws, create with both his arm and legs, and has the kind of mobility needed to keep plays alive behind the Cardinals suspect offensive line.
6. Cleveland Browns: A.J. Green, WR, Georgia
I could see the Browns taking a long look at Miller or Nick Fairley here. However, Green is the better overall prospect and with a big need at wideout, I think the Georgia standout will be the pick.
7. San Francisco 49ers: Nick Fairley, DT, Auburn
Fairley could take a stumble outside of the top five because of some potential character concerns. However, when motivated, the guy can be a special talent and gives the 49ers some versatility to play all over their front seven in passing downs as well as anchor and make plays as a five-technique.
8. Tennessee Titans: Da'Quan Bowers, DE, Clemson
Bowers is a prospect who hasn't had much buzz going for him since the season. But, he's a strong three-down player with a gifted skill set and still possesses a lot of upside to his game.
9. Dallas Cowboys: Tyron Smith, OT, Southern California
It's rare to find an offensive tackle with Smith's dimensions, length and overall movement skills. He could end up being one of the better offensive tackles in the league with some time.
10. *TRADE via Washington* St. Louis Rams: Julio Jones, WR, Alabama
The Rams would love to end the first round with a potential blue-chip receiver like Jones to pair with Sam Bradford. Trading up seems like the only way and the Redskins are the perfect team to do so.
11. Houston Texans: Prince Amukamara, CB, Nebraska
With the draft being deeper at DE/OLB than at corner, look for the Texans to try to fix their secondary first and then find pass rushers for their new 34 front come Friday and Saturday.
12. Minnesota Vikings: Robert Quinn, DE, North Carolina
Quinn gives the Vikings some of that quick-twitch pass rush ability they need in order to complement Jared Allen. He might need some time to get accustomed to the NFL game, but his talent is immense and could end up being the best pass rusher of the class.
13. Detroit Lions: Anthony Castonzo, OT, Boston College
The talent at the offensive tackle position simply seems higher than at cornerback at this stage. Therefore, look for the Lions to take the best tackle still on their board.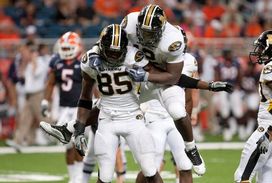 ICONThe Redskins can trade down and potentially still get Smith.
14. *TRADE via St. Louis* Washington Redskins: Aldon Smith, DE, Missouri
The Redskins are able to trade back, add a pick later in the draft and still get a talented front seven player. Seems like a win/win to me.
15. Miami Dolphins: Ryan Mallett, QB, Arkansas
Quarterback is one of the Dolphins primary needs and getting a potential franchise signal caller at 15 might be too good to pass up. Mallett has the ability to make all the throws, stretch defenses vertically and would be at his best working off play action, which is something the Dolphins love to do.
16. Jacksonville Jaguars: Ryan Kerrigan, OLB, Purdue
The Jaguars are looking for high character, hard-working guys who play through the whistle and are relentless in pursuit. Kerrigan fits that description perfectly.
17. New England Patriots: Cameron Jordan, DL, California
Jordan could fall on draft day a little further than most assume. However, he's a gifted, versatile athlete who has the ability to quickly pick up complex schemes and would be a great fit in New England.
18. San Diego Chargers: Justin Houston, DE, Georgia
The Chargers need to find more playmakers who can get after the passer on third down and get their defense off the field. Houston is a bit of a one-trick pony, but he's got the size/speed to threaten the edge at the next level.
19. New York Giants: Mike Pouncey, OL, Florida
With holes along the interior of their offensive line, Pouncey adds the talent and versatility to plug in at either guard or center early in his NFL career.
20. Tampa Bay Buccaneers: Adrian Clayborn, DE, Iowa
The Buccaneers know they are in desperate need of a pass rusher and adding a solid three-down guy like Clayborn i s a nice find at 20. I think they would rather have a more explosive, quick twitch guy coming off the edge, but the facts are that Clayborn knows how to reach the passer.
21. Kansas City Chiefs: Phil Taylor, DL, Baylor
Not exactly a Scott Pioli-type character pick here. However, there is a big need for a nose tackle in K.C. and Taylor fits the bill. Plus, you don't want your defensive linemen to be angels anyway.
22. Indianapolis Colts: Corey Liuget, DT Illinois
Liuget is a perfect fit for the Colts scheme and is the kind of Big Ten player Indianapolis loves. Expect them to look offensive tackle in rounds 2/3.
23. Philadelphia Eagles: Nate Solder, OT, Colorado
New offensive line coach Howard Mudd is going to want more athletic tackles manning the starting jobs. Solder fits the bill and fills a need at 23.
24. New Orleans Saints: J.J. Watt, DE, Wisconsin
Watt is a potential three-down defensive end in the NFL who you can move around a front 4 and get solid reps from as a rookie as a two-down option.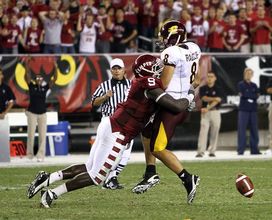 Wilkerson is the one "hot" name right now in the back end of round one.
25. Seattle Seahawks: Muhammad Wilkerson, DL, Temple
Wilkerson is a name who is getting a lot of burn toward the back end of the first round. He's going to need some time to develop, but he's a gifted size/speed athlete who could certainly mature into a keeper with some development.
26. Baltimore Ravens: Derek Sherrod, OT, Mississippi State
There could be some interest from the Ravens in an offensive tackle if one of the top guys seems to slip this far. Sherrod is a good athlete who has the ability to play on the left side at the next level and allow Michael Oher to kick back over to the right side if need be.
27. Atlanta Falcons: Gabe Carimi, OT, Wisconsin
The Falcons love to run the football and no offensive tackle in the class gets after at the point of attack as well as Carimi. He's one of the top prospects on the board and could easily make the move to RT at the next level.
28. New England Patriots: Danny Watkins, OG, Baylor
He's a bit older than most prospects, but I don't see that scaring the Patriots away in round one. He's a tough, mature kid with a good anchor at the point and sticks to blocks well through contact. Has a little Logan Mankins to his game.
29. Chicago Bears: Stephen Paea, DT, Oregon State
Paea is a powerful, one gap type three technique who displays one of the strongest punches in the draft. He also has some anchor to his game and could be a real gem late in round one.
30. New York Jets: Akeem Ayers, OLB, UCLA
Ayers' stock rebounded with a strong pro day this week and could be long gone by now come draft day. He's a gifted, versatile athlete who can rush the passer and attack downhill vs. the run game.
31. Pittsburgh Steelers: Benjamin Ijalana, OL, Villanova
Ijalana is a talented small-school prospect who exhibits the anchor to play inside and the length to play tackle. He gives the Steelers some versatility to their offensive line, as well as some much needed talent and depth.
32. Green Bay Packers: Jabaal Sheard: DE, Pittsburgh
Sheard is one of the more underrated defensive linemen in the draft. He's a good athlete with an intriguing pass rushing repertoire and would be a perfect complement to Clay Matthews off the edge.