April 18, 2011 -
National Football Post
The Scout's top 10
I always get the question every time I fill out a mock draft: "Is this what you think the team will do or is this what you would do?" And typically I say this mock represents what I think each NFL team will do.
However, today I'm again playing general manager of every team in the top 10 and will be selecting who I would pick for each organization come draft day.
1. Carolina Panthers: WR A.J. Green: Georgia
I know I know, Green is a wideout and doesn't have the same type of an impact on the game as a QB, OT or DL. However, on my board he's the highest-rated player and looks like a legit blue-chip type playmaker to me. Plus, the Panthers used a second-round pick on QB Jimmy Clausen last year and giving him Green to throw to along with draft picks Brandon LaFell and David Gettis from last year seems like an intriguing nucleus to build around at the skill positions.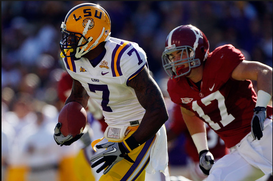 Patrick Peterson would make any defense better from day one.
2. Denver Broncos: CB Patrick Peterson: LSU
Staying true to my board, Peterson would be the pick here at two. I have a significant enough difference in draft grades between Peterson and Alabama DL Marcell Dareus and Texas A&M's Von Miller that I feel like I'm leaving just too much talent on the board if I don't grab the LSU standout. Denver can still bring in some front seven talent in rounds 2/3, but for now I wanted to land the best player still on the board.
3. Buffalo Bills: DE Robert Quinn: North Carolina
The Bills need to be able to get after the passer more consistently and I think Quinn has the upside to mature into one of the league's best. He's as gifted athletically as they come, is versatile enough to play down or stand up and IF he checks out medically, in my view I would select him as the first pass rusher off the board on draft day.
4. Cincinnati Bengals: WR Julio Jones: Alabama
Jones possesses an ideal game for the AFC North. He's a big, strong kid who is tough after the catch, displays a willingness to get after it in the run game and offers a real savvy as a route runner. The Bengals are going to need to add some much-needed talent to their receiving corps come draft day and not only does Jones fit the bill, but he's the best prospect sitting on the board at this time.
5. Arizona Cardinals: OLB Von Miller: Texas A&M
QB is a need, but I just don't feel comfortable taking a signal caller at this stage in the draft that I don't have convictions on. Von Miller is the 2nd best remaining playing on my board after Auburn DT Nick Fairley and fills a need. Miller's a gifted athlete who is fluid/coordinated enough to stand up and consistently make plays off the edge. He might need a little more time to develop, but he possesses the skill set to mature into an impact NFL pass rusher.
6. Cleveland Browns: DL Cameron Jordan: California
Despite the fact that Fairley is rated higher on my board, I just don't think cold, snowy Cleveland is the kind of place where Fairley would be able to reach his potential. Therefore, looking a bit further down my board is the vastly underrated and very versatile Cameron Jordan. Jordan has the frame to anchor on the outside as an end on first and second down and can consistently be moved around in nickel situations in order to create mismatches. He's a bright guy who can handle a lot of volume quickly and should be able to play a number of roles for the Browns up front.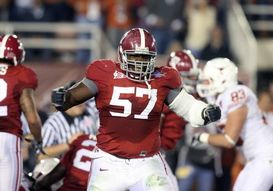 ICONMarcell Dareus would upgrade any defensive line with his pass-rush ability.
7. San Francisco 49ers: DL Marcell Dareus: Alabama
Again, Fairley is still the best player on the board, but with new head coach Jim Harbaugh only really wanting high-character, passionate-about-football type prospects I will once again need to look slightly down my board. Dareus is a physical anchor player who has some upside as a pass rusher and in my view displays the ability to play both inside and out in a 3-4 front. Missouri DE Aldon Smith would also get a look here, but I don't think he's a great fit for a 3-4 team.

8. Tennessee Titans: DT Nick Fairley, Auburn
Fairley in my mind is the most talented interior defensive lineman in the country. And if you can keep him focused and motivated I honestly believe he has the ability to mature into one of the NFL's best. Tennessee would be a great place for him, as well, as they have a nice crop of veteran linemen to put around him and have had a history of getting the most out of their front four. It's a good DL culture down there and I expect that to continue with former Auburn defensive line coach Tracy Rocker now there.
9. Dallas Cowboys: OT Tyron Smith, USC
This one still seems like a no brainer to me. The Cowboys are in need of an upgrade at tackle and Smith has the ability in my view to develop into one of the league's best. He's still maturing physically, but he's athletic, can bend, and possesses good balance and an ideal physical make-up for the position. Plus, he can generate leverage for himself in the run game and overall I think he's a steal at nine.
10. Washington Redskins: *TRADE* via Detroit Lions: DE Aldon Smith, Missouri
The Redskins desperately need to get out of this pick and acquire more selections to fill more needs later in the draft. The hard part will be finding a trade partner. I love the pressure the Lions generate up front, but I think they're one more legit pass rusher away on the outside from developing into one of the league's best. Smith is a gifted athlete who can play up and down, inside or out and at only 21 years old the kid has the skill set and passion to mature into one of the league's best. However, in order for the Lions to get him I think they might need to leapfrog the Vikings and Texans.
Follow me on twitter: @WesBunting