March 28, 2011 -
National Football Post
The Scout's Top 10
I always get the question every time I fill out a mock draft: "Is this what you think the team will do or is this what you would do?" And typically I say this mock represents what I think each NFL team will do.
However, today I am taking my first crack at playing general manager of every team in the top 10 and will be selecting who I would pick for each organization come draft day.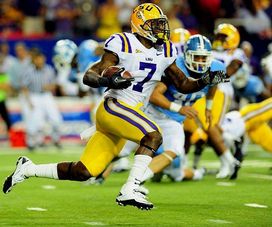 Peterson would be my top overall pick.
1. Carolina Panthers: CB Patrick Peterson: LSU
I currently have three prospects tied with an 8.5 grade, which is the highest grade I gave out this year. Therefore, when deciding between Peterson, and wideouts A.J. Green and Julio Jones (the two other 8.5 prospects) I simply went with the position that in my mind is harder to come by and long term can have more of an impact for a team. Peterson has true shutdown ability and could potentially take care of an entire side of the field on a given week.
2. Denver Broncos: DT Nick Fairley: Auburn
Despite that fact I have two guys on the board with higher grades, both Green and Jones are receivers and Denver invested a first-round pick in a wideout last year. And with all the needs on the Broncos defense, the one guy who in my mind you can build a defense around is Nick Fairley. There are some immaturity concerns with Fairley and I would feel better taking him a bit later. But his upside is tremendous, he can rush the passer and John Fox has always been able to get the most out of defensive linemen.
3. Buffalo Bills: OLB Von Miller: Texas A&M
I'm actually a Ryan Fitzpatrick fan and he may not be the long-term answer, but if I want to go QB in Buffalo, I'm waiting for the senior QB crop to come along. I considered Green here because in my mind he's the best prospect on the board. However, Buffalo has some young talent at receiver and when looking over the depth chart there simply aren't many pass rushers who can make a difference off the edge.
4. Cincinnati Bengals: WR A.J. Green: Georgia
Green is the best prospect in the entire draft in my opinion and is a potential blue-chip caliber wideout early in his NFL career. He's a fluid route runner, can make plays vertically and with age/question marks at the Bengals at receiving corps, Green will quickly be able to step in and make plays with far less risk than selecting a QB here.
5. Arizona Cardinals: OLB Robert Quinn: North Carolina
Again, QB is a need, but I just don't feel comfortable taking a signal caller at this stage in the draft that I don't have convictions on. Robert Quinn is the 2nd best remaining playing on my board after Jones and fills a need. Quinn's a gifted athlete who is fluid/coordinated enough to stand up and consistently make plays off the edge. He might need a little more time to develop, but he possesses the skill set to mature into an impact NFL pass rusher.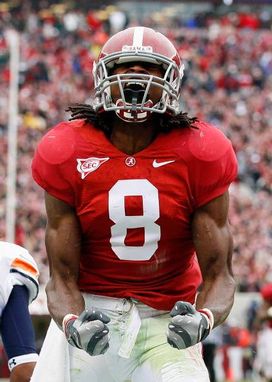 Jones has the size/strength to make an instant impact for the Browns.
6. Cleveland Browns: WR Julio Jones: Alabama
Not only is Jones the best player left on my board, but his physical nature, his run after the catch ability and his willingness to block is a perfect fit for Cleveland. The front seven is a concern, but with a talented defensive line class the Browns will be able to fill holes in later rounds.
7. San Francisco 49ers: DL Cameron Jordan: California
With both Von Miller and Patrick Peterson off the board, I still felt front seven was the way to go in San Fran. And the reason I went with Jordan is because he not only gives you upside as a pass rusher (something the 49ers are in desperate need of), but he offers a lot of versatility to a front seven as well. He can be a three-down five technique; he could kick inside to the nose in nickel situations as well as even stand up off the edge in order to create mismatches. He's a unique athlete who the coaching staff could really be creative with in a 3-4.
8. Tennessee Titans: DE Aldon Smith: Missouri
The Titans have holes at QB and LB, but in my view there aren't any prospects that warrant that pick at eight. They did draft a defensive end in the first round last year; however, I like the talent, versatility and upside Smith can offer that defensive line as a whole. He's got a big, long frame, a good first step, some natural change of direction skills on his counter and could definitely be able to kick inside to the three technique in nickel situations as he develops. Clemson DE Da'Quan Bowers was also a thought here, but injury concerns and a lack of the same amount of upside in my view was the reason I went with Smith.
9. Dallas Cowboys: OT Tyron Smith: Southern Cal
This one seems like a no brainer to me. The Cowboys are in need of an upgrade at tackle and Smith has the ability in my view to develop into one of the league's best. He's still maturing physically, but he's athletic, can bend, and possesses good balance and an ideal physical make-up for the position. Plus, he can generate leverage for himself in the run game and overall I think he's a steal at nine.
10. Washington Redskins: DL Marcell Dareus: Alabama
RB Mark Ingram was a brief thought at this pick. However, the Redskins need to find a way to improve their front three and Dareus can do that. He's an ideal starting five-technique who can anchor consistently and make plays on the football. Plus, he's powerful/explosive enough off the snap to give you some pass rush ability on 3rd down as well. I don't think he's nearly the dynamic impact-type prospect many are making him out to be, but he's still one of the best linemen in the draft and warrants a top-10 pick.