August 09, 2011 -
Jay Clemons
The Second Coming
Silent Running, Part I
Last Friday, we detailed Phase I of The PPR Spectacular on National Football Post (and YahooSports.com), an annual rite of August that only covered wide receivers. Well, in the interest of fair and balanced analysis, here's a look at Phase II of the, ahem, PPR bible -- running backs and tight ends:
1. Arian Foster, Texans (69 catches, 2,462 total yards, 21 TDs in his last 18 games)
2. Chris Johnson, Titans
3. Jamaal Charles, Chiefs (hasn't reached his peak as a fantasy dynamo)
4. Adrian Peterson, Vikings (probably underrating him at No. 4)
5. Ray Rice, Ravens (a lead-pipe cinch for 2,000 total yards)
6. LeSean McCoy, Eagles
7. Darren McFadden, Raiders
8. Maurice Jones-Drew, Jaguars
9. Rashard Mendenhall, Steelers
10. Matt Forte, Bears (mark him down for 1,800 total yards/8 TDs)
11. Peyton Hillis, Browns (can he top the 61 receptions from last year?)
12. Frank Gore, 49ers
13. Ahmad Bradshaw, Giants
14. Michael Turner, Falcons
15. Steven Jackson, Rams
16. Ryan Mathews, Chargers (one of fantasyland's biggest wild cards)
17. Jahvid Best, Lions
18. LeGarrette Blount, Buccaneers
19. DeAngelo Williams, Panthers
20. Fred Jackson, Bills
21. Marshawn Lynch, Seahawks
22. Shonn Greene, Jets
23. Jonathan Stewart, Panthers
24. Knowshon Moreno, Broncos (another boom-or-bust fantasy talent)
25. Felix Jones, Cowboys
Silent Running, Part II
26. Joseph Addai, Colts
27. Cedric Benson, Bengals
28. BenJarvus Green-Ellis, Patriots (10 TDs is within reach ... but not 13)
29. Pierre Thomas, Saints
30. Tim Hightower, Redskins (sneaky-good trade from a club not known for sneaky-good trades)
31. Mike Tolbert, Chargers
32. Reggie Bush, Dolphins
33. Ryan Grant, Packers
34. Michael Bush, Raiders
35. LaDainian Tomlinson, Jets
36. Daniel Thomas, Dolphins (opportunity knocks, rookie)
37. Rashad Jennings, Jaguars
38. Mark Ingram, Saints
39. Brandon Jacobs, Giants
40. Beanie Wells, Cardinals (the Williams-Wells battle could be a dead heat)
41. Ryan Williams, Cardinals
42. James Starks, Packers
43. Ryan Torain, Redskins
44. C.J. Spiller, Bills
45. Thomas Jones, Chiefs
46. Roy Helu, Redskins (one of the 5 biggest rookies to watch in the preseason)
47. DeMarco Murray, Cowboys
48. Darren Sproles, Saints
49. Jason Snelling, Falcons
50. Ronnie Brown, Eagles (could've gotten a bigger payday with injury-ravaged Lions)
Tiers Of A Clown: RBs
Running backs are the driving forces behind efficient, ball-controlled attacks, but they weren't all created equal. To wit, the PPR tier system for fantasy drafts -- some of which begin in about, oh, two weeks:
Tier 1 (1,600 total yards and/or 10 TDs)
Adrian Peterson, Chris Johnson, Arian Foster, Ray Rice, Jamaal Charles, LeSean McCoy, Rashard Mendenhall, Darren McFadden, Maurice Jones-Drew, Frank Gore, Michael Turner, Peyton Hillis, Matt Forte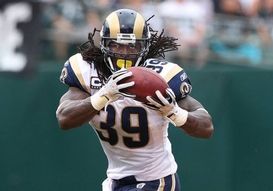 ICONJackson's offense is on the rise, but is he worthy of a top-20 pick?
Tier 2 (1,300 total yards and/or 9 TDs)
Steven Jackson, DeAngelo Williams, LeGarrette Blount, Ahmad Bradshaw, Ryan Mathews, Shonn Greene, Jahvid Best, Fred Jackson, Pierre Thomas, Cedric Benson, Marshawn Lynch, Knowshon Moreno, Jonathan Stewart, BenJarvus Green-Ellis
Tier 3 (1,100 total yards and/or 7 TDs)
Felix Jones, Ryan Torain, Ryan Grant, Joseph Addai, Reggie Bush, Mike Tolbert, Rashad Jennings, Brandon Jacobs, Michael Bush, Ryan Williams, Mark Ingram, Beanie Wells, Thomas Jones, LaDainian Tomlinson
Tier 4 (925 total yards and/or 5 TDs)
Tim Hightower, C.J. Spiller, Daniel Thomas, Donald Brown, James Starks, Ronnie Brown, Anthony Dixon, Darren Sproles, Roy Helu, Montario Hardesty, Jason Snelling, Toby Gerhart, Bernard Scott, Marion Barber, Ricky Williams
Tier 5 (750 total yards and/or 3 TDs)
DeMarco Murray, Justin Forsett, Ben Tate, Javon Ringer, Chester Taylor, Mike Goodson, Cadillac Williams, Isaac Redman, Kendall Hunter, Christopher Ivory, Delonte Carter, Willis McGahee, Jerome Harrison, Clinton Portis, Le'Ron McClain, Shane Vereen, Alex Green, Tashard Choice
Target Practice
Last season, these pass-friendly tailbacks drew at least 4 per-game targets -- the number of times a player is thrown to:
1. LeSean McCoy -- 90 targets
2. Arian Foster -- 84 targets
3. Ray Rice -- 82 targets
4. Jahvid Best -- 80 targets
5. LaDainian Tomlinson -- 79 targets
6. Peyton Hillis -- 77
7. Darren Sproles -- 75
8. Frank Gore -- 72 (not bad for only 11 games)
9. Matt Forte -- 70
10. Jamaal Charles -- 64
11. Cadillac Williams -- 64
12. Steven Jackson -- 61
13. Darren McFadden -- 61
14. Ahmad Bradshaw -- 58
15. Keiland Williams -- 58
16. Mike Goodson -- 57
17. Chris Johnson -- 57
18. Fred Jackson -- 54
19. Felix Jones -- 52
20. Jason Snelling -- 51
21. Justin Forsett</strong> -- 50
22. Brandon Jackson -- 50
23. Adrian Peterson -- 50
24. Knowshon Moreno -- 48
Good News/Bad News Propositions
Good News: Lions running back Jahvid Best has an unimpeded path to fantasy greatness.
Bad News: In the aftermath of rookie Mikel Leshoure's devastating Achilles injury on Monday (he's lost for the season), Detroit's once-stacked backfield desperately needs the help of a street free agent -- preferably one who'll flourish in short-yardage and goal-line situations. Some big-name candidates included Clinton Portis and Tiki Barber, but I'm glad the Lions went with Jerome Harrison, who's only 20 months removed from his 561-yard, 5-TD explosion in the final three weeks of the '09 season. p>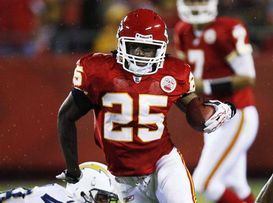 Will Charles see an increase in touches this season?
Good News: Chiefs tailback extraordinaire Jamaal Charles touched the ball ONLY 275 times last season.
Bad News: It's fun to envision what kind of fantasy damage Charles (1,935 total yards/8 TDs last year) could inflict with a Michael Turner-like 330 touches, but that's not going to happen this season -- or probably ever. Instead, owners will have to pin their hopes on modest upticks like Charles snagging 55 catches (likely), logging equal red-zone touches with Thomas Jones (possible) and flirting with a YPC average of 6-plus yards once again (doubtful, but far from improbable).
Good News: Tampa Bay's LeGarrette Blount has virtually no competition at running back.
Bad News: At the risk of pooh-poohing the Bucs' meteoric rise up the NFC ladder in 2010 and Blount's similarly stellar ascent in the fantasy ranks, I'm forecasting a noticeable market correction this season -- on both accounts. Does Tampa Bay have top-notch talent at key positions? Absolutely. But it's tough to believe this club -- which is way below the NFL salary cap floor -- has the depth and seasoning to make another 10-win run in 2011. As for Blount, he may have rushed for 1,007 yards and six touchdowns in only seven full-fledged starts, but his out-of-nowhere breakout is eerily reminiscent to that of Earnest Graham in 2007 (1,322 total yards/10 TDs) ... before EG's forced hiatus from everyone's fantasy radar. Speaking of Graham, he is still on the Bucs' depth chart -- along with Allen Bradford, Kregg Lumpkin, Armando Allen -- which demonstrates just how fragile Tampa Bay's season could be ... IF Blount gets hurt or channels his inner Earnest Graham.
Good News: Ryan Mathews didn't get the full Haynesworth treatment from coach Norv Turner after reportedly failing the Chargers' conditioning test last week.
Bad News: Here's where the proverbial West Coast Bias is a good thing: Because it's San Diego, we did not see 8,000 ESPN cameras tracking Mathews' every move the day after failing his test -- like the network implemented in last year's passive-aggressive war between D-tackle Albert Haynesworth and Redskins coach Mike Shanahan. As a result, fantasy owners have been led to believe that Mathews' one-day fatigue was no cause for alarm ... and that he'll use the three weeks of training camp and four preseason games to recapture the burst from his Week 17 explosion against Denver (120 yards/3 TDs). On the flip side, anyone who believes that Mathews is a solid Round 3 pick (like yours truly) will probably be mocked for doing so -- at least until Mathews posts a strong effort in a meaningless exhibition game. Embrace the fickleness of fantasy owners! Get ahead of the curve!
Catch Them If You Can
YahooSports.com, the world's No. 1 sports site, also dabbles in the numbers game. Here are Yahoo's projections for 40 receptions or more among running backs:
1. Arian Foster -- 70 catches
2. LeSean McCoy -- 68 catches
3. Matt Forte -- 65 catches
4. Frank Gore -- 61 catches
5. Reggie Bush -- 58
6. Jamaal Charles -- 57
7. Maurice Jones-Drew -- 55
8. Ray Rice -- 55
9. Darren McFadden -- 52
10. Pierre Thomas -- 52
11. Steven Jackson -- 51
12. Jahvid Best -- 48
13. Chris Johnson -- 48
14. Danny Woodhead 15. Peyton Hillis -- 47
16. Darren Sproles (Saints) -- 47
17. Felix Jones -- 45
18. Joseph Addai -- 42
19. Knowshon Moreno -- 42
20. Ahmad Bradshaw -- 42
And With The 8th Pick In A PPR Draft ...
Here's a great strategy for nailing your PPR draft with the No. 8 pick (12-teamer):
Round 1, Pick 8: Motive -- Best overall player
1st option: RB Ray Rice, Ravens ... 2nd option: WR Andre Johnson, Texans
Round 2, Pick 17 overall: Motive -- Best WR/RB available
1st option: WR Larry Fitzgerald, Cardinals ... 2nd option: RB Frank Gore, 49ers
Round 3, Pick 32 overall: Motive -- Best WR or RB available (elite QBs under consideration)
1st option: WR Mike Wallace, Steelers ... 2nd option: QB Tom Brady, Patriots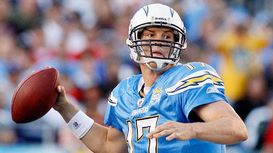 Rivers has both Vincent Jackson and Malcom Floyd back this season.
Round 4, Pick 41 overall: Motive -- Best talent available
1st option: QB Philip Rivers, Chargers ... 2nd option: TE Jason Witten, Cowboys
Round 5, Pick 56 overall: Motive -- Best elite WR or RB
1st option: WR Santonio Holmes, Jets ... 2nd option: WR Percy Harvin, Vikings
Round 6, Pick 65 overall: Motive -- Best WR/RB/TE available
1st option: RB Marshawn Lynch, Seahawks ... 2nd option: WR Kenny Britt, Titans
Round 7, Pick 80 overall: Motive -- Best WR/RB available
1st option: WR Chad Ochocinco, Patriots ... 2nd option: RB Mike Tolbert, Chargers
Round 8, Pick 89 overall: Motive -- Best RB with upside
1st option: RB Michael Bush, Raiders ... 2nd option: RB Rashad Jennings, Jaguars
Round 9, Pick 104 overall: Motive -- Best RB or tight end available
1st option: RB Reggie Bush, Dolphins ... 2nd option: TE Marcedes Lewis, Jaguars
Round 10, Pick 113 overall: Motive -- Best player available
1st option: WR Mike Sims-Walker, Rams ... 2nd option: TE Owen Daniels, Texans
Round 11, Pick 128: Motive -- Best WR with upside or backup QB
1st option: WR Julio Jones, Falcons ... 2nd option: QB Sam Bradford, Rams
Round 12, Pick 137: Motive -- Best tight end available
1st option: TE Kellen Winslow Jr., Buccaneers ... 2nd option: TE Rob Gronkowski, Patriots
Round 13, Pick 152: Motive -- Best QB or defense available
1st option: QB Kevin Kolb, Cardinals ... 2nd option: D/ST New Orleans Saints
Round 14, Pick 161: Motive -- Best kicker available
1st option: PK Sebastian Janikowski, Raiders ... 2nd option: PK Mason Crosby, Packers
Round 15, Pick 176 : Motive -- Best tight end or running back available
1st option: TE Jermaine Gresham, Bengals ... 2nd option: RB Roy Helu, Redskins
Round 16, Pick 185: Motive -- Best defense available
1st option: D/ST Dallas Cowboys ... 2nd option: D/ST Kansas City Chiefs
Where Mountain Men Runneth, Catcheth
Here is my top-25 listing for tight ends in PPR leagues:
1. Jason Witten, Cowboys
2. Antonio Gates, Chargers
3. Dallas Clark, Colts
4. Vernon Davis, 49ers
5. Jermichael Finley, Packers
6. Kellen Winslow Jr., Buccaneers (mark him down for 74 catches)
7. Owen Daniels, Texans
8. Tony Gonzalez, Falcons
9. Brandon Pettigrew, Lions
10. Rob Gronkowski, Patriots
11. Zach Miller, Seahawks (more on him later)
12. Marcedes Lewis, Jaguars
13. Jimmy Graham, Saints
14. Chris Cooley, Redskins (perpetually disrespected in fantasy circles ... what's one more year?)
15. Dustin Keller, Jets
16. Benjamin Watson, Browns
17. Jermaine Gresham, Bengals (could make a quantum leap up the board with QB stability)
18. Aaron Hernandez, Patriots
19. Visanthe Shiancoe, Vikings
20. Tony Moeaki, Chiefs
21. Greg Olsen, Panthers (his trade away from Mike Martz was heaven sent)<br /> 22. Heath Miller, Steelers
23. Todd Heap, Cardinals
24. Ed Dickson/Dennis Pitta, Ravens
25. Travis Beckum, Giants
A Few Words About Sl-Sl-Sl-Slooooow Drafts
For those who are new to fantasy football, I've got two quick reminders:
1) Buckle up for the most addictive game of chance you'll ever experience outside of Las Vegas and ...
2) By any means possible, avoid participating in a 16-round email -- or "slow" -- draft at the end of August.
In this age of high-speed internet and iPhones, there is zero excuse for falling into the trap of partaking in a slow draft with friends -- unless you're having it at a bar ... and there's PLENTY of beer flowing during the event. Otherwise, it makes complete sense to do drafts on Yahoo, CBSSports.com, ESPN.com, Rotowire, Rotoworld, MockDraftCentral, Antsports.com, SportingNews.com, FOXsports.com or Facebook, to name a few sites that can handle a 16-to-20-round draft in a matter of hours.
Target Practice, Part II
These 20 tight ends led their position in receiving targets last year:
1. Jason Witten -- 128 targets
2. Chris Cooley -- 126 targets
3. Brandon Pettigrew -- 111 targets
4. Tony Gonzalez -- 109 targets
5. Ben Watson -- 102 targets
6. Dustin Keller -- 101
7. Kellen Winslow -- 98
8. Vernon Davis -- 93
9. Jacob Tamme -- 93
10. Zach Miller -- 92
11. Marcedes Lewis -- 88
12. Jermaine Gresham -- 83
13. Brent Celek -- 80
14. Visanthe Shiancoe -- 80
15. Tony Moeaki -- 73
16. Tony Scheffler -- 72
17. Kevin Boss -- 70
18. Greg Olsen -- 69
19. Owen Daniels -- 68
20. Heath Miller -- 67
Good News/Bad News Propositions, Part II
Good News: Tight end Zach Miller followed Tom Cable and Robert Gallery from Oakland to Seattle.
Bad News: We covered the potential pratfalls of the Tarvaris Jackson/Charlie Whitehurst QB experiment a few weeks ago; and while there's no disputing that Miller (60 catches/685 yards/5 TDs in 2010) is an upgrade over John Carlson at tight end, we're not sure if Miller was wise to follow the money trail to the Great Northwest. Sure, Raiders owner Al Davis has his quirks, but nobody can debunk his commitment to the vertical passing game; and with Oakland, Miller was the most dependable downfield asset for QB Jason Campbell. With Seattle, Miller will have to fight for targets/touches against Marshawn Lynch, Sidney Rice, Mike Williams, Ben Obomanu, Golden Tate, Justin Forsett and Leon Washington. On the plus side, Miller may feel the Seahawks have a smooth road to a playoff berth ... and he's most likely aware of Visanthe Shiancoe's 2009 breakout with Minnesota (56 catches/11 TDs), partially thanks to then-assistant coach Darell Bevell -- who is now Miller's O-coordinator in Seattle.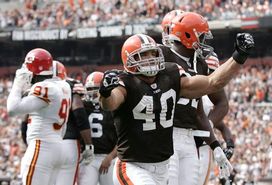 What should we make of Peyton Hillis this season?
Good News: Tight end Ben Watson may still be Cleveland's best red-zone option in the passing game.
Bad News: Browns QB Colt McCoy (1,576 passing yards/7 total TDs) leaned heavily on Peyton Hillis (1,654 total yards/13 TDs) and Watson in his rookie campaign of 2010 -- and rightfully so. But if Cleveland harbors any realistic hope of competing in the AFC North and threatening for a playoff spot, the club's cast of young, talented wideouts would need to blossom in a hurry. Whether it's Brian Robiskie, Greg Little, Joshua Cribbs, Carlton Mitchell, Jordan Norwood, Demetrius Williams or my pick for the best Round 12-or-later sleeper (Mohammed Massaquoi), someone has to emerge from the pack to rescue McCoy and Hillis. And that'll likely translate to less than 100 targets for Watson, who saw the ball 6 or more times in 10 games last season.
Tiers Of A Clown: Tight Ends
Kickers and defensive teams might be dime-a-dozen assets in fantasyland, but drafting the right tight end at the right time can often be the difference between winning and losing ... earning a playoff slot ... or even capturing a fantasy championship. To wit, the hallowed five tiers of tight ends:
Tier 1 (1,000 total yards and/or 8 TDs)
Antonio Gates, Jason Witten, Dallas Clark, Vernon Davis, Jermichael Finley
Tier 2 (800 total yards and/or 6 TDs)
Kellen Winslow, Jr., Owen Daniels, Tony Gonzalez, Brandon Pettigrew, Rob Gronkowski, Marcedes Lewis, Jimmy Graham, Dustin Keller, Jermaine Gresham, Chris Cooley, Zach Miller (Seahawks)
Tier 3 (675 total yards and/or 5 TDs)
Benjamin Watson, Aaron Hernandez, Tony Moeaki, Visanthe Shiancoe, Brent Celek, Greg Olsen, Todd Heap, Heath Miller
Tier 4 (500 total yards and/or 4 TDs)
Ed Dickson, Kevin Boss, Jared Cook, Dennis Pitta, Travis Beckum, Jeremy Shockey, Tony Scheffler, John Carlson, Fred Davis, Jacob Tamme, Anthony Fasano, Martellus Bennett, Shawn Nelson
Tier 5 (375 total yards and/or 3 TDs)
Kyle Rudolph, Lance Kendricks, Ke llen Davis, Joel Dreessen, Daniel Fells, Bo Scaife, Evan Moore, Andrew Quarless, Michael Hoomanawanui, Daniel Graham, Luke Stocker, Randy McMichael, Delanie Walker, Rob Housler, Zach Miller (Jaguars)
Thank God For YouTube!
Yes, live (preseason) football makes its triumphant return in just two days; but for those who can't wait approximately 54 hours for Jaguars-Patriots or Ravens-Eagles ... here are some of the greatest fist-pumping, spine-tingling NFL moments of the 1970s and 80s:
**"The Super Seventies" (one of John Facenda's crown voice-over jewels)
**An illuminating look at the 1973 AFC title game (Raiders-Dolphins)
**Original NBC broadcast of 'The Immaculate Reception'
**The greatest post-INT hit by a WR in NFL history
**Lynn Swann hurdles a car in end-zone traffic
**Lions legend Billy Sims goes Cobra Kai on the Houston Oilers defense, circa 1983
And, last but not least ...
**This epic MNF opening is the reason we love football
**The greatest two-play sequence in NFL history (and it's not even close!)
An award-winning fantasy writer with Sports Illustrated (2008-2010) before joining the National Football Post, Jay Clemons' Fantasy Philanthropist Blog can be found here every Monday, Wednesday and Friday. Clemons can be reached, day or night, via Twitter.