May 17, 2012 -
National Football Post
The sleeper QB you need to know about for 2013
QB Brad Sorensen: Southern Utah (6-4, 235)
What I like…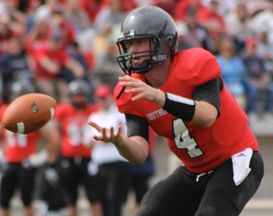 ICONSorensen can make all the throws.
- Is a strong, strapping quarterback with good size at 6-4 and natural girth.
- Possesses solid balance and footwork in his drop. Is able to get away from under center and balance himself quickly.
- Displays good eye level when asked to avoid pressure and step up in the pocket. Showcases the ability to locate secondary targets when things breakdown.
- Possesses natural coordination and body control when moving around in the pocket as well, can avoid some pressure, use his strength to keep plays alive and throw on the move.
- Exhibits "plus" body control when throwing on the move.
- Generates solid torque from his hips/waist and can spin the football cleanly without his feet set in the intermediate pass game with good accuracy.
- Sets quickly from the gun, aligns his body with his target and can spin the football.
- Holds the football at his chest plate when set and has a quick release as the ball comes out around his ear.
- Will throw from more of an over the top deliver on bucket throws, displaying good touch and trusting his release vertically.
- Does a decent job transferring his weight of his back foot into throws, but most of his torque comes from his waist.
- Exhibits good accuracy in the short/intermediate pass game, when he sees the target.
- Showcases the ball placement to throw receivers open and allow them to run through the pass.
- Understands zone coverage and identifies soft spots well and has the ability to throw through a defense.
- Possesses a good arm, spins a clean football and exhibits the ability to accurately stick the skinny post down the seam.
- Showcases a little more touch on the deep out, but understands when the ball needs to come out and has more than enough arm.
- Possesses a toughness about his game and isn't afraid to hang in the pocket and take a lick.
- Threw for over 3,100-yards as a junior and took home Great West Conference Player of the Year honors.
What I didn't like…
- Despite his nifty footwork in the pocket, isn't a real explosive athlete who has the ability to create much with his legs. Is limited outside the pocket.
- Is still developing as a decision maker, doesn't do a great job working his progressions across the field and finding secondary reads from the pocket.
- Has to see the throw. Doesn't do a great job anticipating routes at this stage, wants his receiver to come open and will wait too long to let go of the football.
- Gives opposing defensive backs too much time when he waits for receivers to undercover to break on the football and make a play.
- Did throw his fair share of interceptions in 2011 (11) compared to only 17 touchdowns.
- Didn't complete 50% of his passes vs. the only I-A team he faced in 2011 (UNLV) going 16-34.
- Gets a bit upright in the pocket, which limits the torque he can generate through his lower half into throws.
- Went only 1-3 in conference play last season and had a record of only 6-5, would like to see him win more games at the I-AA level.
The Breakdown…
Brad Sorensen is a former BYU transfer who certainly has the skill set to make all the throws in the league. He possesses a strong arm, displays good accuracy when he sees the throw on all levels of the field and showcases some niftiness when trying to buy time.
There are some slight improvements that need to be made with his footwork. However, the biggest knock on him is his struggles anticipating throws. It's something he can get away with at the I-AA level, but even vs. mid-major I-A competition he struggled because he too often wants to wait for receivers to uncover.
Nevertheless, outside of that he's got the skill set to make a run at a top-100 pick if he improves his anticipation as a senior. Sorensen is definitely one of the more intriguing small-school prospects in this year's class.