September 19, 2012 -
National Football Post
The Top 5 Cornerbacks for the 2013 NFL Draft
As the NFL has morphed into a pass first league over the last fifteen years, the ability to pressure the quarterback and cover receivers has become vital to a defense's success. In addition, as big receivers like Calvin Johnson, Larry Fitzgerald and Andre Johnson have become dominant players; teams are constantly trying to find tall cornerbacks who can cover them. As you read the breakdowns of the top cornerbacks below, you will not see Tyrann Mathieu as he is now expected to try and return to play for LSU in 2013, which I believe would absolutely be the smartest decision for him.
1. Dee Milliner Junior Alabama 6010 (Estimated) 199 (Estimated) 4.55 (Estimated)
Projected first round pick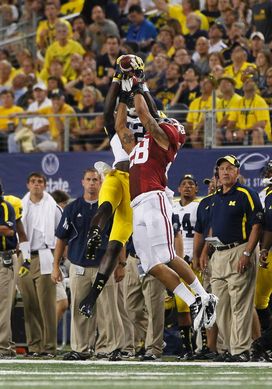 US PRESSWIREAlabama CB D. Milliner goes up to try and break up pass.

When Alabama crushed Michigan to open the season, the country was introduced to Milliner who displayed shutdown cornerback skills throughout the game. At over 6'0, with long arms and a thick, muscular build, Milliner has the size and strength that NFL teams are desperately seeking. While every team wants big cornerbacks, finding one with Milliners' foot quickness, agility, loose hips, smooth athleticism and willingness to play physical is difficult. The only area he is not elite is in pure speed as he has good, but not special playing speed. If Milliner continues to play at this level for the rest of the 2012 season then I expect he would leave school early as he would likely be a first round pick as numerous scouts have told us that he has more all-around talent than former teammate Dre' Kirkpatrick who was a first round pick by the Bengals in the 2012 NFL Draft.
2. Johnthan Banks Senior Mississippi St. 6021 (Verified) 185 (Verified) 4.55 (Estimated)
Projected first round pick
With excellent height and long arms, Banks matches up excellently with tall receivers and combined with his ball skills he has consistently shown the ability to make plays on the ball. Quick and compact in his backpedal, Banks can transition and close quickly on passes and has the loose hips to turn and run off the line without losing a step. He is able to stay with most receivers on deep routes, but he does not have elite playing speed to stay with speed receivers and lacks the closing burst to catch up if he allows a step of separation deep. His thin frame limits his playing strength and allows strong receivers to push off and create some separation. In addition, he is not a strong or physical tackler. Every NFL scout we speak to tell us that as long as Banks works out well and runs in the low 4.5's he is assured of being a first round pick come April.
3. Ricardo Allen Junior Purdue 5090 (Estimated) 186 (Estimated) 4.45 (Estimated)
Projected second round pick
A star player since he showed up in West Lafayette, Allen has the package of skills to carry over his success to the NFL level. Outstanding foot quickness combines with Allen's agility and flexibility to give him a very tight, quick and compact backpedal. Equally adept at transitioning out of pedal to close on passes as he is turning and running to stay on receiver's hip in "trail" coverage makes him more valuable because of that versatility. Allen has the playing speed to stay on even the fastest receiver's hip deep down the field. His aggressive mentality combined with his ball skills have enabled Allen to break-up and intercept passes that many defensive backs would not even try to. If Allen chooses to come out early he would likely be a second round pick and could work his way into the first round with a strong showing in the spring.
4. David Amerson Junior N. Carolina St. 6030 (Estimated) 194 (Estimated) 4.60 (Estimated)
Projected second round pick
Things have not gone exactly as expected for Amerson so far in 2012 as he has not been the dominant, impact player that many expected. With great height and rare ball skills, Amerson makes it look easy breaking up and intercepting passes. A top athlete with the body control, balance and agility to change directions quickly, he is quick re-directing and staying with receiver out of breaks. Additionally, when playing "off" and "zone" coverages, he reads and reacts to the quarterback and pass quickly and can close in time to make play on ball. Despite all of his stellar skills, his lack of great acceleration and top end speed limit his ability to stay with receivers on deep routes, as was evident when he was beaten deep against Tennessee. Some NFL scouts have told us they think he may be better suited to slide inside to play safety in the NFL, which is why he may end up as a second round pick.
5. Sheldon Price Senior UCLA 6010 (Estimated) 185 (Estimated) 4.55 (Estimated)
Projected third round pick
While not well known amongst the fans and media, NFL scouts know exactly who Price is and believe he has starter's talent. His athleticism has enabled him to produce in any type of coverage, which adds to his value to NFL teams. He does a good job of planting, driving and closing on passes in front of him and shows the ability to stay with most receivers in "trail" coverage. The issue is not Price's physical talent, but rather his thin frame and how it affects his play. He can be pushed around by strong receivers and is not a strong or physical tackler. For a cornerback with his athletic ability, Price has not produced at the level he is capable of and that is why he likely will not be drafted as highly as his talent alone should warrant.

Email Russ at Russelllande@yahoo.com and follow him at Twitter @RUSSLANDE