October 10, 2012 -
National Football Post
The Top 5 Defensive Tackles for the 2013 NFL Draft
Unlike years past when college defensive tackles almost always played defensive tackle in the NFL, now many are lining up as 34 defensive ends in the NFL. Once content with defensive tackles that were strong against the run, but lacked real pass rush ability, NFL teams place much higher value on pass rush ability now because slowing down the high powered passing attacks in the NFL is paramount to a defense's success. Below we take a look at the five best defensive tackles in the country that could be part of the 2013 NFL Draft. On measureables listed, they are all verified (As in taken by someone in the NFL) unless they have an "E" next to them, which stands for estimated.
1. Star Lotulelei Senior Utah 6027 E 321 E 4.85 E Projected Top Ten Pick
The best defensive lineman in the PAC 12 conference, Lotulelei's combination of explosive initial quickness, dominating strength and shocking playing speed for such a big man enable him to be a game changing defender. He makes it look easy jolting and driving guards backwards into the quarterback's lap when he maintains leverage and uses hands aggressively on his bull rush. Snap anticipation and initial quickness make it almost impossible for teams to "reach block" him as he is able to get under the blocker in a flash and has a burst to the ball carrier to finish the play. The only area that concerns me about Star is his tendency to wear down and become less effective late in games as was the case this past week against USC.
2. Johnathan Hankins Junior Ohio State 6030 E 317 E 4.80 E Projected 1st round pick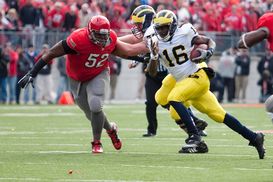 US PRESSWIREOhio State DT Hankins tries to tackle Denard Robinson.
Inconsistent competitiveness marked Hankins in 2011, but through the first part of 2012 he has competed at a higher level on every snap, which has led to him becoming an impact player. Blessed with uncommon natural strength and hip snap ability, Hankins has consistently shown the ability to jolt blocker upright, can shed block and either make tackle on inside run or pressure the passer. Quick hands and feet combine with good technique so that Hankins can defeat blocks easily. He has elite chase speed to track down plays in pursuit along the line. If he keeps playing at this level for the remainder of 2012, Hankins could challenge to be a top 20 pick in the 2013 NFL Draft.
3. Jonathan Jenkins Senior Georgia 6041 363 5.20 E Projected 1st round pick
The first truly massive man on this list, Jenkins has tremendous value as teams that play 34 defenses are desperate to find nose tackles to anchor the middle of the defensive line. While many 350+ pound defensive tackles look fat and sloppy and struggle to play with good technique, Jenkins is solidly built and can sink hips to play with leverage with surprising regularity. This enables him to easily anchor vs. double team run blocks to not only clog the middle, but he can split the double team block with his strength to make tackles on runs at him. He will never chase down ball carriers outside the "box," but within that "box" he has the movement skills and closing burst to make plays. If an "under-achiever" like Dontari Poe could go in the top 15, then Jenkins definitely has a chance to be a top ten pick.
4. Sheldon Richardson Senior Missouri 6027 290 4.90 E Projected 1st round pick
Despite limited starting experience at Missouri, Richardson's play so far in 2012 has NFL scouts believing he has the talent to become a highly productive "under tackle" in a 43 defense. Tremendous foot quickness combine with excellent instincts so that he can explode off the ball, gets gap penetration and makes plays behind the line of scrimmage consistently. His initial explosion off the ball helps him to be effective as a "bull rusher" despite often being out-weighed by 20+ pounds by the offensive linemen. Not only is Richardson productive as a gap shooter, but he has the playing speed and shocking closing burst to easily track down plays in backside pursuit. Richardson is definitely not getting the same hype as many other defensive tackles, but sources tell us that he will be drafted ahead of many over-hyped defensive tackles.
5. Kawann Short Senior Purdue 6031 325 5.05 E Projected 2nd round pick
Remarkably quick and agile for a 300+ pounder, I only wonder how good Short could be if he was in good shape and played hard on every snap. When he wants to dominate, Short can be a one man wrecking machine. Using his natural strength and quick hands, he makes it look easy slapping and defeating blocks to make plays behind the line. On the occasions that he maintains leverage and attacks the play, he can "truck" pass blocker backwards as if they were on skates. The issue is that Short's motor is wildly inconsistent, which leads to up and down production for a player who should be an elite prospect. He reminds me a lot of current Packers' defensive end Jerel Worthy who was an inconsistent, but supremely gifted defensive tackle at Michigan State.
Email Russ at Russelllande@yahoo.com and Follow him on Twitter @RUSSLANDE