November 21, 2012 -
National Football Post
The Top 5 Tight Ends For The 2013 NFL Draft
As tight ends like Rob Gronkowski, Jimmy Graham and Antonio Gates continue to make big plays and change games, NFL teams work harder to find the next premier tight end. The ability to create great mismatches with a big, athletic tight end enables good offensive coordinators to open up the entire field, which creates space for all the other receiving options. The success of Gates and Graham also has teams spending additional time trying to find the next college basketball player to convert to tight end. Below is a breakdown of the top five tight ends in the country as of today.
1. Zack Ertz Junior Stanford
6060 252 4.65 Projected first round pick
One part of Stanford's rare three headed tight end monster in 2011, Ertz has come into his own with his best season in 2012. A smooth and fluid athlete, Ertz gets in and out of his cuts easier/sharper than Coby Fleener did and has the speed to make plays after the catch. A sure handed receiver, Ertz's consistently catches the ball cleanly and gets it tucked away quickly so that he can get started up the field fast after the catch. As he displayed in Stanford's win over Oregon, he has the hands, body control and concentration to catch off-target passes with surprising ease. While he lacks the bulk/strength to physically dominate man as a blocker, he consistently competes hard and is able to shield off defender without controlling him. Ertz has the talent to be a productive receiving tight end in the NFL, which is why he will likely be a second round pick.
2. Tyler Eifert Senior Notre Dame
6060 251 4.65 Projected first round pick
Typical of many Notre Dame players, Eifert is a fourth year senior who has not officially redshirted yet and could choose to apply for a redshirt for his freshmen season in order to return to school for the 2013 college season, although I doubt he will. While he does not explode off ball into route, once moving he gets to full speed fast and has the playing speed to make big plays down the field. Not only fast, Eifert's smooth athleticism helps him to run sharp and precise routes to create separation from defender. Natural hands, body control and concentration allow him to make tough catches consistently. An added bonus is that Eifert is a good, competitive blocker who gets after defender quickly, stays over feet and is consistently able to keep man out of the play.
3. Levine Toilolo Junior Stanford
6080 265 4.85 Projected second round pick
Unlike teammate and fellow tight end Ertz, Toilolo is an extremely tall and thickly built tight end whose combination of blocking and receiving skills is unmatched in this year's tight end class. Toilolo can be a dominant side/angle blocker who can collapse a side of the defensive line in order to open holes. His long arms, size and playing strength also allow him to tie up and get movement on straight ahead run blocks. With his size, Toilolo lacks the top acceleration and elite speed of some of the lighter tight ends, but he uses his size, receiving skills and strength to be productive catching passes and making plays running after the catch. Toilolo is unlikely to "wow" with a great 40 time as he lacks elite playing speed, which is why he is likely to be a second or third round pick.
4. Dion Sims Junior Michigan State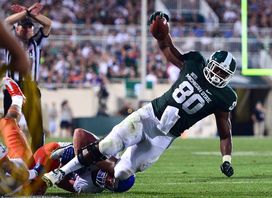 US PRESSWIREMichigan State TE Dion Sims lunges with ball.

6050 285 4.85 Projected second round pick
A big, powerful tight end, Sims surprised me with his quickness and receiving skills. While he is upright and lacks burst off the line into route, he is quicker than expected getting to full speed, knows how to get open and has soft, natural hands. Odd for such a big tight end, Sims is a better receiver than blocker due to a lack of aggressiveness and competitiveness trying to block. He has a tendency to try and be a positional, get in the way blocker, which leads to his man avoiding him and making/disrupting the play too often. No doubt talented enough to be a dominating block and impact receiver, Sims inconsistent blocking and lack of top level speed will likely keep him from being a first round pick if he comes out early for the draft.
5. Mychal Rivera Senior Tennessee
6033 239 4.75 Projected third round pick
Unlike all the other tight ends on this list, Rivera is under-sized and somewhat of a "tweener" between tight end, h-back and fullback. Despite his lack of bulk/weight, Rivera flashes the ability to be a dominant down/side blocker who can drive defensive end down the line. However, the trouble is that when Rivera does not block with good leverage and attack defender, he can be "stoned" at the point of attack. Effective getting through the line, when he keeps his knees bent Rivera can be a good blocker on the second level. His upright running style makes him look slower running routes and running after the catch, but the reality is that he has the quickness and speed to consistently get separation against man coverage and to make plays running after the catch. Overall, Rivera is not a big name prospect, but NFL scouts are very intrigued by his versatility and ability to contribute catching passes from a variety of alignments.
Email Russ at Russelllande@yahoo.com and Follow Russ on Twitter @RUSSLANDE.